Arsenal Injury News Update: When Will Cazorla, Wilshere, Welbeck Return To Boost Gunners' Title Challenge?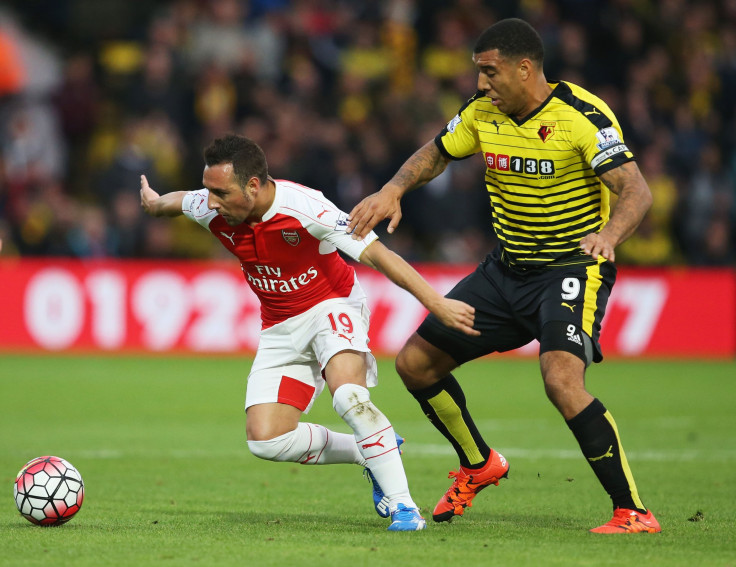 Arsenal fans could be forgiven for experiencing a distressing feeling of déjà vu. It's only a little over two weeks since Arsenal were top of the Premier League and staring at a golden opportunity to capitalize on the unparalleled failures of the rest of the division's big-hitters and clinch a first title in 12 years. Yet a goalless draw at home to Southampton on Tuesday night has left Arsene Wenger's side down in fourth place, behind local rivals Tottenham, and five points from the summit.
The sense that Arsenal may be squandering yet another chance to get their hands on English football's biggest prize was palpable in the edginess and frustration audible in the Emirates Stadium crowd. The result meant Arsenal have taken just three points from their last four Premier League outings, and have failed to score in their last three. A late equalizer conceded against Liverpool that started the poor run of form in hindsight now appears as it may have been the moment where their challenge began to fall apart.
However, that needn't be the case. With 14 games to play in the most wide open title chase in recent memory, Arsenal still have a big opportunity if they can quickly right their ship. The performance against Southampton, though, demonstrated yet again that, in order to do that, getting some key absentees fit again will be key.
While Arsenal were left frustrated against Southampton by a succession of missed chances and an exceptional goalkeeping display by Fraser Forster, there were wider issues with the display of Wenger's team. The most glaring problem was the absence of Arsenal's usual passing rhythm and fluency. And it once again called into question the viability of the midfield partnership of Mathieu Flamini and Aaron Ramsey.
While each have their qualities—Flamini is a battler in front of the back four and Ramsey is exceptional at getting forward into the box—as a combination they do not offer Arsenal the passing ability that is crucial to their style of play. Against Southampton, Arsenal lacked control and it was only when getting balls forward quickly to Alexis Sánchez and Mesut Özil that they posed a threat. Without the ball they also lacked balance, enabling Southampton to threaten on the break.
In terms of results, Arsenal initially coped well when their first-choice midfield duo of Francis Coquelin and Santi Cazorla suffered injuries in quick succession at the end of November. Now both, and especially Cazorla with his ability to dictate play from deep, are sorely needed back on the field.
The good news is that Coquelin is likely to be back in the starting lineup when Arsenal travel to Bournemouth on Sunday, having started against Burnley in the FA Cup this past weekend and then come off the bench against Southampton. With new signing Mohamed Elneny now integrating into the squad, Arsenal will have some useful alternatives in the holding midfield role.
However, Arsenal will have to wait longer for Cazorla's return. Providing his most recent update last Thursday, Wenger commented that the Spain international was "at least a few weeks away." Following his knee injury, Cazorla was initially given a prognosis of three to four months on the sidelines, meaning he will not be back to fitness until March.
It is set to be a similar timeframe for another injured midfielder, Jack Wilshere. The England international hasn't played since suffering the latest in a long line of ankle problems just before the start of the season. Speaking before the clash with Southampton, Wenger said he was hoping to have Wilshere back in four weeks.
On the attacking front, Arsenal could get a more immediate boost. Former Manchester United forward Danny Welbeck, absent with a knee injury since April of last year, is now back in training, although needing to build match fitness with the Under-21 squad.
© Copyright IBTimes 2023. All rights reserved.