Arsenal News: Mesut Ozil Offers To Save 'Gunnersaurus' After Mascot Was Let Go
KEY POINTS
The man inside Arsenal's Gunnersaurus mascot costume was made redundant after 27 years
Gunnersaurus was a cultural icon for the club
Arsenal midfielder Mesut Ozil offered to pay the salary of Jerry Quy
Arsenal employee Jerry Quy, the man inside the club's beloved Gunnersaurus mascot suit, has been let go after 27 years to save money. This prompted Mesut Ozil to step in and offer financial assistance to the Gunners' cultural icon.
The global pandemic has forced the organization to use massive cost-cutting measures as fans can no longer fill the stadiums. After the firing of the mascot that has been an integral part of Arsenal, Ozil shared on social media the significance of Gunnersaurus to the club.
"I was so sad that Jerry Quy aka our famous and loyal mascot … and integral part of our club was made redundant after 27 years," Ozil wrote on Twitter on Tuesday.
"As such, I'm offering to reimburse Arsenal with the full salary of our big green guy as long as I will be an Arsenal player so Jerry can continue his job that he loves so much," he continued.
Throughout Ozil's career, he's served Arsenal in 254 games, netting 44 goals and tallying 77 assists. But while he's been with the Gunners since 2013, he hasn't played a minute since the games resumed following the pandemic lockdown.
Ozil's tribute will most likely only last until his current contract is due to expire in the summer of 2021, Goal reported.
Arsenal has yet to confirm if the club will take Ozil's offer to pay for Gunnersaurus' wages.
Quy played a big role for Arsenal as Gunnersaurus became a fixture at Highbury and the Emirates Stadium, The Guardian reported. Known as the team's big green guy, Quy would hype up the home crowd with his goofy antics and high energy level. For almost three decades, he served as an icon that kept the team's supporters engaged in every match.
Apart from Ozil, many were surprised by the decision to cut him, including Arsenal legend Paul Merson.
"Unbelievable. All them kids, the Junior Gunners, there will be 30 and 40-year-old fans who have grown up with that dinosaur," Merson told Sky Sports. "It's disappointing, I think it's poor by Arsenal, I really do."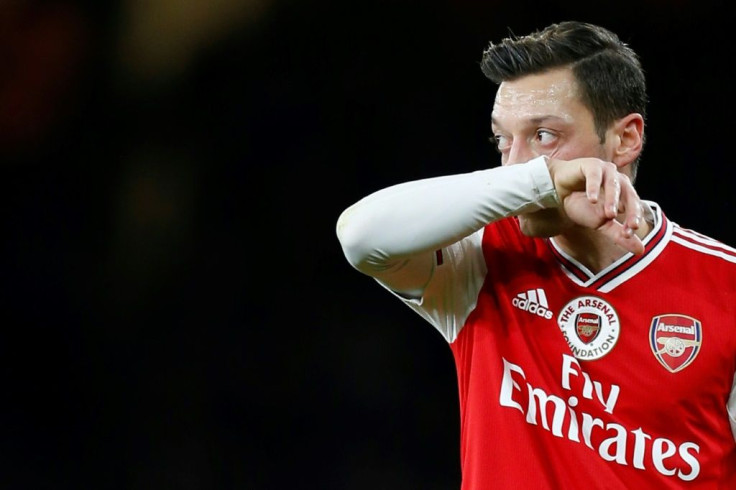 © Copyright IBTimes 2023. All rights reserved.