ARSENAL TRANSFER NEWS: Are Damiao, Nzonzi, Kalou and Alex January Targets?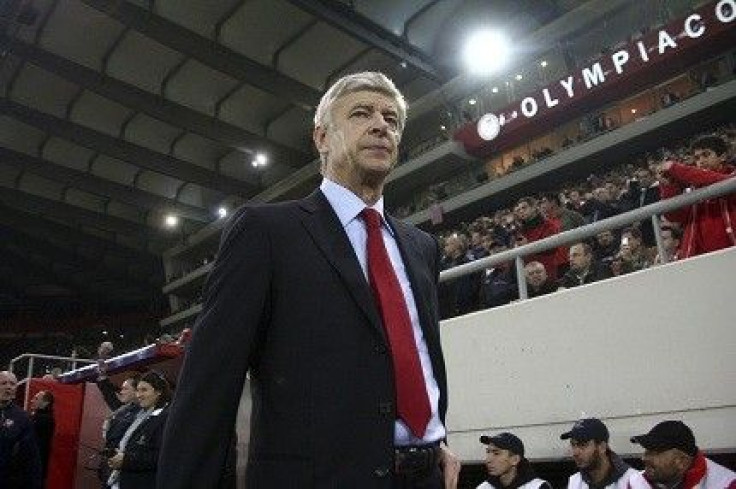 The January transfer period is nearly three weeks away, and Arsenal appear to still be the Premier League club most subjected to guesswork.
The British press often willfully ignore that Arsenal have never shelled out £20 million for one player, but that hasn't prevented some of the tabloids from speculating that the Gunners will suddenly change course and drop upwards of £30 million on a prospect.
Arsenal usually operate on finding a bargain, and if the club can't find one, they simply don't make a move. Gunner fans might be justifiably nervous that Arsenal will choose to be idle in January as the team welcomes the return of injured Jack Wilshere, Bacary Sagna and Kieran Gibbs -- wrongfully presuming that future injuries won't befall the club in the second half of the season.
The club has been steadily climbing the Premier League table and advanced to the knockout stages of Champions League. Mikel Arteta and Aaron Ramsey have been generally healthy and effective upon the departure of Cesc Fabregas and Samir Nasri, and while Wilshere has been sidelined.
Still, Arsenal may be in the hunt for an upgrade at some areas, and may decide to add a notable name or two.
At the moment, Arsenal appear to be in desperate need of a reserve striker. Robin van Persie has been in superstar form this season, but Arsene Wenger has no suitable reserve to fill in for the Dutch star.
Though the outcome going into the final Champions League match against Olympiakos was basically irrelevant, Wenger could not be pleased with what he saw from Marouane Chamakh, who may have been in the starting 11 as an audition to be moved in January. The 27-year-old forward seems to lack confidence while displaying questionable technique.
Some French clubs appear to be under the impression that Arsenal are not utilizing Chamakh correctly, and feel he may need a fresh start outside of London. Several clubs have been linked to Chamakh in recent months including Paris St. Germain, Lille, and even La Liga side Sevilla. Daily Mirror and Metro both reported that Paris St. Germain would bid £10 million for Chamakh, which is probably an amount that Arsenal should happily accept at this point.
With Nicklas Bendtner and Carlos Vela on loan, some believe that Arsenal should part ways with Chamakh, and upgrade van Persie's back up. Wenger currently disagrees.
At the moment, I do nothing in January, Wenger stated earlier this month, when asked about adding a striker.
I have a big squad, but if you knock at my door and say 'I have a fantastic player for you', I will not turn it down.
For now, Wenger seems to be keeping his fingers crossed that Andrei Arshavin returns to form, or that young Alex Oxlade-Chamberlain quickly matures into a reliable substitute who is also capable of playing 90 minutes. There is little evidence to support Chu Young Park deserving a larger role on the squad, though the South Korean is still a relative newcomer.
While Arsenal are reluctant to splash out a large sum on a transfer, Wenger is keen on a certain 19-year-old Brazilian phenom.
[Neymar] has the potential to be one of the future great strikers but at the moment there's a big difference between the Brazilian league and a European league, said Wenger, according to The Sun.
If I had the money today, I'd put it on Neymar.
In fact, Arsenal do have the money to land Neymar, as the club netted roughly £25 million over the summer on top of the hefty war chest that existed prior to the summer transfers. As previously mentioned, it's not Arsenal's philosophy to pursue superstar talent that comes with a superstar price tag.
However, the club continues to be linked to attack-minded players. According to Daily Mirror, Arsenal are interested in Internacional and Brazil striker Leandro Damiao. The 22-year-old is valued at about £25 million, and is also reportedly on Tottenham's radar.
Earlier this month, the publication reported that Arsenal were lining up a £30 million bid for Borussia Dortmund starlet Mario Gotze. It seems the 19-year-old German has taken Belgian midfielder Eden Hazard's spot as the coveted European playmaker prospect as an Arsenal and Manchester United target.
The Sun recently reported that Blackburn midfielder Steven Nzonzi has been linked to Arsenal, as well as Spartak Moscow, Chelsea, and Aston Villa for roughly £7 million.
Earlier this week, Metro reported that Chelsea forward Salomon Kalou could be an Arsenal target. In October, Daily Mirror reported that both Arsenal and Liverpool were interested in Kalou.
Daily Star joined The Sun in linking Chelsea defender Alex to Arsenal. Since Andre Santos has been added to the list of injured Gunner defenders, Wenger may need to bolster the back line with an experienced player.
The most intriguing player on the market could still be Lukas Podolski. Van Persie has yet to sign a contract extension, so Arsenal might use the Koln star as both a back up for van Persie, as well as insurance against losing van Persie in 2013. Podolski is valued at £20 million, and both Metro and Daily Mirror have linked him to the Gunners.
Podolski claims there has been no contact between his agent and Arsenal, though he offered positive sentiment for Arsenal.
© Copyright IBTimes 2023. All rights reserved.