Art In Motion At The MIT Museum: '5000 Moving Parts' Exhibition Shows Off Kinetic Art [PHOTOS, VIDEOS]
Most artworks tend to stay in place. But in a new show at the Massachusetts Institute of Technology Museum, the pieces wave, wiggle, undulate and move in ways ranging from eerie to soothing to hypnotic. It makes the paintings at the Met seem rather staid in comparison.
In "5000 Moving Parts," which opens on Nov. 21 and runs until November 2014, the MIT Museum plays host to large-scale works by some of the country's leading "kinetic artists."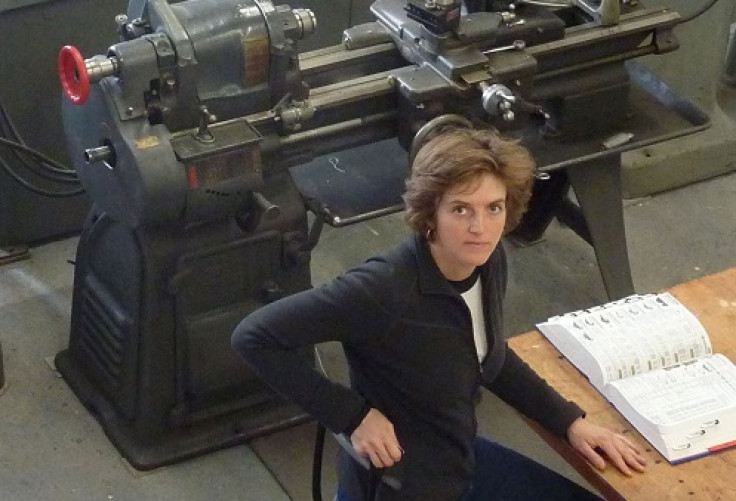 When artist Anne Lilly was growing up, she loved drawing, but her parents had different ideas about her career path.
"My family had a strong culture of engineering and math, and so that was where they encouraged me to go," she says.
Lilly started college as an engineering major, but soon started taking more interest in what the architecture students were doing, and switched majors. After several years of working in architectural firms, she began encountering ideas and questions that she couldn't quite resolve in that field. Lilly began taking night classes in art and metalwork, and eventually got back into the studio.
"It took almost 20 years to start to find my way back to art, but obviously what I'm doing as an artist has everything to do with my path through engineering and architecture," Lilly says.
Here's one example of her work, a 2008 piece titled "request for an oracle":
request for an oracle 2008 from Anne Lilly on Vimeo.
"I always had questions about forms and lines moving in space," Lilly says. "I like thinking about things unfolding over time."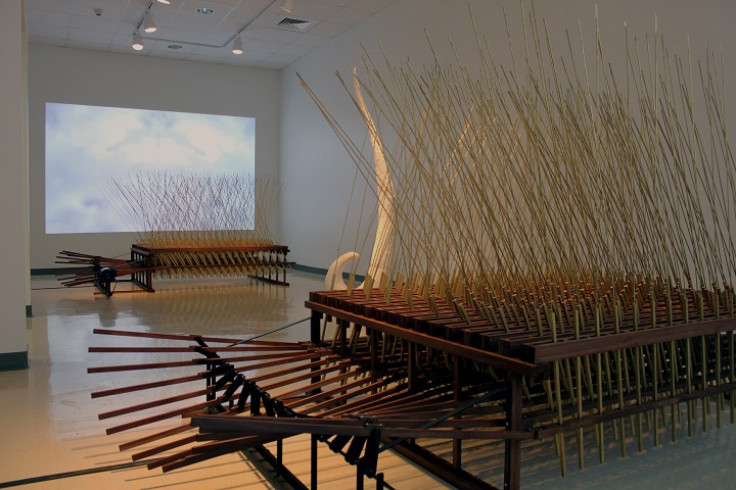 The show's curator, Laura Knott, describes John Douglas Powers' large-scale piece "Ialu" as a temple-like experience.
"My interest in time-based works grew initially out of a natural desire to tinker and understand how things work," Powers says. "Over the past decade or so, this has developed into an ongoing exploration of motion-based work that challenges the viewer's own temporal existence."
Powers says he's particularly intrigued by the possibilities in artworks that a viewer has to follow in real time.
The pieces that make up Powers' "Ialu" are part of an ongoing project exploring ancient Egyptian and Greek mythologies of the afterlife, filtered through the lens of a rural U.S. landscape, he says. Each unit of "Ialu" -- made from wood, steel, and plastic, powered by an electric motor -- takes about a month or two to complete, Powers says.
"The building process begins with a certain amount of trial and error by 'sketching' three dimensionally with the materials to determine proportions and dimension," Powers explains. "The components of the mechanism are then designed using [computer design] software and lasercut prior to fabrication."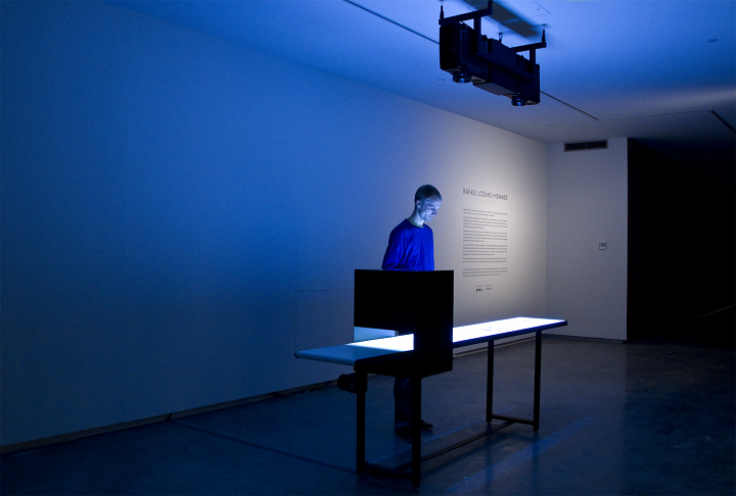 Rafael Lozano-Hemmer, who is visiting MIT as an artist-in-residence this fall, will be showing his piece "Please Empty Your Pockets."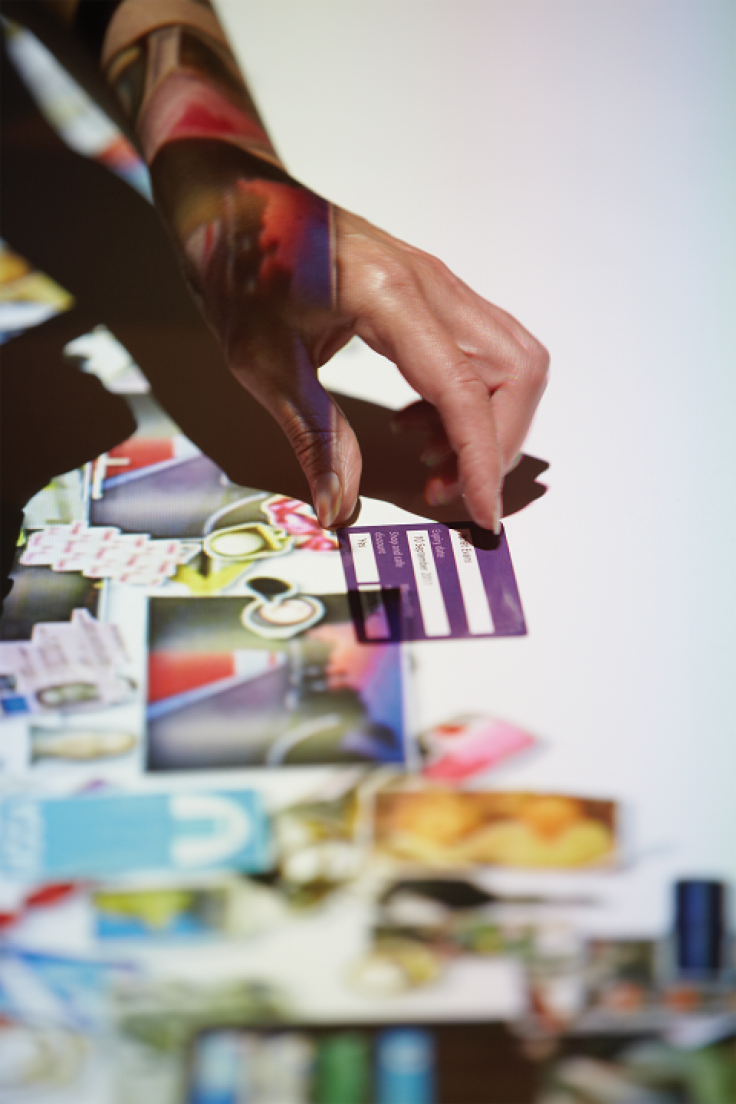 In this interactive artwork, visitors can follow the instructions in the piece's title. The work displays a conveyer belt set up similar to an X-ray scanner at an airport security checkpoint. When somone places an article on the belt, it moves over a scanner, which scans the item and displays it next to all the other objects placed by previous visitors.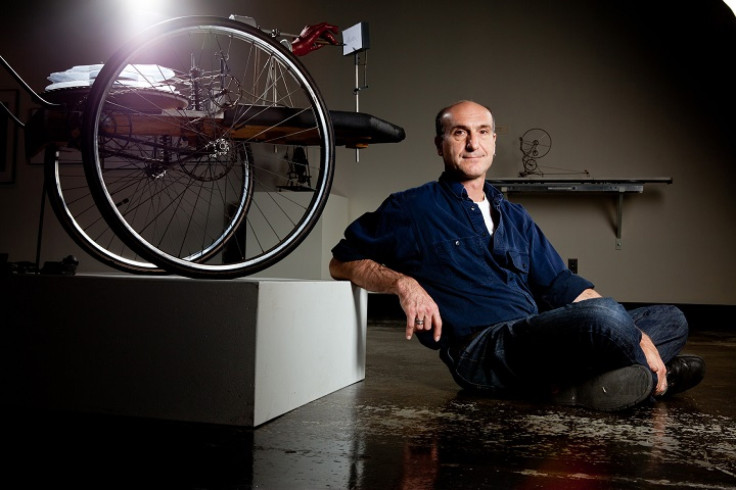 Arthur Ganson has been making kinetic sculptures since 1977, and is a familiar face at the MIT Museum -- he hosts an annual event called the "Friday After Thanksgiving Chain Reaction," and has maintained an ongoing exhibition of his work at MIT since 1995.
Arriving at kinetic art "was a natural evolution," he says. "In college I had a few diverse interests that all converged into a life of making machines."
Ganson started working on computer programs in high school, yet once he got to college, he started down a path toward medical school and the life of a surgeon "because I loved working with my hands in critical situations," he says.
Eventually, however, he was increasingly drawn to art. Making fragile wire machines was a way to bring all of his interests together. Over his decades of sculpture making, Ganson has exhibited in the U.S. and Europe, and has been profiled by outlets such as the science program "Nova: Science Now," Smithsonian Magazine and the New York Times. He has also appeared on the animated series "Arthur," as a cartoon bear.
His works have a charming, almost Rube Goldbergian feel to them, sometimes tinged with menace. Ganson has made a knife-throwing machine, a contraption that makes an abandoned baby doll writhe in midair a bit unsettlingly. He's even rigged up a machine that makes the petal of an artichoke trudge along the rim of a wheel, like an untiring vegetable Sisyphus:
Ganson says his process can take anywhere from a couple of weeks to a couple of months. The pieces can be either loosely engineered or tightly designed. Some are triggered by Ganson coming across an object and experiencing a feeling that suggests what the finished art might look like.
"With all, there is often a bit of a circuitous route to the end, as the initial dreams are met with the reality of the materials things evolve. In the end it needs to 'feel' right for me," Ganson says. "There is usually never a particular idea that is meant to be gotten across -- rather a feeling carried by the gesture of an object in motion."
© Copyright IBTimes 2023. All rights reserved.
FOLLOW MORE IBT NEWS ON THE BELOW CHANNELS