Arvind Kejriwal: Can Delhi's New Chief Minister Root Out Corruption In Indian Politics?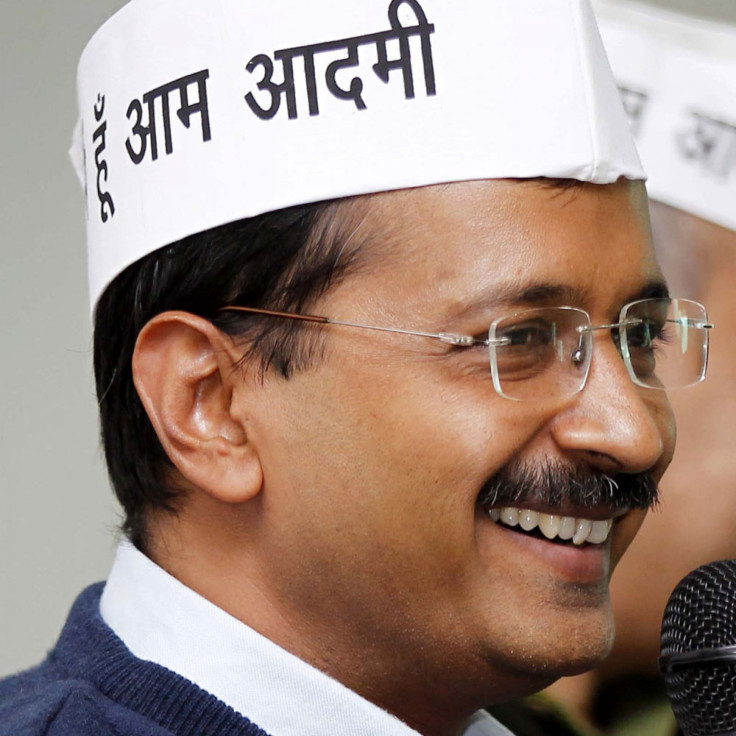 The newly elected chief minister of Delhi, the capital of India, has already sparked a media frenzy by politely refusing some of the perks that come with his gaining high office -- including a sumptuous government bungalow and the round-the-clock security from the Delhi Police. Arvind Kejriwal quipped to reporters that he didn't need a police detail for protection because "God is my biggest security." In a letter to police officials, Kejriwal thanked them for their kind offer but declined.
As for living accommodations, he said he prefers to reside in a small apartment in the city rather than the lavish bungalows that were a remnant of British colonialism. He will also eschew such privileges as security escorts and multi-vehicle motorcades through Delhi's crowded streets. Kejriwal is the founder of the Aam Aadmi Party (AAP) -- an alternative to the dominant mainstream Congress Party and Bharatiya Janata Party (BJP) -- whose core values are focused on eliminating corruption from Indian politics. That includes the "decimation" of a culture of luxury afforded to high-ranking politicians.
The Party ("aad aadmi" means "common man") also seeks to provide services for the working classes and the poor. One of the most polluted and crowded cities on earth, Delhi is a nightmare to govern -- infrastructure is falling apart, power outages are common and one-third of its people live in poverty with little access to clean water. Among other promises, Kejriwal said he will provide free water and cheap electricity to the poor, while constructing thousands of new public toilets. At 45, Kejriwal will also be the youngest chief minister in Delhi's history.
Only one year old, AAP finished in second place in Delhi's elections -- a smashing debut. Although BJP came in first place, it failed to acquire a majority and decided not to form a government in Delhi, perhaps due to fears that it could not easily form coalition alliances to remain in power. Congress, which ruled the city and its environs for the past 15 years, finished an embarrassingly distant third place, suggesting that the public may hand it a similar loss in next year's national elections. The former chief minister of Delhi, Sheila Dikshit, had won three consecutive terms.
Specifically, in elections in early December, which attracted unprecedented numbers of Delhi voters, BJP gained 32 out of 70 state assembly seats, with AAP winning 28 and Congress only eight. But lacking a majority party, uncertainty followed, until Congress vowed to give its support to AAP, allowing it to form a government. However, many AAP members are queasy about forming an alliance with Congress (the very target of its many condemnations of political corruption), while some in Congress have expressed reservations about AAP. "We have not promised unconditional support to AAP," Dikshit reportedly said. "Let's see if they [can] deliver."
According to various media outlets, Kejriwal is a blunt, no nonsense man and taskmaster who frowns upon excessive formalities and ceremony.
As for the real business of politics, Kejriwal has named Rajendra Kumar, a former officer of the Indian Administrative Service (IAS), as his principal secretary and is in the process of forming his cabinet. NDTV, an Indian television network, reported that his cabinet is likely to include Manish Sisodia, 41, a journalist and former activist and Rakhi Birla, a 26-year-old woman who would be the youngest member of the cabinet.
"This is not a change of government, but a true change of regime," said Mohan Guruswamy, founder of New Delhi think-tank Centre for Policy Alternatives, according to Time magazine. "[Kejriwal] is actually promising a different way of doing things. ... There is some method to [Kejriwal's] madness. He is giving people who had no say in the system a voice. They might like that."
Another of AAPs key policy stances is a stringent opposition to foreign direct investment [FDI] by multi-brand global retailers, something that Congress favors. "[AAP] strictly opposes FDI in retail because if it enters into the retail sector, then [millions] of small-scale Indian businessmen will [end up on the streets], as they will lose their business and their livelihoods," Kejriwal wrote in a letter to Delhi traders, suggesting such retailers could not set up shop in the city. Earlier Kejriwal had declared: "There has been a big question mark on the central government's claim that FDI in retail will be good for the country's farmers. But there has been a huge job loss wherever Wal-Mart (NYSE: WMT) had entered, even in the U.S."
However, some retailers are not overly concerned by AAP's pronouncements, Financial Express reported. "We are trading as per the law of the country and are not affected as of now. We are doing what is right," said Venu Nair, managing director of Marks and Spencer (LON: MKS) in India.
As for the business of running government in a city larded with bribery, payouts and other forms of corruption, Kejriwal will have his work cut out for him. For now, he is maintaining his modesty. "It is not me who will be the chief minister," Kejriwal told reporters. "It will be Delhi's common man who will be the chief minister. Alone I cannot do anything."
Other observers are quite hopeful of Kejriwal's future. "Minister Kejriwal has taken a bold symbolic step by giving up the lavish perks that politicians typically enjoy," said Jonah Blank, senior political scientist at RAND Corp in an interview. "The real test, however, will be translating symbol to substance: if he truly takes a broom to government corruption, he will fulfill the Aam Aadmi Party's vast potential."
Similarly, Dr. Michael Kugelman, an expert on South Asian affairs at the Woodrow Wilson Center in Washington, D.C., said Kejriwal represents a "giant breath of fresh air" for India, and he certainly has the potential to become a transformational figure. "However, to do so he must overcome a challenge that has affected so many populist politicians: Will he be able to carry out his promises while holding office? And will he remain loyal to the ideals articulated on the campaign trail?," Kugelman proposed. "If he can do these things, then he can be a truly historic figure for India. And his AAP will be that much more successful at becoming a major anti-corruption force."
FOR FREE to continue reading
✔️ Unlock the full content of International Business Times UK for free
offer available for a limited time only
✔️ Easily manage your Newsletters subscriptions and save your favourite articles
✔️ No payment method required
Already have an account?
Log in
© Copyright IBTimes 2023. All rights reserved.