Delhi Gang-Rape: One Year Later, What Has Really Changed In India?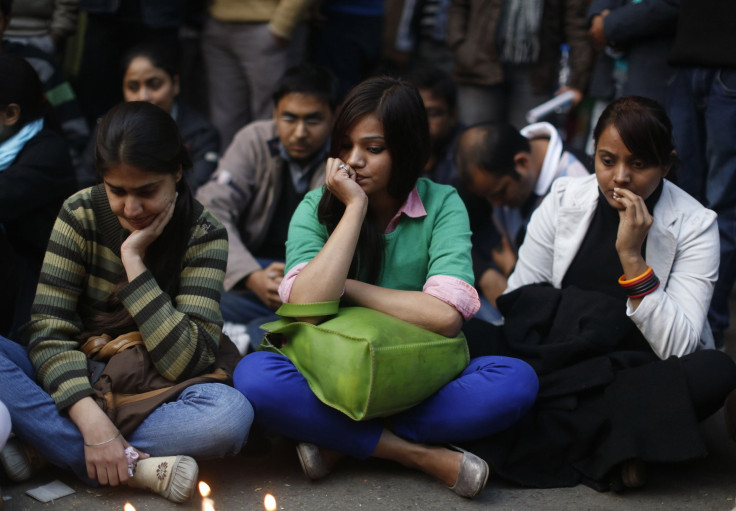 One year after a horrific sexual assault on a young woman in New Delhi sparked nationwide protests and global media attention on India's treatments of its fairer sex, many females on the subcontinent feel that little has changed for the better, despite endless debates, emotional speeches, hand-wringing and promises by politicians of all stripes.
The gang-rape (and eventual death) of the 23-year-old medical student on a private Delhi bus eventually led to the imposition of the death penalty on four of the convicted culprits (following a rather hasty trial in a newly installed "fast-track" court) as well as moves by the national government to enact tougher laws against rape and steps by Delhi police to hire more female police officers and create more telephone helplines for victims.
However, as IBN Live, an English language Indian television channel, reported, women in India still feel unsafe and vulnerable in public and are dissatisfied with the pace of legislative progress in bringing rapists to justice.
According to data from Delhi Police, 2013 marked the highest number of rape cases in the city since 2000 -- although police officials attribute this increase to the fact that victims are more willing to report such crimes to the authorities, rather than hide them out of shame. Through the end of November, the number of rape cases registered in Delhi was more than double than for the comparable period in 2012. Even more remarkable, the number of sexual molestation cases increased by five-fold over last year (again, perhaps reflecting a greater willingness of victims to come forward).
On the street in Delhi where the infamous gang-rape occurred, IBN Live reported, women remain targets for predatory men, and promises by city officials to install closed circuit security cameras and operate more police vans through the area remain unfulfilled.
And the situation remains bleak in other major Indian metropolises as well. "The ground realities don't change," a woman in the southern city of Bangalore told IBN. "There is noise being made and people are coming out and speaking against things that they never used to earlier which is a good thing. Social media is being used proactively but have the ground realities changed? Do we feel safer on our streets? I don't think so."
Similarly, a young mother in India's financial capital of Mumbai said that while there now exists a greater awareness of the rape crisis in India and more public discussion, "the mentality of the people has not changed so much." She also lamented that she has a "fear at the back of my mind, I would not like my daughters to venture out alone."
Some prominent Indians also expressed their pessimism about the status of women in the country and the commitment of authorities to prosecute sex criminals. Nilanjana Roy, a novelist and literary critic, said that in the fallout from the massive publicity of the Delhi rape case, more repressive measures have actually taken place in the guise of "protecting" women. "We saw a rise in regressive statements, behavior intended to curb women's freedoms under the guise of 'protection', and across the board a defense of the status quo and of traditions that continue to ignore women's rights," she told BBC. But she holds out some hope that at least men and women in India are talking about the issues of rape and the – in a broader context -- females' place in Indian society.
"'Rape culture' in India is fuelled by an acceptance of inequality and of embedded violence; it may be the first time in decades that we are exploring these fault-lines - of caste, class and gender - in such a mainstream fashion," she added. "Can we put an end to the violence that kills women before birth, that keeps unwanted girls in deprivation, that is seen in the high levels of child abuse and domestic violence, affecting both boys and girls, and that ultimately leads to 'rape culture'?" She answers her own query by noting that thus far it has been hard to even change the small things, but she is "impressed that in a country where we switch from one topic to another as easily as we switch TV channels, we haven't stopped discussing the problem not just of rape, but of violence. The rapes might not stop; but this conversation isn't stopping either."
An activist named Kavita Krishnan said she is encouraged by the fact that high school and college students in Delhi and elsewhere have found it comfortable to openly discuss women's rights, a subject that often fell under taboo. "Students are reading about and debating the history of women's movements. There's deep introspection about how we end up sustaining violence and discrimination against women," she said. "Less encouraging, however, is the response of the government and institutions." Indeed, this past summer, after a young photojournalist was gang-raped in Mumbai, the local police chief blamed the assault on what he called a newly "promiscuous culture" in India.
Krishnan is outraged that women victims of rape, in many cases, are being blamed for their own sufferings. "The onus seems to be on women, on how they dress, how they behave. People in charge of enforcing the law are not listening to the women," she said. "Such attitudes appear to be in sync with the way the economy and society is working: it's about wanting a docile woman both at home and the workplace. There is clearly some anxiety all over the world among policymakers about how to re-persuade women to be "real" women -- to go back to their traditional docile role even as they become more empowered."
Manta Sidhu, a musician, complained to Al Jazeera that rape continues to be "rampant" in India and she sees no signs of the police or government cracking down on sexual violence. "If a woman is pulled into a car full of men while she walks on the road, I wonder how a women's helpline number is going to help?," she asked. "The general sentiment among women in the city is that of insecurity. Everyone talks about it." Sidhu offered that rapists behave with impunity because they do not fear a lazy, slow and corrupt criminal justice systems. "Until the country imposes capital punishment for rapists, there will be no fear and there will no stopping for these criminal minds," she declared.
Dr. Anita Raj said that while political organizing, activism and advocacy for better addressing the issue of rape and the treatment of rape victims in India have increased in the past year, the recent policy changes toward these ends do not appear to have had much effect. "Crime statistics indicate an increase in rape reporting, [while] convictions remain very low," she said. "Further, policy changes have not included important recommendations from the Verma Commission [which filed a report on the Delhi rape case and proposed laws to battle rape], including the criminalization of marital rape."
Raj, who is Director of the Center on Gender Equity and Health and is a Professor in the Division of Global Public Health, Department of Medicine at the University of California at San Diego, noted that in India, reports of sexual violence in marriage are almost 3 times higher than reports of non-marital sexual violence reported by women.
But some others in India are cautiously optimistic that the seeds of real change have finally been planted. "The society is indeed becoming more sensitive to rape victims now, but there is still a long way to go. You cannot deny there is a rape epidemic in the country" Ranjana Kumari, the head of Centre for Social Research in Delhi, told the Agence France Presse. Indira Jaising, the top female federal legal adviser in India, told the Wall Street Journal that "the solidarity that we saw on the streets of Delhi last year after the rape has given courage to many people."
Another factor driving India's inability to bring rapists to justice lies with structural deficiencies in the criminal justice system – namely, a paucity of judges, lawyers and courts. "India's judicial system has slowed down," said an MP named Baijayant Panda. "Even violent criminal cases take 10-20 years to get decided in the courts." Panda also noted that India has only 13 judges per million people – while in the developed world, the ratio is as high as 100 judges per million people. The ratio of police to the overall population is also quite low. "Justice is not done or not perceived to be done," Panda added. "Not surprisingly, the capacity of the system to process criminal cases is deeply compromised. People's faith in the system has become frail. Our political system is also not engaged enough with these issues."
Dr. Raj suggested that a broader reach toward change may come from engaging sectors beyond just criminal justice, as sexual violence is also an issue of health and welfare. "To that end, opportunity for progress remains," she said. Raj cited that the Indian government's Ministry of Health and Family Welfare has developed a comprehensive Adolescent Health Strategy (to be launched next month) that includes in its focus violence and injury.
"Given the disproportionate burden of sexual violence faced by adolescent girls, this Strategy may be able to lay the groundwork for social (not just legislative) change to reduce adolescent girls' vulnerabilities to sexual violence, to reach adolescent boys and reduce their likelihood of perpetration, and to affect community social norms of acceptability of sexual violence and victim blaming," she stated. "Such efforts, in conjunction with broader legal protections, would be important to produce sustained changed in India. We need to actively engage this strategy in sexual violence prevention and intervention as an important health and welfare concern for adolescents."
For the parents of the Delhi gang-rape victim, nicknamed 'Nirbhaya' (or "Braveheart"), there is no closure from the untimely passing of a treasured daughter. "There is no question of coming to terms. How will it happen? Her voice rings in our head," her father said. "Whenever I sit alone and think about it, I can't control my tears. It's like we haven't lost our daughter, we have also lost our self-confidence."
Although the government has provided Braveheart's parents with a free apartment in a middle-class neighborhood in Delhi, the father with a job at the international airport, and his two other sons with free tuition at colleges, the family is tired of the constant media glare on their private lives while they grieve in silence. "Sometimes I feel, poverty was better for us," the father old BBC. "We slept well. We were happier. Today, we have everything, but yet nothing. Without our daughter our world has turned colorless".
Braveheart's parents must also contend with the fact that the juvenile who was convicted of raping their daughter has so far escaped serious punishment, by serving a mere three-year sentence. (A sixth suspect in the case, an adult, was found dead in his prison cell before he could face trial).
Meanwhile, activists, women's groups and ordinary citizens are holding vigils and demonstrations across India to remember Braveheart. Her family will also hold a small memorial for her. "We just want to keep her memory alive as long as it's possible. I know one day people will forget her. But they will remember her death led to changes - changes in the anti-rape laws, a change in consciousness," her father told BBC. "Women are speaking up against harassment and violence now. There is some fear of the law. That is my daughter's contribution, isn't it?"
© Copyright IBTimes 2023. All rights reserved.