Asian Stocks Fall On Disappointing US Data, Spanish Debt Downgrade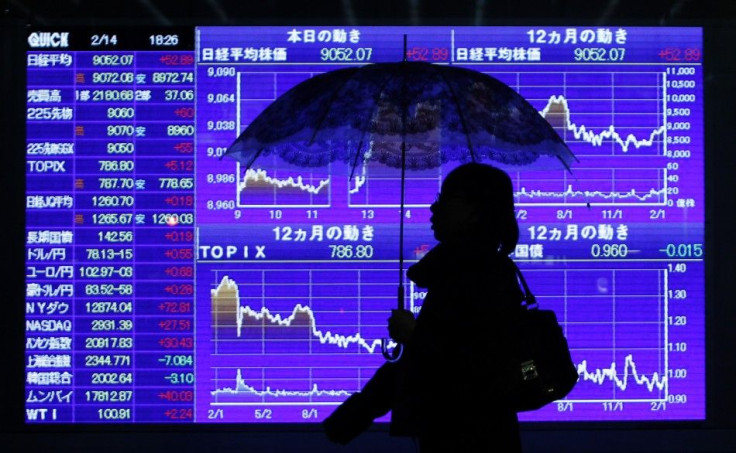 Asian markets fell Thursday as weak retail sales data by the U.S. Commerce Department and Spanish debt downgrade by Moody's weighed down on investor sentiment.
Japan's Nikkei Stock Average declined 0.22 percent or 18.95 points to 8568.89. Consumer electronics companies, which had been facing a declining trend in the last few sessions, were able to make some gains with stocks of Sharp Corp, Sony Corp and Panasonic Corp rising 1 percent, 1.2 percent and 1.5 percent respectively.
South Korea's KOSPI Composite Index rose 0.65 percent or 12.16 points to 1871.48.
India's BSE Sensex fell 0.47 percent or 78.66 points to 16801.85 as figures released by the Indian Ministry of Commerce and Industry Thursday showed that inflation rose to 7.55 percent in May, up from 7.23 percent in April. Major losers were Larsen & Toubro (2.6 percent), ICICI Bank (2.3 percent) and State Bank of India (1.7 percent).
The Chinese Shanghai composite index fell 0.99 percent or 22.98 points to 2295.95. Hong Kong's Hang Seng declined 1.15 percent or 218.12 points to 18808.40. Major losers were Li & Fung (2.89 percent), China Unicom Hong Kong Ltd (1.63 percent) and Hutchison Whampoa Ltd (1.40 percent).
Investors felt that the downgrading of Spain's credit ratings by Moody's had effectively highlighted that country's call for external bailout was a sign of more troubles to come. Investors did not expect that last weekend's bailout of the Spanish banking system would offer any permanent solution to the problem of financial instability faced by Spain.
On a positive note, there were investor hopes that Greece could still stay within the euro zone even if the anti-bailout parties are elected Sunday. However, this expectation could not fully brighten the mood of the market as trading remained in a cautious mode ahead of the Greek elections.
Market sentiments were dragged down by the soft U.S. economic data as it was reported that the retail sales fell 0.2 percent in May. With the U.S. economy showing signs of weakening, the investors were feeling that there was urgent need to have more monetary easing measures from the Fed.
© Copyright IBTimes 2023. All rights reserved.