Asian Stocks Rise Amid Optimistic U.S. Data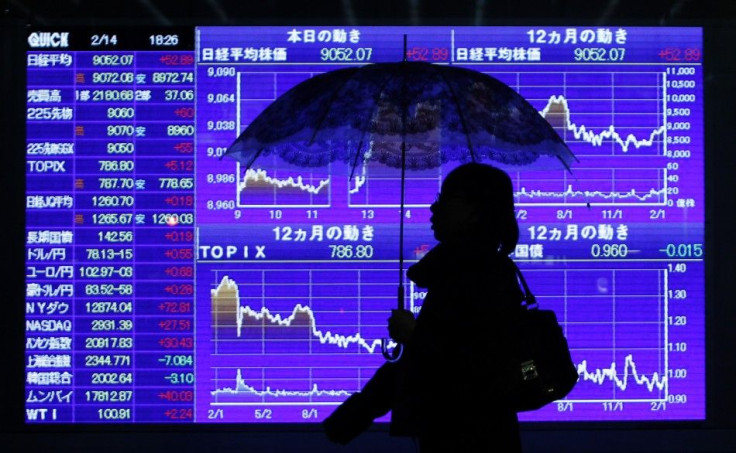 Most Asian markets rose Thursday as encouraging data from the U.S. softened euro zone debt crisis concerns.
Hong Kong's Hang Seng rose 0.6 percent or 105.60 points to 19281.60. Major gainers were CNOOC Ltd (1.64 percent) and China Shenhua Energy Co. (0.57 percent). Meanwhile, the Chinese Shanghai Composite fell 0.25 percent or 5.48 points to 2211.45.
Japan's Nikkei Stock Average advanced 0.91 percent or 79.72 points to 8810.21. Among major gainers were NTT Data Corp. (3.74 percent), Kubota Corp. (3.33 percent) and Japan Tobacco Inc. (3.17 percent).
India's BSE Sensex rose 0.25 percent or 42.53 points to 17010.29. Major gainers were Tata Power Co. Ltd (1.69 percent), ICICI Bank (1 percent) and Canara Bank (0.91 percent).
South Korea's KOSPI Composite Index fell 0.23 percent or 4.21 points to 1813.44. Shares of Samsung Electronics Co. Ltd fell 0.17 percent and shares of LG Electronics Inc. dropped 1.79 percent.
Market sentiment turned positive on the National Association of Realtors' report that showed U.S. pending home sales rose to 5.9 percent in May, up from a 5.5 percent decline in April. Other positive news: The U.S. Census Bureau stated that durable goods orders increased by 0.5 percent in May, up from a 0.2 percent decrease in April.
Investors are also paying close attention to the European Union summit in Brussels on June 28-29, where a host of measures to tackle the euro zone's debt crisis are on the agenda. There are concerns that such measures may not be taken up in the summit, or that they may not be strong enough.
German Chancellor Angela Merkel and French President François Hollande met Wednesday in Paris, where they reportedly made some progress toward reaching an accord on how to measure economic growth. But differences remain between the two leaders, with Merkel supporting austerity measures and Hollander supporting an emphasis on growth.
© Copyright IBTimes 2023. All rights reserved.