Astronauts To Test Leafy Greens Grown On Space Station For First Time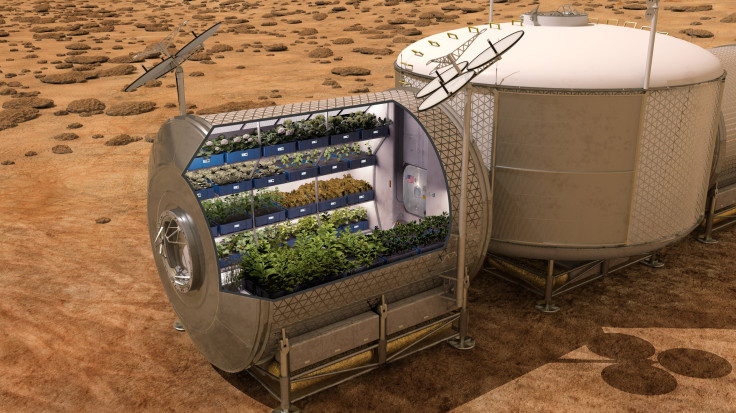 Astronauts on the International Space Station (ISS) are ready to sample fresh food grown inside the orbiting laboratory for the first time. A crop of "Outredgeous" red romaine lettuce will be tested on Monday by Expedition 44 crew members, including NASA's Scott Kelly, the space agency announced Friday.
Before consuming the leafy greens, astronauts will clean them with citric acid-based, food-safe sanitizing wipes. They will eat half of the vegetables, while setting aside the other half to be packaged and frozen on the station until it can be sent to Earth for further experiments. According to NASA, it is developing its "Veggie" technology aboard the ISS to provide future astronauts with a sustainable food supplement.
"Having fresh food like these available in space could have a positive impact on people's moods and also could provide some protection against radiation in space," Ray Wheeler, lead for Advanced Life Support activities in the Exploration Research and Technology Programs Office at Kennedy, said in a statement.
As NASA is preparing for long-duration exploration missions, including sending humans to Mars in future, scientists expect "Veggie" to be a key source of food for crew members. The technology could also be used by astronauts for recreational gardening activities during deep space missions, according to NASA.
The Veggie system, along with two sets of pillows containing the romaine seeds and one set of zinnias, was delivered to the ISS on the third cargo resupply mission by SpaceX in April 2014. After rooting the pillows, astronomers grew the plants for 33 days and harvested them.
The Veggie unit features a flat panel light bank, which includes red, blue and green LEDs for plant growth and crew observation.
"Blue and red wavelengths are the minimum needed to get good plant growth," Wheeler said. "The green LEDs help to enhance the human visual perception of the plants, but they don't put out as much light as the reds and blues."
© Copyright IBTimes 2023. All rights reserved.