Atlanta Falcons New Stadium: Mercedes-Benz Buys Naming Rights To $1.5B Venue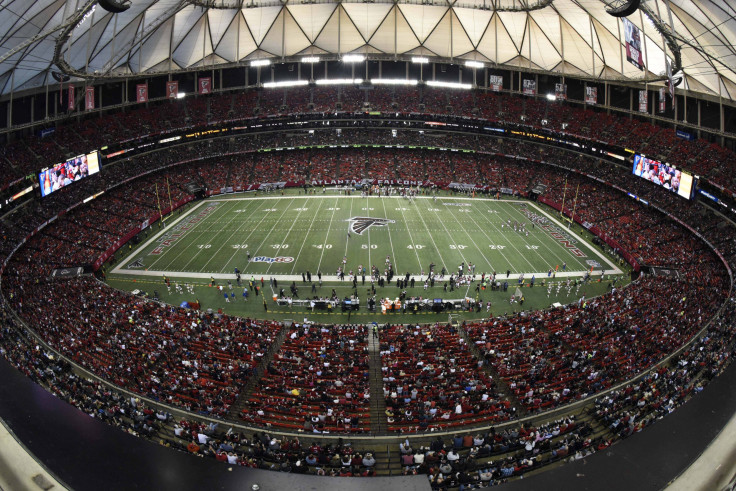 Mercedes-Benz agreed Friday to purchase the naming rights to the new stadium being built for the NFL's Atlanta Falcons, SportsBusiness Daily reported, citing "sources familiar with the negotiations." It would mark the second stadium in the league's NFC South division to be named for the German automaker: In 2011, the company bought the naming rights to the Superdome, home of the New Orleans Saints.
"We have no comment on the report," Falcons spokeswoman Kim Shreckengost told the Atlanta Journal-Constitution.
Mercedes-Benz is reportedly expected to sign the contract Friday and make a formal announcement Monday. Details of the contract have not yet surfaced, but SportsBusiness Daily reported that Premier Partnerships, which brokered the deal, had been seeking a 30-year, multimillion-dollar contract "averaging in the high teens annually." Such a deal would make the Falcons' deal among the most lucrative in the NFL.
In 2011, blue jeans maker Levi's agreed to pay $220 million over 11 years for the naming rights to the San Francisco 49ers' luxurious and modern, if poorly sodded, stadium in Santa Clara, California, SB Nation reported. But insurer MetLife pays the heftiest price in the NFL, reportedly dishing out about $16 million per year to affix its name to the home of the New York Giants and New York Jets in East Rutherford, New Jersey.
The $1.5 billion behemoth that will house the Falcons is slated to open in 2017 in a location near the Georgia Dome, the Atlanta franchise's current stadium. It would also be the home stadium of Atlanta United FC, a Major League Soccer expansion franchise also owned by Falcons owner Arthur Blank, and play host to the 2020 NCAA men's basketball Final Four.
The Falcons' new stadium is under construction and set to feature an angular design and expandable seating that could accommodate as many as 83,000 people. The venue's roof will be composed of eight parts that can open and close much like a camera lens shutter.
Mercedes-Benz moved its U.S. headquarters to Atlanta in 2015 and is scheduled to open a new facility there in 2017.
© Copyright IBTimes 2023. All rights reserved.