National Women's Soccer League Faces Post-World Cup Obstacles: Shy Sponsors, Hotel Bedbugs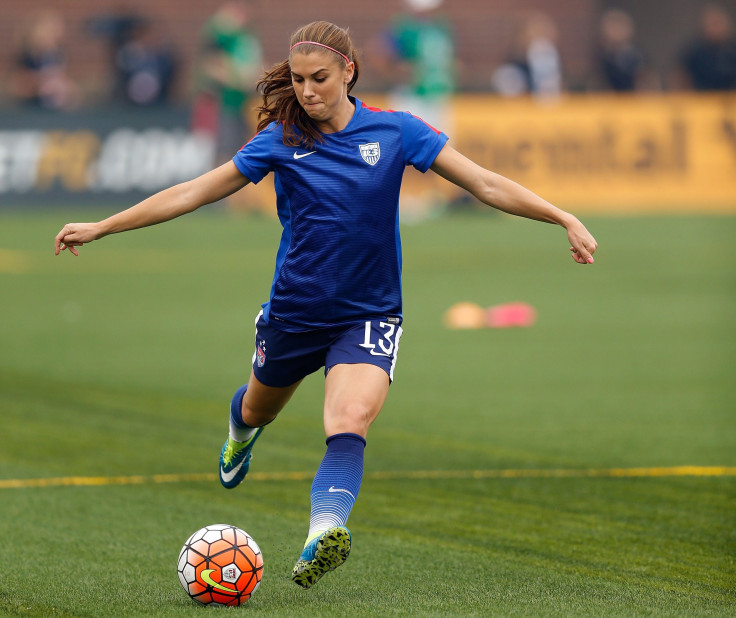 The National Women's Soccer League should have enjoyed a much-needed public relations coup this week as star forward Alex Morgan and the rest of the World Cup-winning U.S. women's national team continued their victory tour in front of a sold-out crowd in Chattanooga, Tennessee. Instead, the media spotlight homed in on a bedbug-infested hotel in Kansas City, Missouri.
Morgan called out NWSL officials on Twitter Monday for booking "unacceptable" hotel accommodations for her teammates on the Portland Thorns, the league's most popular franchise. Detractors were quick to point to Morgan's accusation of "continuing problems" with hotel rooms as evidence of the fledgling league's tenuous financial situation.
The NWSL signed a crucial national television deal with Fox Sports in June, and its teams have experienced a noticeable bump in game attendance and ticket sales since the national team defeated Japan in the World Cup final. But the league still relies heavily on financial support from the U.S. Soccer Federation, which spent $807,000 on the NWSL in 2014 and subsidizes the salaries of all national team players. NWSL doesn't release its annual revenue figures, but teams operate with a $265,000 salary cap, with minimum salaries set at a mere $6,842.
The NWSL hasn't announced any major sponsorship deals since the World Cup and is still struggling to draw media attention to its regular-season games. Its leaders are optimistic about future growth, but there's no question the league has bigger obstacles than booking new hotels.
"I don't think one particular tweet about hotels, I don't think that's inherently a death blow to the women's professional soccer league," said Keith Strudler, director of the Marist College Center for Sports Communication in Poughkeepsie, New York. "I think they have much more serious problems, like trying to get people interested in paying for this product, watching this product on a regular basis -- outside of the umbrella of nationalism, which is a much easier sell."
The World Cup Effect
The U.S. women's national team's victory came at a crucial time for women's professional soccer in America. The country's first two attempts at a women's soccer league -- the Women's United Soccer Association and Women's Professional Soccer -- each folded after just three seasons. Unlike the previous failed leagues, the NWSL's third season has been its most successful.
A record 21,144 fans watched the Thorns play the Seattle Reign in Portland, Oregon, on July 22. As a whole, the NWSL has experienced a 29 percent jump in game attendance since the World Cup ended and is currently averaging a league record 4,912 fans per contest, said Patrick Donnelly, the NWSL's director of communications. Fourteen of the first 30 games after the World Cup drew sellout crowds. Merchandise sales skyrocketed, particularly for the jerseys of national team players like Carli Lloyd, who plays for the Houston Dash. The NWSL also signed a television deal with Fox Sports, which will broadcast the entire 2015 playoffs -- a boon to revenue and national exposure.
Women's National Team World Cup Appearances | PointAfter
The NWSL's Obstacles
Fan interest in the NWSL may be on the rise, but corporate sponsorship deals -- a key source of revenue for major sports leagues -- have been slow to follow. The league's existing sponsors include Coppertone Sport and Nike, which provides player uniforms, but the NWSL hasn't inked any further deals since the World Cup ended.
"They could be right on the verge of announcing something big, which I hope is the case. But I was a little disappointed," said Manish Trapathi, an assistant professor of marketing at Emory University's Goizueta Business School in Atlanta. "I would've thought that while the World Cup was going on -- we saw the numbers, we saw the amazing ratings that it was getting -- they would've used it at that point, soon after the World Cup, to announce some deals. And they haven't."
And concerns about the league's budgetary limitations aren't limited to anemic player salaries. The NWSL has also dealt with various complaints about its infrastructure. Online live streams of league games have experienced technical problems this season, most notably during an important Aug. 12 matchup between the Thorns and FC Kansas City. Fans have been critical of the NWSL's home stadiums, which often have poor accommodations and subpar field conditions, the Oregonian reported.
The bedbugs incident in Missouri was just the latest incarnation of these complaints. The NWSL's bylaws require home teams -- in this case, FC Kansas City -- to book rooms at a 3-star hotel or better for visiting opponents. NWSL Commissioner Jeff Plush said the blame for the bedbug incident lay with the hotel, not the league's teams, which followed existing protocols. League officials addressed the situation "within four business hours" and moved the Thorns to a new hotel, he said.
"I can tell you that I've never had a single comment directed to me about hotels. And I can also tell you that I've got a player advisory council and our leader on that has never had a comment. If there's something out there, it certainly hasn't come to my attention and we'd want to know about it. We'd want to fix it right away," Plush said.
Morgan's decision to publicly criticize the NWSL's player lodgings could ultimately be a blessing, said Rachel Allison, an assistant professor of sociology at Mississippi State University and former consultant to Women's Professional Soccer franchises. A strong public statement from a high-profile athlete like Morgan, who has a massive fan following, could push soccer officials to commit greater resources to women's soccer.
"Even since Women's Pro Soccer, the previous league, five years ago now, there was a lot of discussion about how much responsibility the national team players should be taking for promoting this league, for being the face of this league, for arguing for greater resources, greater attention, to the NWSL, for instance," Allison said. "This is an example where we see a very visible figure, Alex Morgan, step up and make this a public issue on Twitter. I think that can be a positive in some ways."
Alex Morgan | FindTheBest
Plans For The Future
Plush, the NWSL's commissioner, said league officials are working hard to continue the league's upward trend. One of the league's teams, the Seattle Reign, took more season ticket deposits in the last week than it did in all of 2014, he said. The league has also had closed-door interactions with potential corporate sponsors.
"There's been a lot of dialogue and a lot of tremendous meetings and progress," Plush said. "Sponsorship deals don't happen in a couple of weeks, it takes quite a long time."
Efforts are also being made to address issues with live-streaming of NWSL games. The league enacts certain minimum standards at each of its team's stadiums, in terms of technological infrastructure, bandwidth and more. It's up to team officials, not the NWSL, to implement the live streams effectively.
And while the league's march toward national recognition may be going a bit slower than fans would like, the NWSL's front office is actively looking toward the future. A long-rumored addition of a new NWSL franchise may be in the works, and Plush said the league hopes to deliver an update about potential expansion "in the next six weeks."
The 2016 Summer Olympics in Rio de Janeiro are less than a year away. Women's professional soccer in America will once again receive a bump in fan attention when the U.S. national team competes for a gold medal. In the meantime, the NWSL will look to bridge the gap with a strong end to its 2015 season, which concludes Oct. 1, and aggressive promotion leading into its 2016 campaign. If all goes well, the hotel bedbug fiasco will be little more than a speedbump.
"Anyone who's expecting this success to happen overnight is foolhardy," Strudler said. "There may be success here, but it's going to take time. How long did it take for men's soccer to break through in this country? Generations. So give it some time."
© Copyright IBTimes 2023. All rights reserved.