Sports Sponsorship Deals: How Nike, Reebok Are Gaining Influence Over Smaller Leagues, Athletes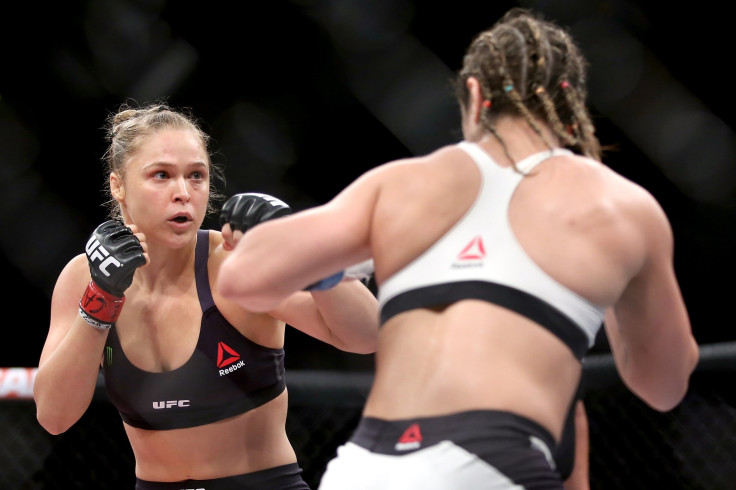 Jacob "Stitch" Duran was once regarded as one of the Ultimate Fighting Championship's top cutmen, professionalism and competence personified in an unheralded but vital occupation. After nearly 15 years of wrapping fighters' hands and treating their injuries in the heat of battle, he developed close bonds with many of the world's top mixed martial artists. He helped younger cutmen adjust to the business and negotiated sponsorship deals on their behalf.
Duran parted ways with UFC in July, hours after he publicly criticized the company's exclusive $70 million outfitting contract with Reebok. The deal restricts employees from wearing anything other than Reebok gear in the ring but doesn't provide compensation to the UFC's cornermen and ringside personnel. Ringside personnel can't wear advertisements from their personal sponsors during UFC events, and fighters are compensated based under a divisive tiered payout system. Duran is a noteworthy critic of the Reebok deal, but a sizable portion of the mixed martial arts community shares his concerns.
"They're all in the negative on that. You look at all these fights from the past, and you look at all these different logos on these uniforms and all that – that all represented money," Duran said.
Companies like Nike and Adidas (Reebok's owner) are spending more money than ever to buy sponsorships. In North America, corporate sponsorship spending across all sports jumped 21 percent from $12.38 billion in 2011 to a projected $14.98 billion in 2015, according to research firm IEG. And as leagues on the outer edges of the mainstream media landscape -- such as the UFC, track and field and swimming -- strain to keep the cash flowing, corporate donors are exerting greater influence over athletes, teams and league employees.
USA Track & Field, which has a deal with Nike worth a reported $500 million, left star runner Nick Symmonds off its roster for this month's 2015 World Championships in Beijing after he refused to agree to wear Nike gear at team functions. The NFL and NBA have experienced similar disputes, but the problem is worst in smaller leagues, where athletes lack the massive paychecks, public notoriety and collective bargaining power to resist corporate pressure.
A Long-term Issue
The recent history of American sports is riddled with clashes between management and athletes over sponsorship deals. The most memorable instance occurred at the 1992 Summer Olympics, when NBA legend Michael Jordan led the vaunted "Dream Team" to a gold medal in Spain. Jordan, who was already one of Nike's flagship athletes, used an American flag to cover up the logos on Team USA's Adidas-sponsored uniforms – a move that received widespread coverage from domestic media outlets.
More recent examples of sponsor clashes rarely result in more than a slap on the wrist. In 2012, the National Football League issued a warning to Washington Redskins quarterback Robert Griffin III, an Adidas athlete, after he covered up the Nike logo on his NFL gear during pregame warmups. Two years later, the league fined San Francisco 49ers quarterback Colin Kaepernick $10,000 after he wore Beats By Dre headphones during a post-game press conference. Kaepernick's audio gear clashed with the NFL's exclusive deal with Beats' rival, Bose.
Athletes who play in the "Big Four" – the NFL, NBA, MLB and NHL – are far better equipped to deal with financial penalties than players in smaller leagues. All four leagues have established collectively bargained minimum salaries, ensuring that even their least-compensated members earn hundreds of thousands of dollars per season. Labor agreements also ensure players get a sizeable cut of all league revenue. Other employees, like the NBA's referees or the MLB's umpires, work out deals of their own.
"They negotiate big sponsorships and the athletes get about 50 percent of the revenue via the collective bargaining agreement," said Dan Rascher, a professor and director of academic programs for the sport management program at the University of San Francisco in California. "That works for both the leagues and the athletes."
And if an individual player has a problem with a sponsorship deal or it's effect on his earning potential, that player can simply contact his union rep -- or simply criticize league policies to tens of millions of fans who tune into regular national broadcasts.
'For Me, It Was A Solid Hit'
The mixed martial arts community doesn't have that luxury. The UFC doesn't have a fighters union that can negotiate minimum salaries or a cut of total profits. The average male UFC fighter earns less than $50,000 per fight, according to one estimate, and typically fights no more often than two or three times a year. And like other athletes under the umbrella of lower-profile governing bodies, there's little they can do to change their circumstances.
"This is mostly something you're going to see in small leagues, where the athletes have less collective bargaining power, when they don't have strong unions, where they're much more on their own and where the leagues can take a little more advantage of them," said Bob Dorfman, a sports marketing expert and executive creative director at Baker Street Advertising in San Francisco.
Officials touted the Reebok deal, which took effect in July, as a way to grow the UFC brand on a global scale and responded to criticism about sponsorship compensation by instituting a pay scale. Fighters earn increasingly more money based on how many times they've fought and whether or not they're competing for a championship, Sports Business Daily reported. A fighter's first five bouts pay out $2,500, increasing to $20,000 for a fighter with more than 21 career bouts and substantially more for a championship bout.
Several current and former UFC personalities have spoken out against the model. Earlier this month, UFC middleweight Tim Kennedy said he earned more sponsorship money in one bout for rival organization Strikeforce, which does not limit personal sponsorships, than the entire roster at UFC Fight Night 73, SB Nation's MMA Mania reported. UFC fighters at that event split $107,500 in Reebok revenue. Joe Rogan, the longtime UFC color commentator, speculated earlier this month that the deal could produce negative press for both the UFC and Reebok.
Duran said he experienced a massive drop in personal income when the UFC restricted his sponsorship opportunities. "It was literally a yearly salary for a lot of people in the middle class. For me, it was a solid hit, no doubt about it," he said.
UFC officials said Monday that the majority of feedback they've gotten from the organization's fighters has been positive, in terms of the both the quality of Reebok gear and the sense of legitimacy it brings to UFC events. Payouts from the Reebok deal may be smaller than what some personnel have come to expect, but companywide deals provide fighters with stable sponsorship money, and it will have a positive effect on the UFC's long-term growth, said Lawrence Epstein, the UFC's chief operating officer. A total of 15 UFC fighters will also have individual contracts with Reebok by the end of 2015, up from 11 who had individual deals as of Monday.
"We, as an organization, are very proud of the amount of money that we're sharing with athletes. We're giving them essentially all of the money that we're getting from Reebok, and we're proud to do that," said Epstein. "Whenever you make changes -- and this is clearly a change, and it's a major cultural shift within the world of mixed martial arts -- there's always going to be some resistance. Like everything we've done at this company from day one, we're trying to build a sport."
The UFC also said Duran wasn't fired because of his comments about the Reebok deal.
"Unequivocally, his comments had nothing to do with him getting let go. I can't be more firm on that. There are a variety of reasons that he was let go but nothing to do with his comments on Reebok," Epstein said. "He's trying to paint this thing as, he said some stuff about Reebok and as a result, he was let go. It's just not true. That's not the reason why he was let go. I can't be more clear on that."
Michael Lunardelli, Reebok's point man for the UFC deal, also denied his company had anything to do with Duran's dismissal. Lunardelli said Reebok always intended to address compensation for cutmen and ring girls as part of "phase 2" of the sponsorship deal, adding that the UFC, not Reebok, came up with the pay scale for fighters.
"Also to be really clear, we don't determine fighter pay scales, how they're paid, where does sponsor money go, any of that. None of that has anything to do with us," Lunardelli told MMAFighting.com earlier this month. "We've never once had a conversation about any of that. That extends out to other things: Some of the people around the game, how they're paid, how they structure it. We don't have anything to do who the UFC hires, fires, any of that. That's on them."
Symmonds Takes A Stand
But it's difficult to dispute the idea that a corporation that contributes tens of millions of dollars in sponsorship money to an organization wields at least some influence over its policies. Take the USA Track & Field's current flap with Symmonds, who balked when USATF officials asked him to consent to wearing Nike apparel at unspecified team functions. Symmonds has a separate endorsement deal with Brooks, a rival sports apparel company. A former Olympian and silver medal winner in the 800-meter run at the 2013 World Championships in Moscow was willing to sacrifice months of hard work rather than risk alienating his biggest sponsor.
USATF was in a similar position. Nike's deal with USATF runs for the next 25 years and is worth hundreds of millions of dollars. At that level of commitment, USATF officials have to ensure their biggest sponsor stays happy, even it means entering the World Championships in Beijing without one of the team's top competitors.
"You can be sure that Nike is saying, 'Listen, we came to the table. We have made it possible for you to be aggressive in the development of track and field athletes in America for the next two generations. So, a little respect please,'" said Rick Burton, the U.S. Olympic Committee's chief marketing officer for the 2008 Summer Olympics in Beijing and a professor of sport management at Syracuse University in New York. "And I'm sure USA Track & Field got to a point where it had to come to grips with that, that their bread was totally being buttered by Nike."
All U.S. track and field athletes are permitted to wear their own sponsorship gear during personal time, USATF spokeswoman Jill Geer told Runner's World. Symmonds acknowledged that he was aware of that fact but declined to sign the document because USATF did not clarify what constituted a "team function."
"The only restriction USATF places on athletes' apparel or appearance at any time is when they represent the United States in National Team competitions, award ceremonies, official Team press conferences and other official Team functions tied to these National Team events," Geer said in a statement. "USATF places no restrictions on athlete footwear, eyewear or watches. As part of USATF's bylaws, the Statement of Conditions must be signed by all athletes who compete for Team USA, and it cannot be unilaterally changed or waived by any USATF officer."
In a recent New York Times profile, Symmonds estimated just 3 percent of his personal income comes from USATF, with the vast majority earned through his own sponsorship deals. Geer said the USATF spends about $15 million, roughly half its budget, on team members through direct financial compensation, prize money and travel reimbursement. About $5 million of that cash goes straight to athletes.
"Nike is a proud partner and sponsor of USATF," Nike said in a statement to the New York Times. "This is a matter pertaining to the rules of the USATF national team."
At the moment, there's little the athletes and employees can do to improve their financial standing. Aside from the formation of a union, it would likely take public criticism from a major figure like the UFC's Ronda Rousey to force the issue. But name recognition is at a premium in smaller leagues.
"The challenge is that the big-name athletes tend to make enough money that it isn't such an issue," Dorfman said. "It's the smaller-name athletes that are really getting hurt and damaged by this."
FOR FREE to continue reading
✔️ Unlock the full content of International Business Times UK for free
offer available for a limited time only
✔️ Easily manage your Newsletters subscriptions and save your favourite articles
✔️ No payment method required
Already have an account?
Log in
© Copyright IBTimes 2023. All rights reserved.