Attack On US Green Beret Soldiers In Jordan: Lone Wolf Behind Death Of 3 Special Forces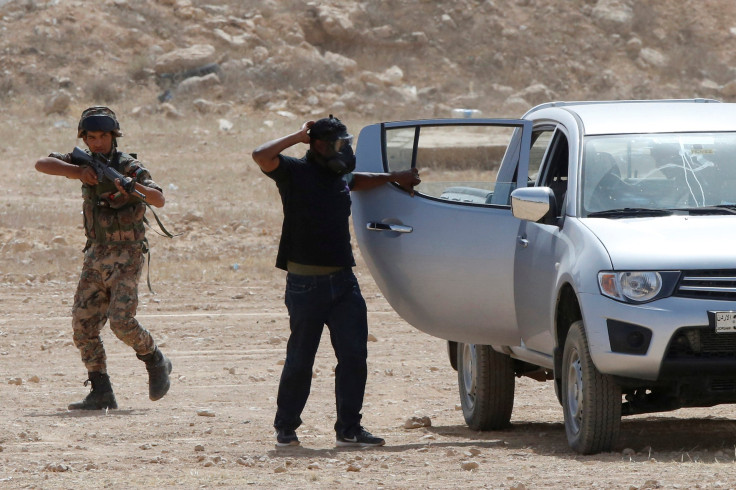 A U.S. military investigation found that a Jordanian officer acted alone in the killing of three U.S. special forces soldiers stationed in Jordan in November, according to a reporter with the Tampa Bay Times.
Jordanian Cpl. Ma'arik Tawayha reportedly opened fire on a vehicle containing Staff Sgt. Matthew C. Lewellen, Staff Sgt. Kevin J. McEnroe and Staff Sgt. James F. Moriarty as it approached the King Faisal Airbase near the southern Jordanian city of al-Jafr. A fourth U.S. soldier, who survived, was also reportedly in the vehicle.
Initial reports from Jordanian authorities suggested the U.S. soldiers, all Green Berets from the 5th Special Forces Group (Airborne) involved as military trainers in the U.S.-led operation against the Islamic State group, also known as ISIS, had sped toward the airbase's entrance without stopping at a security checkpoint and accidentally discharged their weapons, prompting the Jordanian response. An investigation by the U.S. Special Operations Command, however, has placed the blame solely on Tawayha, according to Tampa Bay Times reporter Howard Altman.
The panel, which partially withheld its findings on behalf of the Defense Department and FBI, stated that the three soldiers had followed protocol and were not at fault for the incident, which reportedly resulted in a chaotic firefight before the gunman was killed. Investigators reviewed eyewitness accounts and surveillance footage to support their conclusion. No motive was given for the attack, however, earlier reports said that no links to terrorism had been established.
Jordan and the U.S. have worked together in battling ISIS since the Pentagon commenced Operation Inherent Resolve in an effort to combat the jihadist organization's rapid spread throughout Syria and Iraq in 2014. Jordan conducted its own airstrikes against the group, which captured and burned alive Jordanian pilot Lt. Muath al-Kaseasbeh after his jet crashed near ISIS territory in Syria in 2015. In response, Jordan executed two prisoners on death row charged with links to Islamist militant groups.
The three U.S. soldiers killed in November were reportedly part of the CIA's train and equip program designed to bolster opposition forces in Syria. Jordan has hosted Western-backed Syrian rebel groups such as the Southern Front, which were formed in order to counter influence by more radical, Islamist forces also fighting to overthrow Syrian President Bashar Assad. The Syrian government has allowed Jordan's air forces to bomb ISIS positions in Syria, but has said that ground forces and rebels were not welcome. The CIA program to support rebels has since reportedly been suspended due to major jihadist advances against Western-backed groups.
© Copyright IBTimes 2023. All rights reserved.