August 2013 US Auto Sales: Detroit Three Sold 662,669 Vehicles In US Last Month; General Motors (GM) Up 15%, Ford (F) And Chrysler Both Up 12%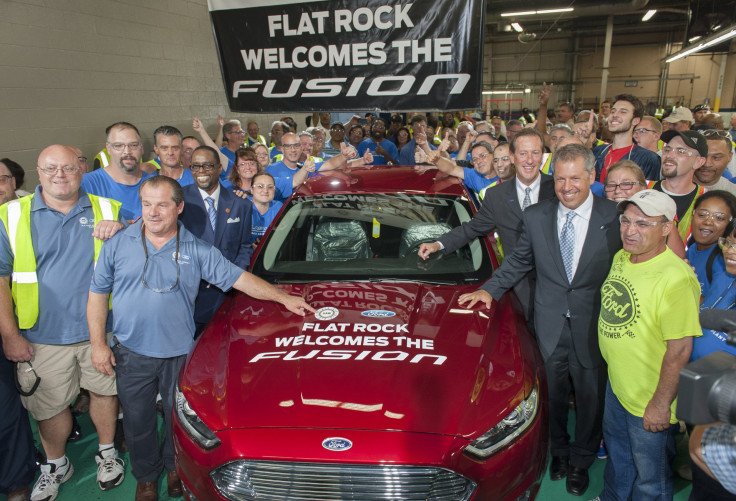 Driven by one of the lowest new-car interest rates in history, Americans bought nearly 663,000 vehicles from the Detroit 3 in August, putting the sector on pace to top 15.5 million unit sales for 2013.
Analysts polled by Bloomberg estimated that U.S. auto sales rose 14 percent in August, to 1.47 million units. The seasonally adjusted annualized rate (SAAR) -- a key monthly metric for gauging the health of the auto market -- is estimated by analysts to hold at July's 15.8 million, significantly higher than last August's 14.5 million. This puts the sector on track to come close to or top the 16.1 million figure hit in 2007 (prior to the auto industry crisis) by the end of 2014.
The average interest rate on new car purchases is at one of the lowest historical points, at 3.9 percent, according to Edmunds.com. With such enticing financing, Americans -- who are driving cars that are on average more than 11 years old -- are being lured into showrooms to check out standard features their clunkers don't have, such as LED lights and rear-view cameras. They're paying more for this content, but they don't seem to mind.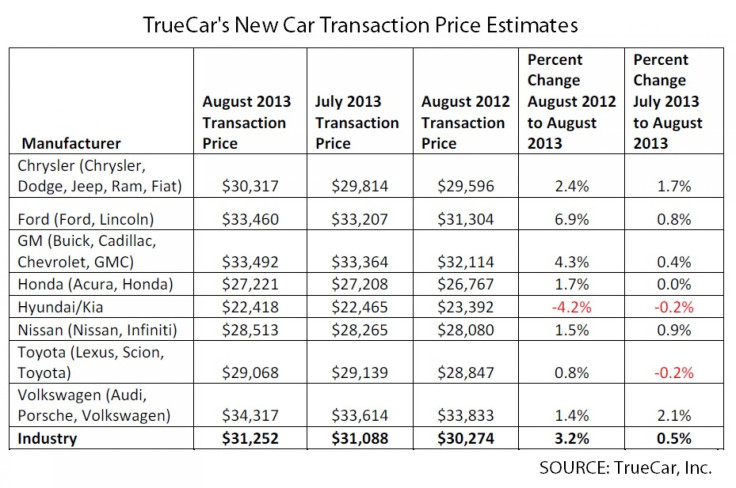 Auto information provider TrueCar says the industrywide average transaction price for a light passenger vehicle in the U.S. last month stood at $31,252, a 3.2 percent increase from last year with Ford, General Motors Co. (NYSE:GM) and Volkswagen of America Inc. charging above the average.
Edmunds.com estimates that automakers spent on average $2,347 per vehicle sold on incentives, such as rebates and financing subsidies, rising 3 percent from the same month last year. So while cars are costing more, car makers are spending at almost the same rate to get them sold.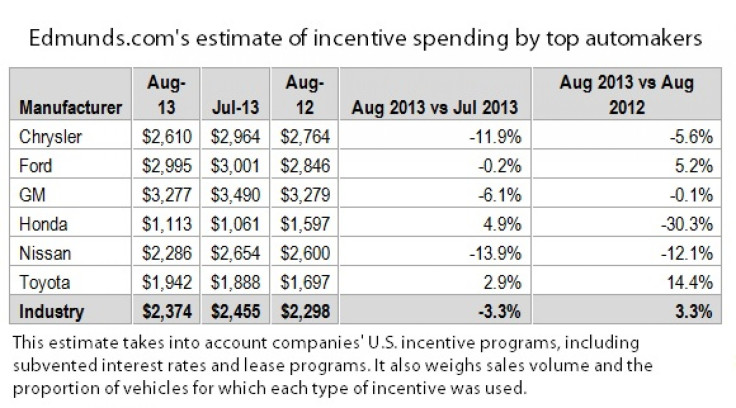 The takeaway for August U.S. auto sales: Retail sales, which exclude bulk purchases and are a better indication of consumer sentiment and demand, are surging on good product offerings and low interest rates. Some automakers even expect the SAAR to top 16 million once all the chips are counted. That hasn't happened since 2007.
General Motors
GM sold 275,847 vehicles in August, a 15 percent rise from the same month last year, largely due to robust retail sales demand and strong performance from the Cadillac and Buick brands.
August was the highest selling month this year and the best month since September 2008 for North America's largest automaker. This means GM sold the most cars last month than it has since the start of the auto industry downturn primed by the bank-instigated subprime mortgage meltdown.
"The second half of 2013 is off to a very solid start for GM, and our model-year change-over and new product launches are going smoothly," said Kurt McNeil, vice president, U.S. sales operations, said in a statement.
Sales of crossovers such as the Chevrolet Equinox and the Buick Encore saw a 34 percent rise while full-sized pickups jumped 15 percent, mostly thanks to the 43,603 Silverado pickups GM sold in the U.S. last month.
GM broke sales records for the Buick Verano compact sedan (5,826), the Chevrolet Spark city car (4,534), the Chevrolet Sonic sedan (11,354), the Cadillac XTS full-sized luxury car (3,533), and the Chevrolet Volt hybrid plug-in (3,351).
"Although Buick and Cadillac have been particularly strong as of late, there are plenty of reasons to remain optimistic about Chevrolet, which has seen tremendous growth thanks to the all-new Silverado, Equinox and fuel-efficient Spark and Sonic," said Alec Gutierrez, senior analyst at Kelley Blue Book.
GM is second only to Volkswagen in average transaction price, at $33,452 per vehicle sold.
Ford Motor Co.
Ford delivered 221,270 units in August as truck and car sales more than made up for a small dip in crossover sales. The car companyt based in Dearborn, Mich., sold 71,115 F-Series pickups, a 22 percent increase from August 2012, while overall Ford car sales jumped 17.5 percent to 73,630 units.
"Small cars and hybrids continue to outpace the market in the coastal regions of the U.S., with Ford-brand retail small car sales growing at more than three times the rate of the U.S. small car industry," said Ken Czubay, Ford vice president, for U.S. marketing, sales and service, said in a statement.
The company said Wednesday that in order to meet strong demand, it will boost fourth-quarter production by 7 percent to 785,000 vehicles.
The Fusion sedan saw its best-ever August, a 14 percent rise to 24,653 units. Ford said retail sales – which exclude fleet purchases from customers such as local governments and car rental agencies – were particularly strong in August, rising 20 percent from last year. The Lincoln brand saw a slight (1 percent) increase in sales due largely to demand for the MKZ mid-sized entry-level luxury car.
Ford's average transaction price rose 7 percent from last year, to $33,460, and was up $253 from July, according to TrueCar.
Chrysler Group LLC
Chrysler, a subsidiary of Italian company Fiat SpA (Milan:F), sold 165,552 vehicles in the U.S. in August, a 12 percent increase from a year ago and an 18 percent rise from July.
"Chrysler came in with stronger sales than expected," said Edmunds.com Senior Analyst Michelle Krebs. "That indicates either the Labor Day close was very strong or Chrysler plugged some extra fleet sales into August. Last month looks to have had the lowest industry fleet sales of any August since 2007. If Chrysler's better-than-expected August performance is due to a strong Labor Day close, we likely will see other automakers beating forecasts as well."
The Auburn Hills, Mich.-based automaker had its 41st consecutive monthly gain, mostly due to continued robust demand for trucks. The Ram brand saw sales jump 29 percent from the same month last year, to 33,587 units, while Dodge sales increased 12 percent to 52,858 units. All of Chrysler's brands saw rises – Jeep by 8 percent, Chrysler by 2 percent and Fiat by one percent.
"Last month we achieved our strongest retail sales in the past 60 months," Reid Bigland, head of U.S. sales for Chrysler Group, said in a statement.
The average transaction price for a Chrysler vehicle hit a record $30,317 last month, according to TrueCar.
Sales of Dodge's Charger and Challenger muscle car both saw significant year-over-year rises. The Jeep Patriot saw the largest percentage spike, 42 percent to 7,170 units, while the Jeep Grand Cherokee saw the highest non-truck volume of 17,976 units, or 40 percent. Sales of the Dart sedan that was reintroduced in May 2012 after a 36-year hiatus more than doubled from August of last year, to 6,901 units.
© Copyright IBTimes 2023. All rights reserved.