August 2013 US Auto Sales Seen Hitting The Highest Rate For Any Month Since 2007, Coming Close To 1.5 Million Units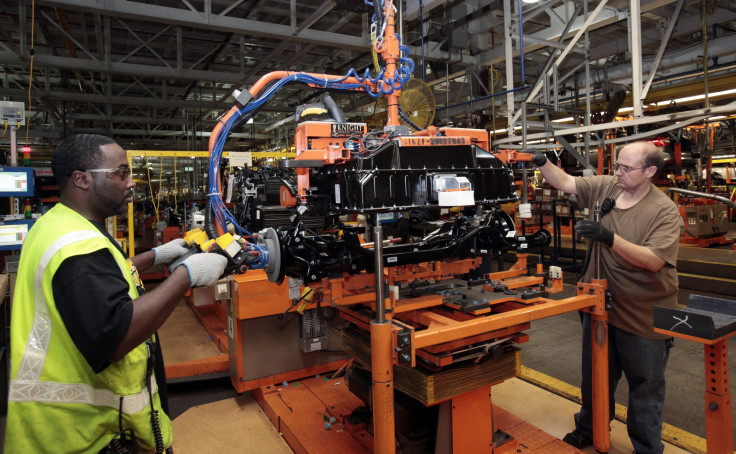 No wonder automakers are working overtime.
The latest estimates for auto sales as we head into late summer 2013 breaks down like this: The current robust gains in the U.S. auto market indicate it's well on its way to post-recession recovery.
On Friday J.D. Power & Associates and LMC Automotive said the seasonally adjusted annualized rate (SAAR) for August U.S. auto sales could hit 16 million for the first time since November 2007. August U.S. auto sales will be reported on Sept. 4, after the Labor Day holiday.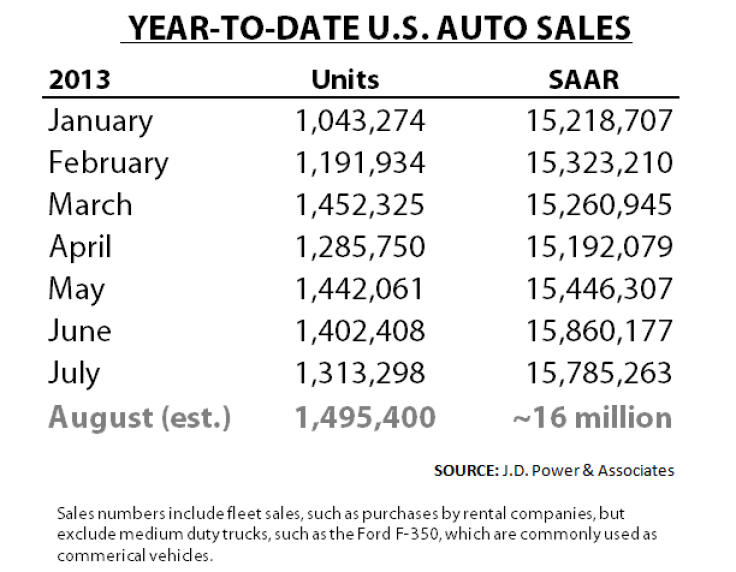 "Most automakers are seeing double-digit sales increases compared to last year as retail sales remain a bright spot, even with more new models entering the market," said Alec Gutierrez, senior analyst at Kelley Blue Book.
Unit sales for the month are expected to come close to 1.5 million. That figure includes fleet sales, such as bulk procurements from state and federal agencies and car rental companies, but excludes medium-duty trucks, like the Ford F-250, which are typically used as commercial vehicles.
Kelley Blue Book, the auto pricing and car information provider, sees fewer unit sales coming in August, with an SAAR of 15.6 million and 1.46 million units sold for the month. KBB sees Ford Motor Co. (NYSE:F) maintaining its slight lead against Toyota Motor Corp. (TYO:7203) on robust demand for its latest Fusion midsize sedan and Focus and C-Max compacts.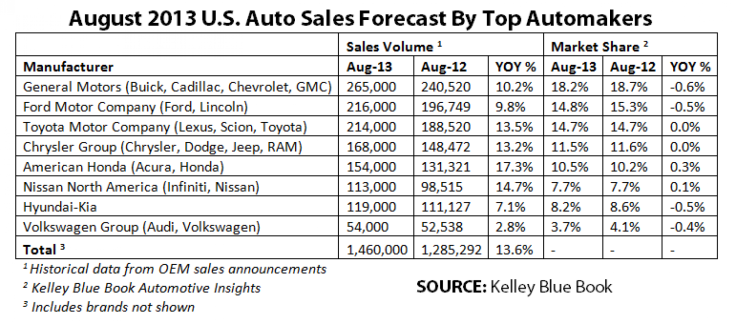 Ford earlier this month said it had boosted its North American vehicle production by 600,000 units over the previous 15 months. Demand for the latest Ford Fusion is up more than 20 percent from last year, so strong that the automaker's supply dropped recently to 39 days, below what's considered the happy-place 60-day lead – beyond that, an automaker spends more on cars waiting in lots to be delivered; less than that and they risk losing sales because they can't get vehicles to dealers when they need them. Automakers across the board have increased output to cash in on a rebounding U.S. car market, putting stress on the supply chain, which has been boosting capacities as well.
The big picture: The auto sector has climbed from a record-low SAAR of 10.4 million in 2009 amid the auto industry crisis that sent GM and Chrysler LLC into Chapter 11 restructuring, including a bailout by the U.S. government. (International Business Times reported recently that if the U.S. Treasury sold all of its remaining shares in GM today, GM would still owe the taxpayers about $10 billion.)
Last year the SAAR climbed to 14.5 million, well above 2008's level when the industry began to tank due to the sub-prime mortgage meltdown caused by the banking system. This year, the SAAR is expected to end between 15 million and 15.5 million, though some estimates are higher by about 100,000 cars. The big question moving forward is whether the auto industry can top 16.1 million units (2007's rate) by the end of next year. If that happens, the industry would be at the same level it was at when it began a steep downturn.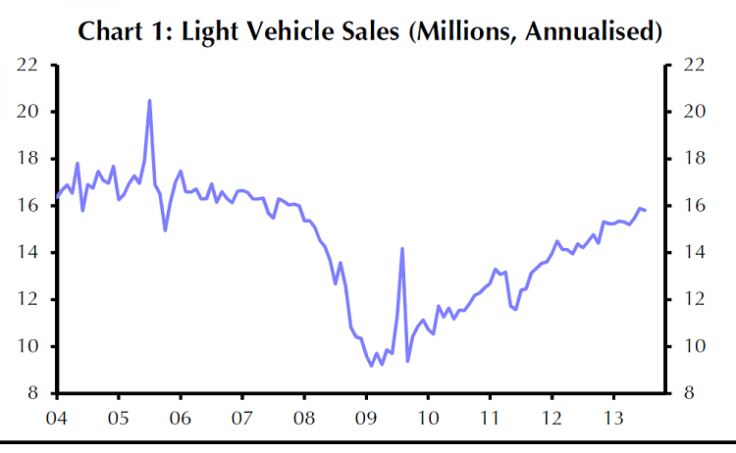 Many estimates say this is possible. Goldman Sachs auto analyst Patrick Archambault said in a research note last month that growth this year will be slower than last year, but it will still be in the high single digits this year.
"If our forecasts are correct, the SAAR will go from up 13.4 percent last year to up 7 percent this year to up mid-single digits in 2014/2015," he wrote.
If this forecast is correct, next year's SAAR will meet or top 2007's level.
© Copyright IBTimes 2023. All rights reserved.