August Jobs Report: What The Employment To Population Ratio Tells Us About The Health Of The Economy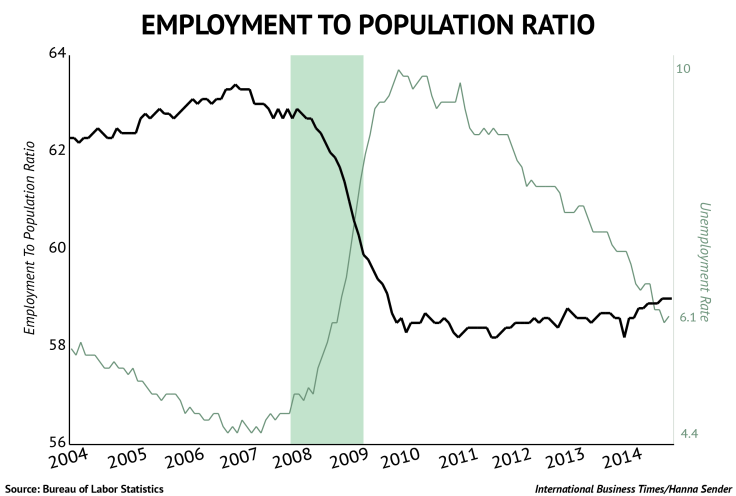 The slight dip in the U.S. unemployment rate reported by the Labor Department on Friday morning may seem encouraging, but it's not the best barometer of the economy because it only measures people who have looked for a job in the past four weeks. To really get a sense of the state of the economic recovery, look at the employment-to-population ratio, which includes all those in the labor force and is therefore much more comprehensive. Everyone who is between the ages of 16 and 64 who are not working, even those ignored by the unemployment rate -- the long-term unemployed and people who are not looking for jobs -- are counted in the ratio. That ratio has remained at 59 percent for the third month in a row, another sign that the economy has never truly recovered from the recession.
The rate has risen only slightly from its postrecession low of 58.2 and is still nowhere near the the prerecession high of 64 percent. The unemployment rate, however, shows a slow but healthy recovery, nearing where it was 10 years ago. As one Zero Hedge contributor noted, "one thing is clear: The ratio crashed when the depression started and has flatlined since."
© Copyright IBTimes 2023. All rights reserved.