Austin Rivers Eyes NBA: Will Daddy's Boston Celtics Draft The Duke Star?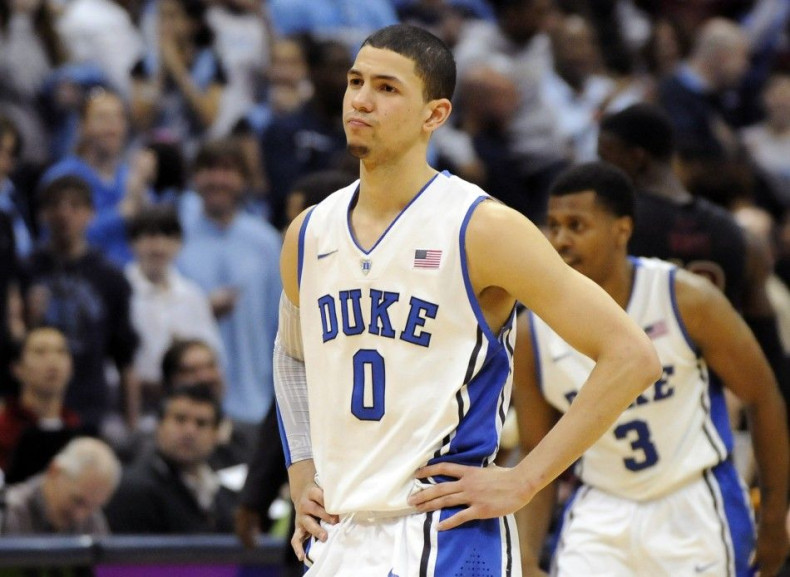 Austin Rivers is eyeing the NBA, prompting observers to wonder if the Duke star will go to his daddy's floundering Boston Celtics team.
Rivers, a freshman, was one of the premier faces on the Duke University Blue Devils NCAA basketball team this year, much as his father, Doc Rivers, is one of the faces of the Boston Celtics NBA team.
With a highlight reel many seniors would envy (including his miraculous, game-clinching, buzzer-beating three to sink archrivals UNC by 85-84 on the Tar Heels' home court on Feb. 8), Rivers has a set of skills that would make him a good fit on many NBA teams.
But his inexperience and his relatively slight build (6-feet-4, 200 pounds) make it unlikely that he will be a first-round pick, especially with a crop of powerhouses like Ohio State University's Jared Sullinger and the University of Kentucky's Anthony Davis likely headed to the draft as well.
So the question that remains is this: Will Austin Rivers' daddy, the inimitable Doc Rivers, take this opportunity to bring his own son back under his wing? The Boston Celtics have been disappointingly inconsistent this year, and their aging core of Kevin Garnett, Paul Pierce and Ray Allen have had a hard time carrying the team, especially with young point guard Rajon Rondo suffering from injuries for portions of the condensed season.
Though the Celtics have come back from a shaky start (mostly due to the yeoman work of 34-year-old small forward Pierce) to seize the seventh slot in the NBA's Eastern Conference, the team needs an injection of youth and vigor before next year if it wants to win another title.
So that brings us to Austin Rivers. The deadeye shooting guard, whom Chris Fedor, of Sports Radio Interviews, described as having ice water running through his veins, and whose nickname is Subzero, would bring a freshness to his daddy's Boston Celtics team, but it's hard to predict what his father's take on such a move might be.
His reputation for being cool in the face of competition and adversity makes him a better candidate than most to join an NBA program, as many players suffer from an inability to close and execute once they reach the pros. But Austin Rivers wasn't able to take his second-seeded Blue Devils anywhere this year, joining Coach K and his teammates in their bitter defeat vs. 15-seed Lehigh University in the Round of 64. It was one of the worst upsets of the 2012 NCAA Tournament, and it did not seem to suggest that Rivers has the fortitude needed to make it in the pros.
So will he need to rely on his father to make it into a team in the first couple rounds of the draft this year? Most likely not, as Austin Rivers is one of the hottest young guards in the game. But Rivers has repeatedly stated that the Celtics are his favorite team, and earlier this month he told BasketInside.com the following:
My favorite pro team is obviously the Celtics. And other than the Celtics, I like any team. I just like watching NBA basketball, period. Any team is fine with me, but yet go family first, so Celtics.
So the signs all indicate that we may see a father-son team in Boston as soon as next season, but we'll have to wait a couple of months, as nothing will be officially decided until the 2012 NBA Draft, scheduled for June 28.