Australia Prints New Money Designed To Help The Vision-impaired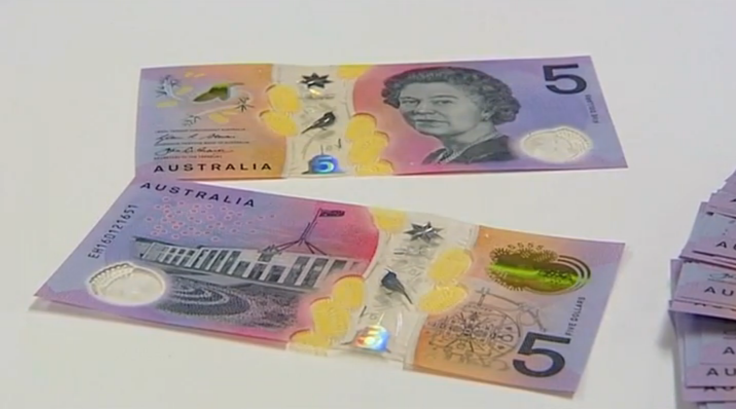 The Reserve Bank of Australia has started circulating its new five dollar note designed to help the vision-impaired and featuring anti-fraud technology.
"They are going to enjoy the Australianess of it, you know, it's got wattle, it's got native birds, it's got a real Australian theme to it," said the Reserve Bank of Australia Assistant Governor, Michele Bullock.
The five dollar note still features the Queen of England but comes with the world's first transparent panel across the middle, according to Seven Network, with a bird whose wings appear to flap when the note is tilted.
The note also features a number five that reverses in the image of Federation Pavilion and parts of the Australian constitution hidden in tiny words in the image of Parliament House, all in a bid to prevent fraud.
"The reason for doing this now is to just make sure that we are staying well ahead of the counterfeiters," Bullock said.
This will also be the last Australian note to carry the signature of the Reserve Bank of Governor, Glenn Stevens who retires in October. "It's a very nice note and I think people will like it," said Stevens.
The vision-impared have also been considered with two tactile features to help identify the note.
These added features are thanks in a large part to Sydney teenager Connor McLeod who, according to the Australian Broadcasting Corporation, launched a discrimination complaint with the Australian Human Rights Commission and started a petition calling for action on currency.
"I'm stoked, it's good to, you know, get the, have what I've been pushing for, for three years now come out now and to be able to help other people and myself," said McLeod after being presented with a framed five dollar note by Vision Australia.
According to local media, the next Australian piece of currency in line to be given a makeover is the 10-dollar note.
© Copyright IBTimes 2023. All rights reserved.
FOLLOW MORE IBT NEWS ON THE BELOW CHANNELS