Australia's Prime Minister Warns Further Attacks 'Likely' In Wake Of Sydney Siege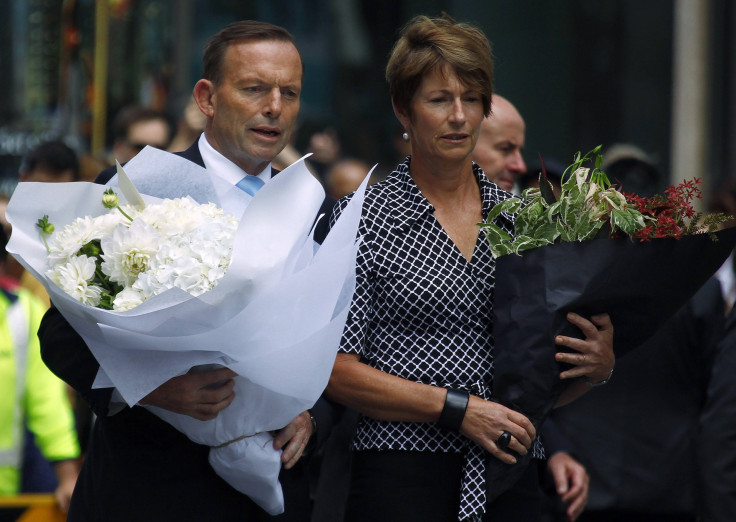 A terror attack in Australia remains likely as the level of "terrorist chatter" has increased in recent days, Australian Prime Minister Tony Abbott said Tuesday, according to media reports. His statements, reportedly made after a meeting of the country's National Security Committee, come barely a week after an attack at a café in Sydney led to the deaths of two hostages.
"The national security agencies today indicated that there has been a heightened level of terrorist chatter in the aftermath of the Martin Place siege," Abbott reportedly said. "That's why it's important that people remain … reassured that our police and security agencies are doing everything they humanly can to keep us safe."
He further added that the information gathered by intelligence agencies had indicated that there are people with "intent and capability" to carry out further attacks in Australia and urged people to remain alert.
"As you'll all understand, at this level, an attack is likely, we don't know when and how an attack may come," Abbott reportedly said.
According to a report by The Sydney Morning Herald, Anthony Byrne, deputy chairman of the parliament's joint committee on intelligence and security, also said that there is an immediate need to raise the terror threat level to "extreme" -- Australia's highest threat level.
"On the basis of recent events both here in Australia and overseas, and provided the information that the Prime Minister spoke about was sound and accurate there is a strong case to raise the terror threat to extreme as quickly as possible," Byrne reportedly said.
As of now, the threat level remains at "high" -- the second highest level -- since it was raised in September following warnings by authorities over threats posed by Australian citizens returning home after fighting for the Islamic State group in Iraq and Syria. However, Abbott reportedly said that the threat indicator would remain at its current level.
Australian authorities have so far not classified last week's siege at the Lindt café in Sydney -- carried out by a self-styled Iran-born cleric named Man Haron Monis -- as a terrorist attack, according to media reports.
© Copyright IBTimes 2023. All rights reserved.
FOLLOW MORE IBT NEWS ON THE BELOW CHANNELS