Azerbaijan - A Repressive, Corrupt Country That The West Loves: There Must Be Oil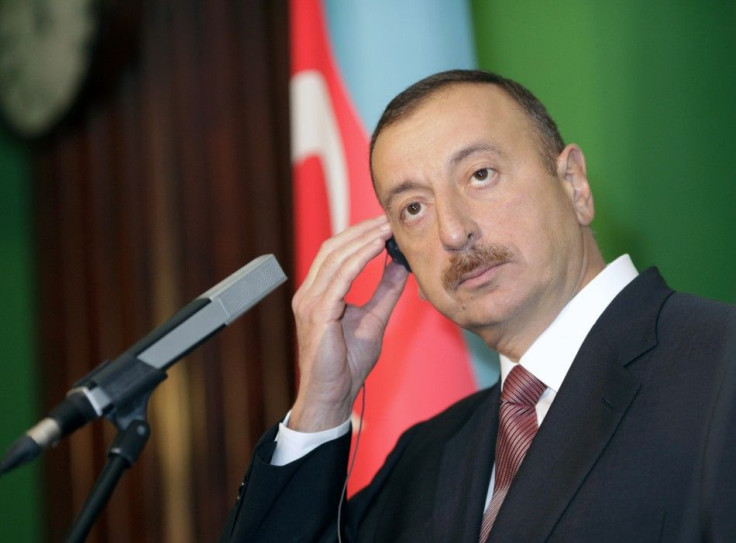 In many ways, Azerbaijan is an outlier nation. The former Soviet republic is an overwhelmingly Shia Muslim state that has poor relations with its Shia neighbor Iran, but it enjoys warm ties with Israel. Moreover, geopolitically, Azerbaijan seeks closer ties with democratic nations like the United States and Western Europe, but it maintains repressive control over its own people; indeed, the country's leaders are suspected of having committed grave human rights abuses.
And although it is a tiny country, just 9 million people on the Caspian Sea -- mostly farmers and fishermen -- lately Azerbaijan has been on the forefront of a lot of important people's minds.
For example, British Prime Minister David Cameron said at an oil and gas summit last January in the capital city of Baku that Azerbaijan is at the heart of a region whose energy resources will play a vital role in the world economy in the years to come."
With all of its contradictions, Azerbaijan is a complex country to fully figure out; its tangled friendships and autocratic policies are often puzzling. But its recent obsession with its oil reserves is as undiluted and unwavering as anything the country has ever done.
Azerbaijan has 7 billion barrels in proven reserves of oil and produces just over one million barrels per day. (Liana Jervalidze, a research fellow at the International School of Caucasus Studies, Ilia State University, and a former official with the Ministry of Foreign Affairs of Georgia, said Azerbaijani geologists believe the actual magnitude of reserves could be much higher.)
The State Oil Fund of Azerbaijan (SOFAZ), the government entity that manages oil and gas revenues, currently has a treasure chest of $30 billion, a figure that is expected to grow to $34 billion by the end of 2012 and soar to $50 billion over next five years. In 1999, SOFAZ's assets totaled less than $300 million.
Azerbaijan is also aggressively investing in its energy sector to keep it pumping. Since 1995, Baku has poured in $120 billion to upgrade infrastructure. And working with Western partners like BP plc, Total S.A. and Exxon-Mobil Corp., Azerbaijan is constructing massive pipelines to transport natural gas from the Caspian Sea, through Turkey, towards markets in Europe (thereby excluding Russia and Iran from the equation entirely).
Indeed, it's these relationships and the support that these alliances have from Western democracies that are raising eyebrows. For all of Azerbaijan's geopolitical and strategic importance, the country is a repressive, corrupt state with a poor human rights record, precisely the type of government that Western powers attack as illegitimate when it is in, say, Syria.
Listen to the way Matt Bryza, an official with the U.S. State Department, tiptoes around the excesses of Azerbaijan's president Ilyam Aliyev, who took power in 2003 after a tampered election: We don't see Ilham Aliyev as a dictator. We see him as the leader of a country with an emerging democracy that has a long way to go to become a healthy democracy.
Among The Most Corrupt
Of course, oil makes strange bedfellows and there are other repressive autocracies that the West is friendly with only because of their energy reserves; Saudi Arabia, Indonesia and Qatar immediately come to mind. But none of them are as corrupt or repressive as Azerbaijan.
Aliyev became President upon the death of his father Haidar Aliyev, who had been named to the top post during a military coup two years after independence from the Soviet Union in 1991. In the 2003 election, Ilham garnered nearly 77 percent of the popular vote, even as activists staged loud and wildly popular demonstrations against what they viewed as a tainted election. International monitors by and large agreed, ultimately condemning Aliyev's cronies for a variety of violations, including voter intimidation and irregularities in vote counting.
In part because of this and what has followed, Azerbaijan is considered one of the most corrupt countries in the world, according to Transparency International, the anti-corruption watchdog. Out of a field of 183 countries, Azerbaijan was ranked the 40th most corrupt; the only European nations above it on the list were Belarus, Russia and Ukraine.
Among other infractions, Transparency International cited the failure of Azerbaijani oil and gas companies to provide corporate disclosure; payments demanded in exchange for state medical services on entry into universities; the widespread bribery of public officials, customs officers and police officers, as well as kickbacks paid to politicians.
Opposition forces and international observers have also criticized parliamentary elections in Azerbaijan. During the 2010 parliamentary contests, European election watchers charged Azerbaijani authorities with ballot stuffing and crushing dissent by clamping down on media freedoms and preventing many opposition candidates from voting. Tellingly, not a single opposition candidate won a seat.
According to Human Rights Watch (HRW), the Azerbaijani authorities have continued to stifle all forms of protest and have imprisoned scores of pro-democracy activists as well as clamped down on press freedoms by harassing, attacking and even arresting reporters.
In May 2011, the European Parliament condemned Azerbaijani authorities over the "increasing number of incidents of harassment, attacks and violence against civil society and social network activists and journalists in Azerbaijan."
HRW estimates that at least 45 political prisoners were held in prison in 2011, following their participation in rallies inspired by Arab Spring.
"Torture and ill treatment continue with impunity and two men died in police custody in 2011," HRW stated. "In the first half of 2011 the Azerbaijan Committee against Torture… received 89 complaints alleging ill-treatment in custody."
As recently as last month, police arrested 70 peaceful demonstrators ahead of the annual Eurovision music contest final, held this year in Baku "It's incomprehensible that the authorities meet even the most basic attempts at free expression and protest with violence," said Giorgi Gogia, an HRW researcher.
Opponents of the Aliyev regime fear that the country's oil bounty will only be used to further suppress dissent – and they blame the West for, in effect, enabling Aliyev's worst instincts by refusing to question his activities.
"I don't understand how oil can blind you to the suffocation of democracy here," lamented Ali Kerimli, a leading opposition activist.
Few Nearby Allies
Azerbaijan needs all the friends it can get in the West because the country has strained relations with most of the countries that it borders.
Most prominently, Azerbaijan has been locked in a lengthy dispute with Armenia over Nagorno-Karabakh, a region located entirely within Azerbaijani territory, but controlled by the Armenians.
The two nations fought a war over Nagorno-Karabakh in the 1990s, in which 30,000 people were killed and 1 million more were displaced. Azerbaijan has repeatedly threatened it will reclaim Nagorno-Karabakh by military force.
Azerbaijan also has ongoing disputes with Iran, Georgia, Turkmenistan and Turkey over a variety of issues.
With respect to Iran, about 10 million ethnic Azerbaijanis live in northern Iran, more than the population of Azerbaijan itself – raising fears that turmoil in Iran, such as a military standoff with Israel over Iranian nuclear ambitions, would spark a sudden exodus.
"The rapid and vibrant economic development of Azerbaijan may become an attraction for ethnic Azerbaijanis living in northern Iran," Jervalidze said. "A large number of refugees would be extremely difficult to absorb."
Indeed, Israel -- with which Azerbaijan enjoys strong relations and a shared hostility towards radical Islam -- has cost Azerbaijan much goodwill in the region. Not only have Azerbaijan and Israel signed huge arms deals, but Israeli military officials have reportedly considered using Azerbaijan as a base to launch attacks on Iran.
Complicating all these crosscurrents and webs of intrigue is the fact that Azerbaijan does not wish to become estranged from its former Russian masters, in part because
Russia is playing a leading role in trying to mediate a solution to the Nagorno-Karabakh dispute.
And while Russia is not a major trading partner with Azerbaijan, Moscow imported 1 billion cubic meters (bcm) of Azerbaijani gas in 2010 and intends to more than triple that order in the future.
Warning Signs
While Azerbaijan's oil reserves are clearly the country's greatest advantage, they also represent a set of potentially significant problems. For one thing, by most accounts, Azerbaijan is too dependent on its energy sector and has fallen into the trap and not diversifying its economy.
Analysts estimate that the Azerbaijani energy sector accounts for over 50 percent of GDP and more than 90 percent of exports. As a result, the country's future is at the whim of volatile oil prices and global economic conditions. Indeed, last year Azerbaijan's GDP was flat, after 5 percent expansion in 2010, and a robust 9.3 percent surge in the prior year.
But because of entrenched corruption and a relatively capital flow infrastructure, foreign investors are hesitant to put money into Azerbaijan's agriculture and manufacturing sectors, said Alice Mummery, an analyst for the Economist Intelligence Unit (EIU) in London.
Consequently, Azerbaijan's foreign policy is squarely focused on maximizing its oil profits – and using its reserves to maintain good relations with Russia and the West. But if oil production slows in the coming years, bringing down the nation's economy with it, the potential for social protests and street fights could climb.
"We expect the authorities will continue to clamp down heavily on any signs of unrest," Mummery said.
Should that occur, without oil to grease the relationship, the West may be less forgiving about Azerbaijan's autocratic excesses.
© Copyright IBTimes 2023. All rights reserved.
FOLLOW MORE IBT NEWS ON THE BELOW CHANNELS