The Bad Bomb: Cluster Munitions, Cold Cases And A Blame Game In South Sudan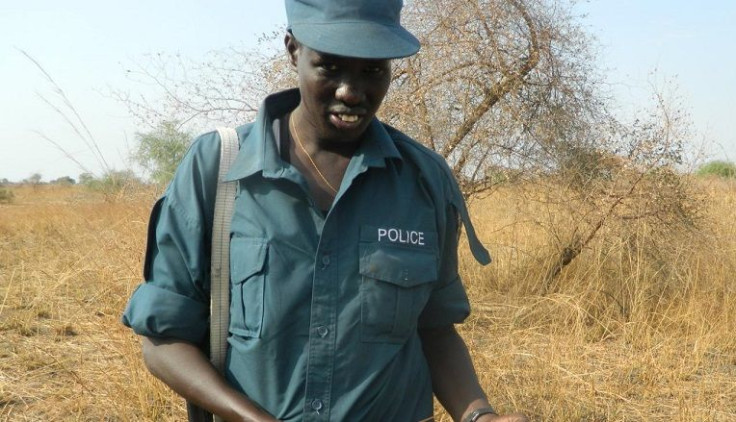 ADDIS ABABA, Ethiopia – One of the world's most reviled weapons has made an appearance in the war-torn country of South Sudan, and no one is taking responsibility.
Thousands have died in the young nation since clashes erupted in the capital city of Juba on Dec. 15 last year, and more than half a million have been displaced. Now, allegations of cluster bomb attacks are further complicating the conflict.
Cluster bombs are explosives that can detonate in mid-air, scattering smaller bomblets across a wide area. The weapon endangers civilians and infrastructure since it's impossible to aim it with any precision. And not all bomblets detonate upon hitting the ground; they often explode later -- with fatal force -- when stepped on by an innocent passersby.
U.N. experts' recent discovery of cluster bomb remnants, compounded by opposition claims that the weapon has been used as recently as March 3, have combatants and observers searching for answers. How did this notorious weapon find its way into South Sudan, and which of the combatants is to blame?
Bombs Over Bor
South Sudan's conflict began as a political one, but it has been been exacerbated by longstanding ethnic tensions between the country's two largest groups: the Dinka, largely aligned with President Salva Kiir; and the Nuer, many of whom back opposition leader Riek Machar, a former vice president. Ugandan troops are fighting alongside the South Sudanese government.
The fighting has devastated communities in South Sudan's northeastern states, and militants on both sides have been accused of committing atrocities against civilians. For outsiders looking in, identifying the perpetrators of the worst abuses is no easy task -- especially when it comes to cluster bombs.
Experts from the U.N. Mines Action Service and the U.N. Mission in the Republic of South Sudan, or UNMISS, identified cluster bomb remnants in early February along a road just south of Bor, the capital of Jonglei state. The type of cluster bomb -- RBK-250-275 AO-1SCh -- contains 150 bomblets and has a destructive area of about 50,000 square feet (46,000 square meters). "We located containers and component parts which we believe indicate that between 8 and 10 of the weapon systems were used," said UNMISS spokesperson Ariane Quentier to IBTimes.
The deployment of cluster bombs is considered so egregious that human rights organizations the world over have lobbied to ban their use anywhere, at any time. Since 2008, 84 countries have ratified an agreement called the Convention on Cluster Munitions to prohibit the weapons' use. But there is still much to be done.
"Several African countries that have joined the treaty banning cluster munitions have declared stockpiles of Soviet cluster munitions, including Botswana, Côte d'Ivoire, Guinea Bissau and Mozambique," said Mark Hiznay, a munitions expert with Human Rights Watch. "Of course, Sudan has stockpiled and used the weapon too, and South Sudan is contaminated with remnants from that period."
Pointing Fingers
The opposition is not known to have the air-power capability to drop cluster bombs, and it puts the blame squarely on the shoulders of Ugandan and South Sudanese government forces.
Early this month, rebel army spokesman Brigadier General Lul Ruai Koang alleged a new incidence of cluster bombing in Uror County, an area of Jonglei state where some members of the White Army, an ethnic militia fighting on behalf of the opposition, are based. Speaking on behalf of the opposition delegation here in Ethiopia's capital, Koang accused Ugandan forces of dropping cluster bombs on civilians at two cattle camps in Uror: in Pamai on Feb. 26, and in Wech-Kol Payam on March 2 and 3.
"These are just cattle camps; we do not have soldiers in those places. They are just women and children," Koang said. "The Ugandans feel that these are cattle camps for families of the White Army, and maybe they want to hit them from behind. [The White Army is] engaging the Ugandan forces in the front lines while their families are becoming victims in the rear."
The opposition circulated photographs for evidence: small craters scattered across a semi-arid landscape; a soldier holding shrapnel; a dead cow with a gaping wound in its belly. But several munitions experts contacted by IBTimes did not see any compelling evidence of a cluster bomb attack in the images provided.
Both South Sudan and Uganda have denied using cluster bombs in the current conflict. "South Sudan has no capacity to use or stockpile cluster bombs; neither do the Ugandan forces who have been assisting with security in South Sudan," government army spokesman Philip Aguer told IBTimes. "The war is not intensive enough to require the use of cluster bombs." He added that in addition to killing and maiming civilians, the weapons can cause significant damage to the environment.
Pieces of a Puzzle
It is too early to tell whether any cluster bombs have fallen in Uror County, but the U.N. findings south of Bor in February were conclusive: The weapons were used in this theater of war sometime between December and last month.
The RBK-250-275 AO-1SCh model is old but still in demand in certain circles. "These particular Cluster Bomb Units were manufactured in the former Soviet Union, but they have not been manufactured since the 1980s and were probably the most widely distributed cluster bomb units, globally," said Quentier of UNMISS. There is no evidence that the South Sudan government has been stockpiling cluster bombs, which would also leave the opposition – which has acquired most of its own munitions from defecting government troops – without easy access to the weapons.
Jonah Leff, a project coordinator with Small Arms Survey, said that prior to gaining independence officially in 2011, the territory's freedom fighters were restricted from importing weapons but still obtained large weapons systems from abroad — mostly from Ukraine — in addition to small arms and ammunition from regional supporters such as Ethiopia and Uganda.
"Post-independence, there haven't been any major arms purchases," Leff said. "There was the delivery of military helicopters from Russia; they now have 10 military helicopters. Those have mainly been used, as far as we know, for reconnaissance, transporting and humanitarian purposes. They do have the capacity to be outfitted with missiles, but we haven't seen any evidence of them being used for that."
Uganda's munitions history is a bit murkier. Remnants of cluster bombs have been found on Ugandan soil; the weapon was deployed during the years-long conflict between the armed forces and rebels from the Lord's Resistance Army, or LRA, which began to withdraw from northern Uganda in 2005. But Ugandan military officials denied using cluster bombs during those clashes, blaming the LRA instead.
Hiznay of HRW noted that in the years since, "Uganda and the UPDF [Uganda People's Defense Force] have had a contradictory account for Uganda and cluster munitions," with one official admitting in 2007 that the country had some that it was planning to destroy, and another asserting in 2012 that the country had "never manufactured, acquired, stockpiled, transferred or used cluster munitions."
Beyond Borders
Of all the parties involved in the conflict, Uganda has the best air-power capabilities, which is why the opposition has blamed Kampala for the alleged cluster bomb attacks. Leff says that Small Arms Survey has been unable to pin the blame on any one country, but he noted that South Sudanese combatants don't seem to have independent capabilities to deploy the weapon. "It would likely trace back to Uganda, and even if South Sudan did have a few [cluster bombs] in its stocks that it dropped out of its helicopters, those could have been supplied from Uganda."
With no concrete evidence to say which combatants used cluster bombs in South Sudan, human rights organizations and regional officials are urging all sides to cooperate with any investigations and to condemn the use of cluster bombs, even though none of the three countries involved has ratified the Convention on Cluster Munitions (only Uganda signed it, in 2008). UNMISS is currently advocating with the government of South Sudan, said Quentier, adding, "The U.N. has stated, publicly, several times, that there is no evidence to indicate who used these weapons."
Meanwhile, the fighting rages on in South Sudan despite the peace talks that have progressed in fits and starts in neighboring Ethiopia since early January, and despite the humanitarian crisis that continues to exact a grave toll on communities in the worst-hit areas. Cluster bomb allegations make for powerful propaganda in this closely fought conflict, complicating regional efforts to convince the combatants to lay down all of their arms.
© Copyright IBTimes 2022. All rights reserved.
FOLLOW MORE IBT NEWS ON THE BELOW CHANNELS