Baltimore Protests 2015: Police Fire On Crowd Protesting After Freddie Gray Funeral, Forcing Businesses To Close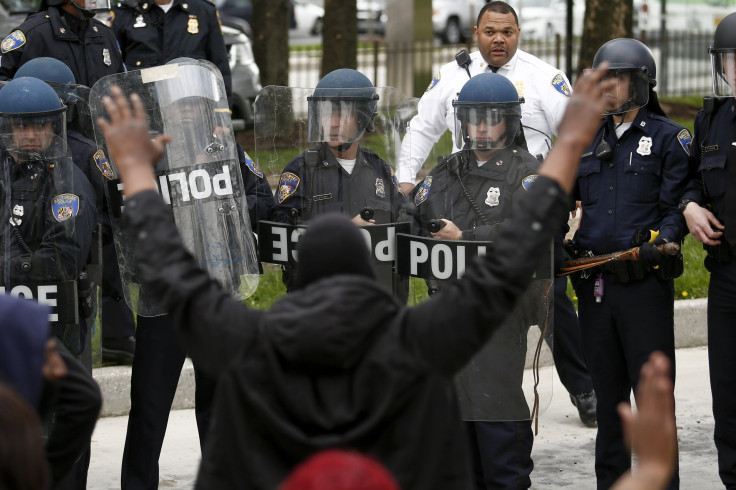 Police in Baltimore opened fire on a group of protesters who demonstrated Monday afternoon against law enforcement's handling of the arrest of Freddie Gray, a man who died in police custody from injuries sustained after being arrested. Video of a wall of police officers marching methodically toward protesters was posted to social media. Though it is unclear what type of projectiles were being fired at protesters, the police apparently responded because an officer was injured. Baltimore police tweeted that "Several of our officers have been injured." Later reports said seven officers were injured.
Officer is down. Badly injured.

- Erica L. Green (@EricaLG) Apr 27 2015
The protesters assembled hours after Gray's funeral following the announcement that three street gangs had united in an attempt to violently target city police. The crowd was mostly composed of youths, who confronted police near Mondawmin Mall in Baltimore, where many downtown businesses closed early because of the violence and expected damage, the Baltimore Sun reported.
Photos have emerged on social media showing the extent of the crowd and police response, including an image of an officer nursing what appeared to be an injured arm while standing next to a police cruiser that had one of its windows smashed.
School police car with a broken window.. Officer holding his arm

- Christian Schaffer (@chrisfromabc2) Apr 27 2015
Rocks and bottles were among the weapons of choice that were hurled at law enforcement, resulting in at least one civilian being arrested, according to the Baltimore Sun. An armored vehicle from the neighboring Prince George's County Police Department was also on the scene.
The Baltimore Police Department has been alerting city residents via Twitter as to their actions in response to the violence, posting around 3 p.m. EDT that it was remaining vigilant and trying to maintain order at the public protest.
The following are more photos and video from the evolving and ongoing standoff between protesters and law enforcement.
Watch a livestream of the protests below.
© Copyright IBTimes 2022. All rights reserved.
FOLLOW MORE IBT NEWS ON THE BELOW CHANNELS