Bangkok Bomb: Two Iranians Captured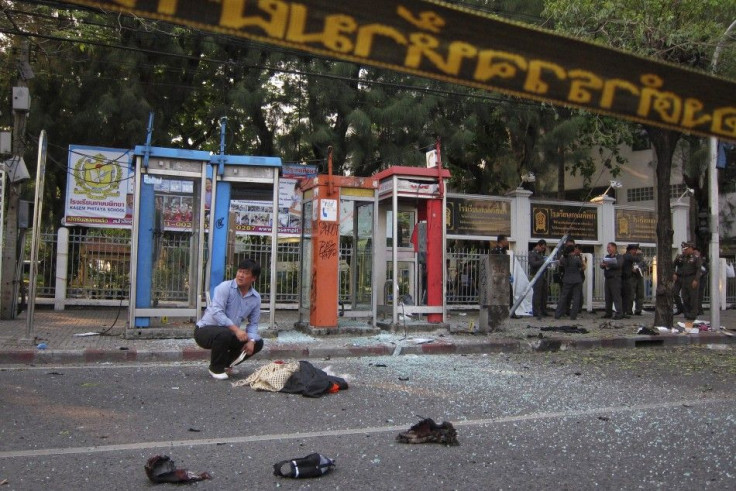 Thai police are blaming Iran for a series of bombings in Bangkok that injured at least five people on Tuesday.
Police captured the bomber, an Iranian national named Saeid Moradi, who blew off one of his legs when his second bomb detonated prematurely. A second Iranian man was detained by police at the Bangkok airport, where he was trying to flee to Malaysia, according to The Associated Press.
Moradi and at least two others were reportedly inside Moradi's house when a cache of explosives detonated.
"The one who is seriously injured is Iranian," government spokeswoman Thitima Chaisang told Bloomberg. "We think the others are also Iranian because they lived in the same house. They ran off and police are looking for them."
Moradi, covered in blood and probably injured, is said to have hailed a taxi after escaping. When the cab wouldn't pick him up, the Iranian threw a bomb at the taxi and fled. He then tried to throw a second bomb at police -- a grenade, according to the Associated Press -- which is when he wounded his leg.
Police identified Moradi by his passport, which he left at the scene. Authorities also confiscated a bag containing Thai, Iranian and American currency.
The bombing is the latest of many events that connect back to Iran, and in turn, Israel.
The Bangkok bombing ties back to a terror alert in the capital last month, when Thai police arrested a suspected Hezbollah agent and uncovered a warehouse with nearly 10,000 pounds of bomb-making material inside. The alleged militant is thought to have been planning attacks on either the U.S. or Israeli embassy in Bangkok, or popular tourist destinations.
Hezbollah, the Lebanese paramilitary organization that has fought Israel both in conventional wars and with terrorism, is funded and supported by Iran. The same group was blamed for the attacks on Israeli diplomats in India and Georgia, and it is not far-fetched that Iran could be ordering the Hezbollah strikes, at least in Israel's eyes.
"The Iranians and Hezbollah are determined to disrupt Israeli life and to act against Israelis all over the world," Israeli Defense Minister Ehud Barak said Tuesday.
"They want to strike at Israelis and we must act against this terror front and continue to brace for other challenges we face."
The Israeli envoy attacks occurred one day after the fourth anniversary of the death of Hezbollah leader Imad Mughniyeh, who was assassinated by a car bomb that is believed to have been planted by Israeli secret service agency Mossad.
Mossad and Israel have also been connected to the deaths of four Iranian nuclear scientists, including the car bombing of Mostafa Ahmadi Roshan in Tehran in January.
Meanwhile, military tension between Iran and the United States is again escalating. American aircraft carrier USS Abraham Lincoln was shadowed by Iranian patrol ships when it passed through the Strait of Hormuz, the Persian Gulf shipping channel that Iran has threatened to close in response to U.S. economic sanctions.
There was no incident, but Iranian drones and American helicopters were both following the ships.
On Monday, Iranian Navy commander Rear Admiral Habibollah Sayyari boasted that Iranian warships could reach the Atlantic and may patrol the United States' coast as retribution for America's presence in the Gulf.
© Copyright IBTimes 2023. All rights reserved.