Bangkok Bombing Update: Thai Police Visit Malaysia To Seek Details On 'Confessed' Erawan Shrine Bomber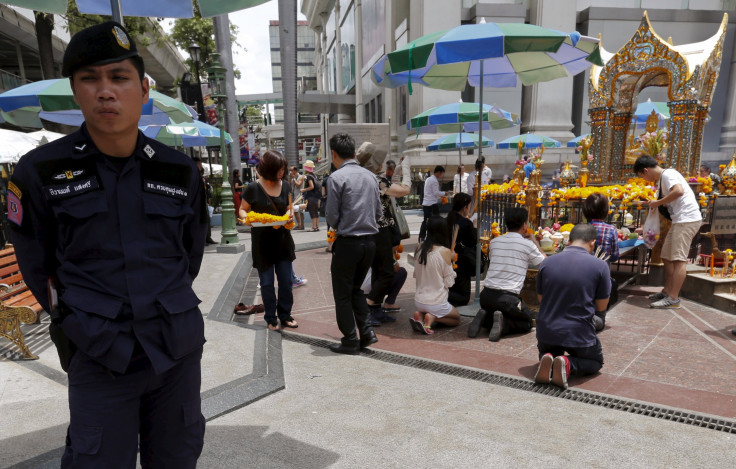 Thailand's Deputy National Police chief Chakthip Chaijinda flew to Malaysia Tuesday to seek information and question a detainee suspected to be the bomber involved in last month's attack in Bangkok, local media reports said Wednesday. Malaysian police have so far arrested eight people in connection with the Aug. 17 Erawan Shrine blast that killed 20 people, mostly foreigners.
Malaysian authorities are believed to have arrested the prime suspect -- a man seen in a yellow T-shirt in surveillance videos -- who planted the bomb at the shrine. Chakthip's visit comes after reports surfaced that the man held in Kuala Lumpur "confessed" to being the prime suspect. According to the Bangkok Post, Chakthip is likely to meet the Malaysian police chief to confirm the reports.
However, National Police chief Gen. Somyot Poompanmuang declined to confirm reports that Chakthip had gone to Kuala Lumpur to meet the suspect, but reportedly said: "Chakthip can proceed with the probe as he sees fit. He can go to Malaysia without having to inform me."
Malaysian authorities found the suspect in possession of a renewed passport from the Turkish Embassy in Kuala Lumpur when he was detained, a source told Asia News Network, adding that the man identified himself as Ari, 31.
Thai authorities, who have been suspecting a Turkish involvement in the blast, last week linked the deadly bombing to the Uighurs -- a Turkic-speaking Muslim minority from China's Xinjiang province.
Malaysian police said Wednesday that of the eight arrested suspects, four were locals believed to have helped people illegally enter Thailand, Channel News Asia reported.
Earlier this month, Thai officials reportedly said the key suspect in the bombing -- identified as Abu Dustar Abdulrahman, alias Izan -- had fled to Turkey. Izan is believed to have played a leadership role in the bombing.
Meanwhile, Thai police said that a bomb exploded Tuesday night at a grocery store in Pattani's Yaring district, about 650 miles south of Bangkok, according to local reports. No injuries were reported in the incident, which occurred after two men placed a box wrapped with black paper at the front of the shop. The bomb exploded when the shop owner spotted the box and threw it out of the store, according to the Bangkok Post.
The country has witnessed unrest since an insurgency erupted in 2004 in its three southernmost provinces -- Pattani, Yala and Narathiwat, the only ones with Muslim majorities in the Buddhist-dominated country.
© Copyright IBTimes 2023. All rights reserved.