Bangkok Bombing Update: Thai Police Link Erawan Shrine Blast To Uighurs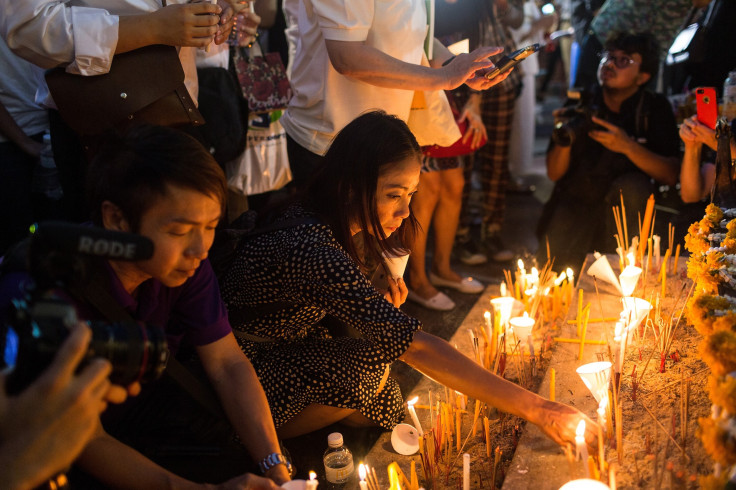 Thailand's police Tuesday linked last month's deadly bombing that killed 20 at a Bangkok shrine to the Uighurs, an ethnic minority from northwestern China. National police chief Somyot Poompanmoung's comments marked the first time authorities explicitly identified a particular group's involvement in the attack.
Somyot reportedly said the bombing was carried out by a people smuggling network that "moved Uighurs from one place to another." No group has so far claimed responsibility for the Erawan Shrine blast on Aug. 17 that also injured over 100 people.
Local media have speculated for weeks that the blast was in retaliation to Thailand's deportation of more than 100 Uighurs -- a Turkic-speaking Muslim minority from China's Xinjiang province -- in July. Human rights activists and other countries widely condemned the Thai government for its decision, arguing that the aggrieved minority was likely to face persecution in China.
"Put simply, we destroyed their business," Somyot said, acknowledging that the bombing was in response to the government's action against human trafficking, according to the New York Times.
Until now, Thai officials had been barred from linking the blast to the Uighurs, the Times reported. Thai authorities have also not labeled the attack as an act of terrorism, fearing it would hurt the country's image, the Associated Press reported.
"We have agreed already that I won't mention the name of a country, the name of a group or their religion. Please allow me to say that it is a network, and let's wait and see which group it is," national police spokesman Prawut Thavornsiri reportedly said earlier this month.
After almost a month of investigations, Thai authorities have arrested two suspects and issued arrest warrants for 12 others.
On Monday, Thai officials reportedly said the key suspect in the bombing -- identified as Abu Dustar Abdulrahman, alias Izan -- had fled to Turkey. Izan is believed to have played a leadership role in the bombing. Malaysia also announced it had arrested three people -- two Malaysians and a Pakistani -- in connection with the worst bombing in Thailand's recent history.
Of the two suspects arrested by Thailand, Yusufu Mierili reportedly possessed a Chinese passport with his birthplace listed as Xinjiang, home to the Uighurs. However, Thai police have not yet confirmed his nationality.
Last week, Mierili -- who was arrested near Thailand's border with Cambodia -- admitted meeting the alleged bomber outside a train station before the blast and handing him a backpack that contained a bomb. Police said his fingerprints matched those found on a container of gunpowder at an apartment in Nong Chok, on the outskirts of Bangkok.
A second man -- identified as Adem Karadag -- was arrested last month when police raided houses in the outskirts of Bangkok and found bomb-making material. Karadag has been charged for possession of bomb-making materials and dozens of fake Turkish passports. Last week, Thai police said that Karadag paid $600 in bribe to a Thai official to cross into the Southeast Asian country.
The suspected bomber -- a man wearing a yellow T-shirt, seen in surveillance footage -- is believed to be on the run.
© Copyright IBTimes 2023. All rights reserved.