Bangkok Bombing: Suspect Adem Karadag Bribed Thai Official To Illegally Enter Country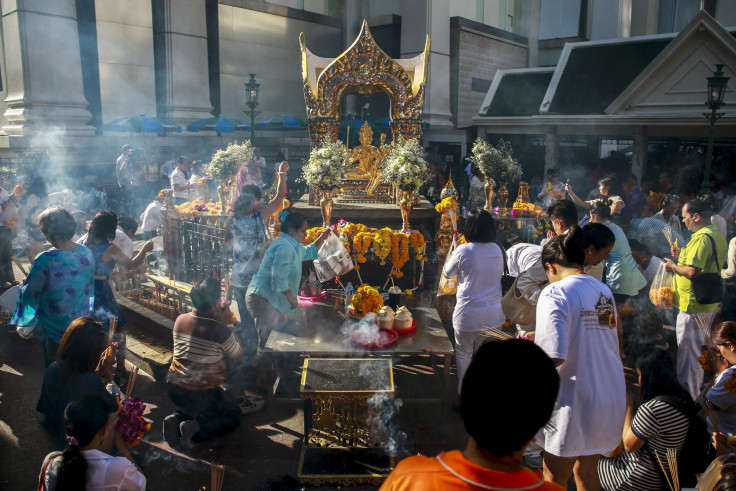 One of the two foreigners arrested in connection with last month's deadly bombing in Bangkok bribed a Thai official to illegally enter the country, Thai police said Thursday. Adem Karadag, who was arrested last month when police raided houses in the capital's outskirts and found bomb-making materials, reportedly paid $600 at the border to cross into the Southeast Asian country.
The latest development yet again draws focus on Thai authorities, who have previously been criticized over delay in the probe into the Aug. 17 attack on Erawan Shrine that killed 20 people and injured over 100. The bomber is believed to be on the run while authorities are yet to determine the motive behind the attack.
"The first man (Karadag) said he traveled through Vietnam to a neighboring country where he then paid for transportation," Thai police chief Somyot Poompanmoung told reporters, according to Agence France-Presse, without mentioning the name of the neighboring country.
Karadag has already been charged for possession of bomb-making materials and dozens of fake Turkish passports. Police are seeking the arrest of a 10th suspect who reportedly shared an apartment with Karadag.
Another man, Yusufu Mierili, was also arrested last month near Thailand's border with Cambodia in connection to the case. At least six police officers at the Thai-Cambodia border have been removed from their posts since Mierili's arrest.
"I cannot ignore this problem because I feel ashamed," Somyot reportedly said about the ease of bribing border officials.
Mierili on Wednesday admitted meeting the alleged bomber outside a train station and handing him a backpack that contained a bomb, before the blast. Police said his fingerprints matched with those found on a container of gunpowder at one of the raided apartments in Nong Chok, on the outskirts of Bangkok.
Thai police have not yet confirmed Mierili's nationality but authorities previously said that he possessed a Chinese passport, which listed his birthplace as China's northwestern province of Xinjiang, home to Uighurs, a Turkic-speaking Muslim ethnic minority group.
© Copyright IBTimes 2023. All rights reserved.