Bangladesh Building Collapse: Owner Arrested, May Be Charged With Murder, Death Toll Now More Than 600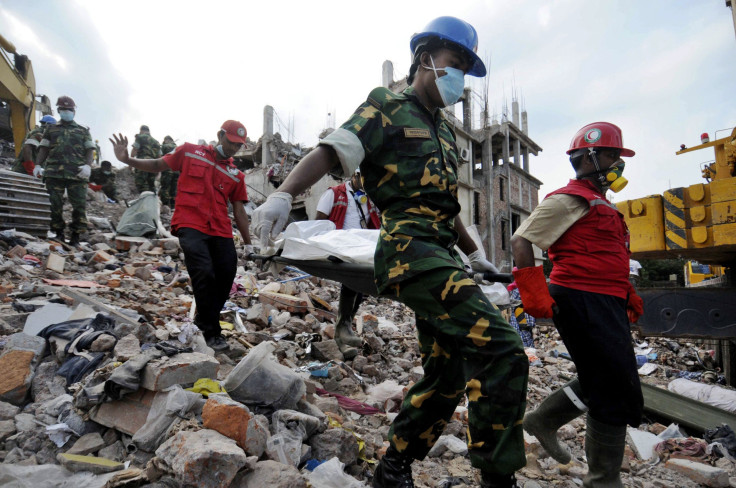 The body count from the building collapse in Dhaka, Bangladesh, rose to more than 600 over the weekend.
However, the exact number of fatalities is unclear -- the Associated Press reported that 645 bodies had been recovered; CNN said 657; while the Wall Street Journal said 622. Exact numbers notwithstanding, the building collapse is now officially Bangladesh's worst industrial accident, and the worst disaster in garment industry history.
CNN reported that 2,400 people have been pulled from the rubble alive in the days following the collapse.
The former building's owner, Mohammed Sohel Rana, was arrested following the disaster, along with the owners of the five factories housed in the building and two engineers whom police said were responsible for issuing safety permits for the building. Officials told AP that Rana illegally added three floors to the structure and allowed the garment factories to install generators.
The men have not been officially charged yet, but police are said to be mulling murder charges. In Bangladesh, a murder convict can be sentenced to death, AP said.
Masood Reza, an architect with Vastukalpa Consultants, told AP the firm designed the building in 2004 as a shopping mall, but not for industrial purposes.
EU Trade Commissioner Karel De Gucht told Belgian media outlets RTBF and Le Soir that the conditions in which the garment factory employees were working was akin to "modern slavery."
"These people are, well, we can't say underpaid, they are virtually unpaid and above all, they have to work in sanitary and security conditions that are totally unacceptable," de Gucht said, according to WSJ.
© Copyright IBTimes 2023. All rights reserved.