Bangladesh Sentences Jamaat Leader To Death For 1971 War Crimes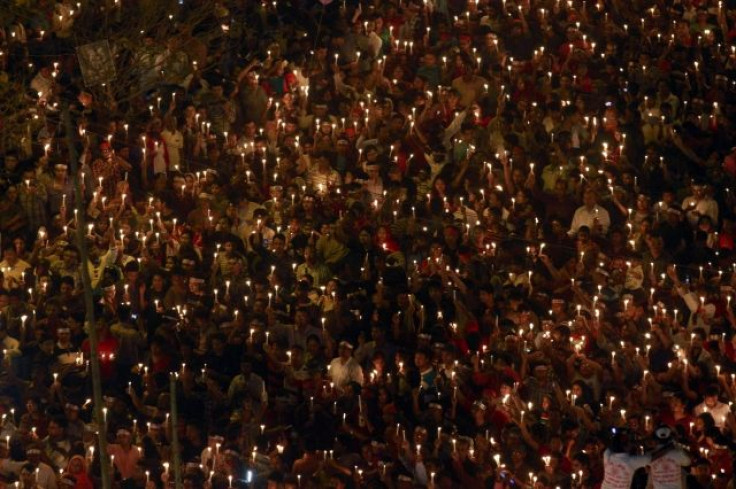 Bangladesh's war crimes tribunal Thursday sentenced Islamist leader Delwar Hossain Sayeedi to death for crimes committed during the country's 1971 war of independence.
Sayeedi, 73, vice president of the Jamaat-e-Islami party, was found guilty of charges of mass killing, rape, arson, looting and forcing Hindu minorities to convert to Islam during the 1971 independence war, lawyers and tribunal officials said, according to Reuters.
He denies all 19 charges against him, which also included crimes against humanity and genocide.
He is the most prominent political figure so far to be sentenced by the tribunal.
Sayeedi is the third politician to be convicted by the controversial tribunal, which is trying a total of nine Jamaat leaders and two members of the Bangladesh Nationalist Party.
The first two verdicts by the tribunal set up in March 2010 came earlier this year. A former Jamaat leader Abul Kalam Azad was sentenced to death in absentia, while another leader Abdul Kader Mullah was handed a life sentence.
Both the earlier verdicts sparked protests by Jamaat supporters even as counter-demonstrations were held by supporters of the tribunal demanding death sentences for all those responsible for abuses during the war.
On Wednesday, thousands of people staged a protest in Dhaka, demanding a death sentence for Sayeedi. However, critics of the tribunal say the charges against the senior party leader had ulterior political motives.
Jamaat-e-Islami, a key ally of the country's largest opposition party, the Bangladesh Nationalist Party, accused the government of using war crimes charges to try to curb the opposition party's activities.
Formerly East Pakistan, Bangladesh attained independence in 1971, after a violent spilt from Pakistan. The war was followed by 15 years of military rule until democracy was restored in 1990, but the political scene remains volatile, marked by antagonism between the two main political parties -- the Awami League and Bangladesh Nationalist Party.
The Awami League-led government set up the war crimes tribunal to investigate war crimes committed by Bangladeshis who, at the time, acted in collusion with Pakistani forces and are blamed for many civilian deaths.
© Copyright IBTimes 2023. All rights reserved.