Bank Of Japan Keeps Stimulus Package Unchanged Despite Growing Signs Of Recession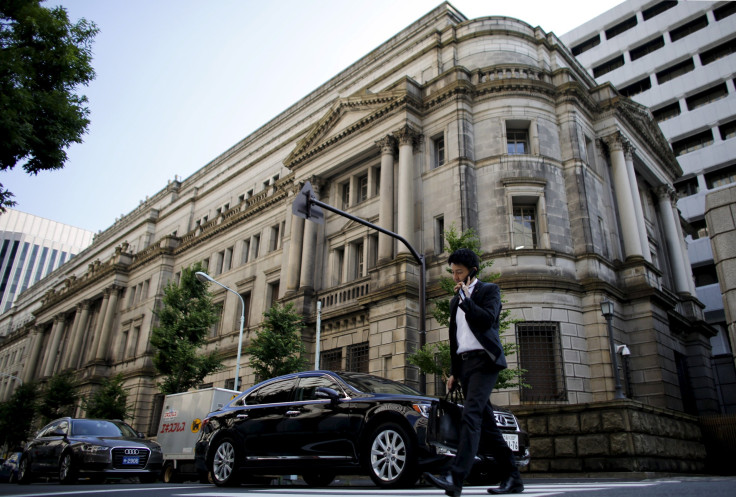 The Bank of Japan (BOJ) held off on expanding its stimulus package Wednesday, despite growing signs of recession in the country's economy. Japan, hit by a slowdown in China, is said to be in technical recession and core consumer prices in August witnessed their first annual drop since the central bank deployed its massive stimulus program over two years ago.
In a widely expected move, the central bank maintained its pledge to increase the purchase of Japanese government bonds at an annual pace of about 80 trillion yen. Following the announcement, Japanese stocks fell 0.7 percent before recovering in afternoon trade to trade up 0.72 percent.
"Japan's economy has continued to recover moderately, although exports and production have been affected by the slowdown in emerging economies," the bank said, in a statement released Wednesday. "Quantitative and qualitative monetary easing (QQE) has been exerting its intended effects, and the Bank will continue with QQE, aiming to achieve the price stability target of 2 percent, as long as it is necessary for maintaining that target in a stable manner."
In 2013, BOJ Governor Haruhiko Kuroda announced a massive $1.4 trillion quantitative easing program in a bid to restore the economy to health and end years of deflation. At the time Kuroda described the move as "monetary easing in an entirely new dimension."
While the expansive monetary policy has pushed the Japanese currency down 22 percent since April 2013, deflation fears have continued to plague Japan.
According to data released last month, the core consumer price index declined 0.1 percent in August from a year ago -- its first drop since April 2013 -- raising doubts over the government's ambitious 2 percent inflation target.
The data led many to speculate that the Bank of Japan might announce an increase in its pace of easing on Oct. 30, when it will provide an update on its outlook for inflation and economic growth.
"It would've been a surprise if the BOJ had changed its policy today," Hideo Kumano, an economist at Dai-ichi Life Research Institute and former central bank official, told Bloomberg. "Taking action at the next gathering won't be a surprise and the focus will be on how they do this."
The focus now turns to a news conference later in the day, when Kuroda is expected to explain the policy decision.
© Copyright IBTimes 2023. All rights reserved.