Barack Obama Arrives In India For Landmark Visit With Prime Minister Narendra Modi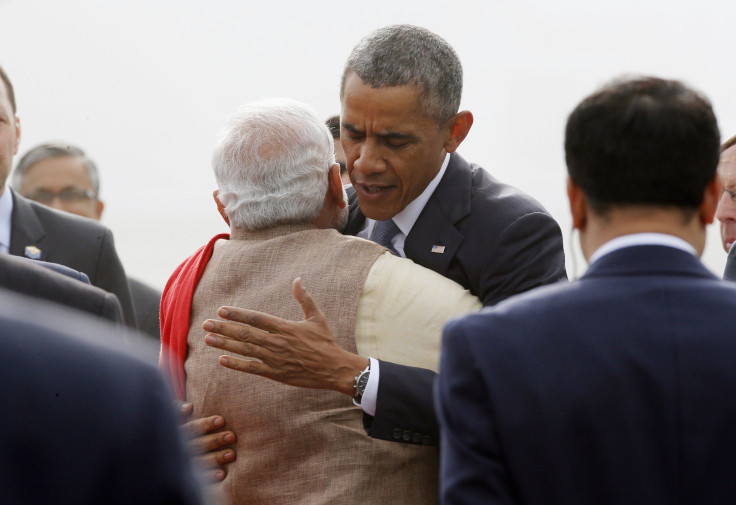 U.S. President Barack Obama arrived in India for a landmark three-day visit and was welcomed by Prime Minister Narendra Modi at Delhi airport.
Obama's visit has prompted unprecedented security measures in the Indian capital with more than 15,000 CCTV cameras installed and thousands of security personnel deployed.
Indian media outlets have said New Delhi has been turned into a "fortress" for Obama's visit, with extended no-fly zones and snipers taking position on buildings across the city.
Obama will be the chief guest at India's Republic Celebrations Jan. 26 -- the first time a U.S. president will have attended the event. The occasion is usually used to showcase India's military might.
Indian President Pranab Mukherjee will host Obama in Rashtrapati Bhavan for an official welcome ceremony. This will be followed by Obama paying homage to Mahatma Gandhi at his memorial in the capital.
"This is a momentous visit. It is high both in terms of symbolism and substance," said India's foreign ministry spokesperson Syed Akbaruddin.
Obama and Modi will also hold bilateral talks later in the day which will be followed by a summit attended by business leaders.
Both sides are hoping for a key breakthrough in the nuclear deal between Washington and Delhi in the one-on-one talks, which is likely to include a range of issues.
"I'd like to think the stars are aligned to finally realize the vision of India and America as true global partners," Obama said in an interview with the magazine India Today, published on the eve of his visit.
The renewal of the 10-year defense strategic framework and stepped-up cooperation on cybersecurity are among the key announcements expected during Obama's visit. Obama and Modi are also likely to discuss climate change issues.
© Copyright IBTimes 2022. All rights reserved.
FOLLOW MORE IBT NEWS ON THE BELOW CHANNELS