Barcelona vs. Real Madrid 2016: Prediction, Preview, Start Time For Saturday's Clásico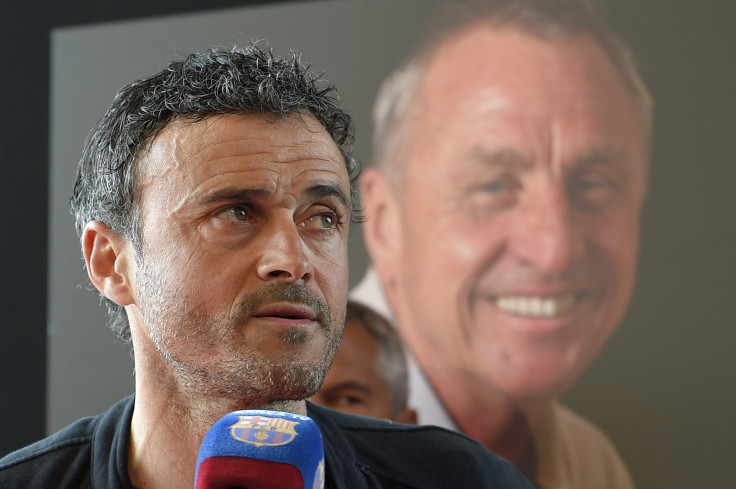 Club soccer will return from the international break with the world's biggest game on Saturday when Barcelona host Real Madrid in final league Clásico of the season. In terms of the league table, it perhaps doesn't mean much.
Real Madrid could talk it up as a chance, their last chance, to eat into Barcelona's advantage and apply some real pressure in the closing weeks of the season. But even a victory for Real Madrid at the Bernabeu would still leave Barcelona carrying a seven point lead over their foes with just seven games remaining. Given the Catalans have lost just twice all season, it is difficult to envisage that being eaten away.
Yet that doesn't mean the Clásico is meaningless. It is never meaningless. The intense, bitter rivalry that exits between the establishment power club from the Spanish capital and their opponents from the capital of Catalonia means the stakes are always high.
And for each club there are extra motivations, besides. For Barcelona, perhaps fittingly, the Clásico will be their first match since the passing of Johan Cruyff. While the Dutchman made an immense impact on the whole of modern soccer, including former club Ajax and the Dutch national team, nowhere his influence keener felt today than at Barcelona.
It was 42 years ago that Cruyff played in his first Clásico after arriving from Ajax the previous year. And his impact on the rivalry was instantly felt, scoring a fine goal in a emphatic 5-0 victory for Barcelona at the Bernabeu.
On the back of his 16 goals, Barcelona won their first Spanish title in 14 years that season. Yet hIs influence as a player is only a small part of the story. It was Cruyff who provided the idea to set up the famed La Masia youth academy that has reared so much talent, including many of those who will be taking on Real Madrid on Saturday, including Lionel Messi, Andres Iniesta and Gerard Pique. And upon returning to the Camp Nou as a coach in 1988, it was Cruyff who set in place a playing philosophy, based on the core concepts of "Total Football" he helped make famous as a player, that has been the foundation for Barcelona's subsequent success.
No statistic tells the story of Cruyff's impact on Barcelona greater than the fact that prior to 1990 Barcelona had won just 10 league titles and not a single European Cup in their history, and since then they have won 13 La Liga crowns and five European Cups. What better way for Barcelona to pay tribute to that legacy than by giving an immaculate demonstration of it against the club he played such a prominent in dethroning.
For so long the dominant power, not just in Spain but in Europe, Real Madrid's still hefty list of trophies since 1990—seven La Liga titles and four European Cups—has none the less been topped by Barcelona. And, worryingly for those in white, the gap is growing.
Should Barcelona go onto lift the league title in May, it will be their sixth in the last eight seasons, a period in which Real Madrid have won just one. Even if a victory on Saturday doesn't propel them toward a most unlikely fight back in the title race, Real Madrid desperately need to show that there is hope to stop Barcelona's dominance.
The gulf between the sides was laid bare in the first Clásico of the season last October, when, even without Messi, a Barcelona led by Neymar and Luis Suarez inflicted a humbling 4-0 defeat on Real Madrid in front of their own fans.
That defeat effectively proved the end for Rafael Benitez's short-lived reign. Swiftly Zinedine Zidane was promoted from his B team duties in a clear attempt to sprinkle some of the inspirational stardust on the team in the same way one of Cruyff's pupils, Pep Guardiola, had done at Barcelona eight years ago.
So far, though, any enthusiasm has been tempered by a continued lack of balance to the squad and a reliance on individual moments of inspiration rather than a concerted team effort. It is clear that, while both teams have the superstars to capture the world's imagination, Barcelona remain the true team in a sense that Cruyff would improve.
Prediction: While Real Madrid have recorded some emphatic victories at home under Zidane, it is away from home that their continued problems have been exposed, notably in losing at Atletico Madrid. Given the way Real Madrid were taken apart last time out against Barcelona, when Benitez fielded an attacking lineup, Zidane must surely be tempted to go with a more pragmatic approach. But a more defensive lineup is likely to only limit the size of their defeat.
The biggest help to Madrid is the fact that Barcelona's prolific attacking trio have all been playing intense World Cup qualifiers in South America over the past week, while Real Madrid's three forwards—Cristiano Ronaldo, Gareth Bale and Karim Benzema—have either not been involved on international duty or were only traveling around Europe. If Barcelona are at full fitness, Saturday is likely to see another demonstration of how far ahead they of their rivals at this moment.
Predicted score: Barcelona 3-1 Real Madrid
Match time: 2:30 p.m. EDT
© Copyright IBTimes 2023. All rights reserved.