Barcelona vs. Real Madrid: Video Highlights, Live Score Updates For El Clásico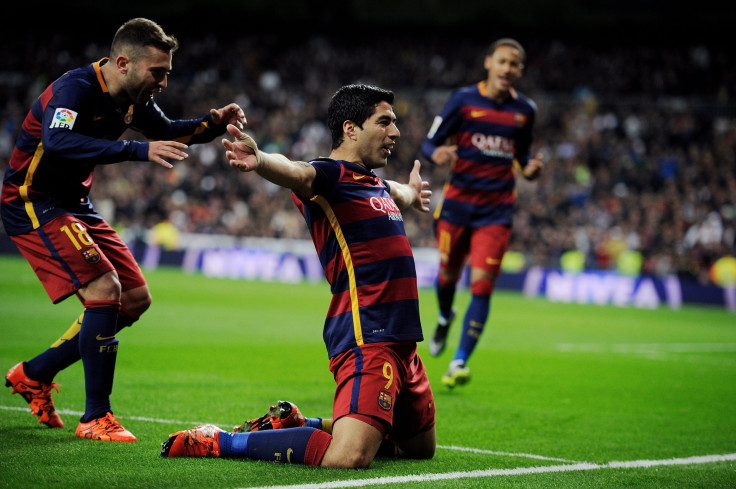 Recap
Barcelona inflicted a hammer blow on Real Madrid's title chances and the job prospects of Rafael Benitez, with a brilliant 4-0 win at the home of their great rivals. Lionel Messi didn't make an appearance until nearly an hour of the first Clásico of the season had elapsed, but by that time more than enough damage had already been inflicted.
The more balanced and decisive side throughout, Barcelona ripped their shambolically organized opponents apart to move six points clear at the top of La Liga. As they have done so exceptionally throughout Messi's near-two-month injury layoff, it was Luis Suárez and Neymar who were at the forefront for Barcelona. Suárez got the first goal 11 minutes in, skillfully dispatching the ball past Keylor Navas after Sergi Roberto's fine run and through pass. And it was a similar scenario six minutes before halftime. This time Andres Iniesta provided the ammunition, and it was Neymar who did the rest.
On both occasions, though, the cavernous gap in front of Real Madrid's back four was in large part responsible. Benitez, under pressure to play in a more attacking style, selected a very forward-thinking midfield trio of Toni Kroos, Luka Modric and James Rodriguez, but they were left startlingly out-gunned by their Barcelona counterparts. To play with such attacking players, a ferocious intensity is needed, and Real Madrid didn't have that either. Benitez may have done what his president wanted, but his job prospects already look mightily precarious, just five months into his reign.
The former Liverpool and Valencia coach needed a dramatic response from his team in the second half, instead they were on the receiving end of more suffering. While Suárez and Neymar may well again grab the headlines, Iniesta was arguably the star of the show. Having set up the second, he brilliantly scored the third, striking an unstoppable effort into the top corner of the net after Neymar's flick on the edge of the box. And after Messi made his return, the Argentine, with the aid of a clever touch from Jordi Alba, helped lay on Suárez's second goal.
Barcelona were in a different class on the day, and Real Madrid's frustration at their own limitations told when Isco, only on the pitch as a substitute, kicked out wildly at Neymar and earned himself a red card. Nobody in white had anything to smile about. Karim Benzema made his return from injury, but looked a long way from his best, while Cristiano Ronaldo and Gareth Bale struggled to assert any influence, and were denied by Claudio Bravo when they did threaten.
Barcelona should have even had a fifth goal to replicate their 5-0 win over Real Madrid in 2010, in what was Jose Mourinho's first Clásico in charge. Mourinho was able to bounce back to dethrone Barcelona the following season. Whether Benitez will get the chance to do the same is highly doubtful.
Match highlights:
FULLTIME! Real Madrid 0-4 Barcelona
Even the music can't drown out the loud whistle from the Bernabeu crowd, and the white handkerchiefs come out in force, too, after a chastening defeat for Real Madrid. Barcelona go six points clear at the top of La Liga, after one of their most memorable nights at the home of their greatest rivals.
89 mins: Pique is absolutely furious with Munir, after the young substitute side-foots a wide-open chance wide of the goal when Pique was waiting behind him.
88 mins: Benzema goes close again, but his effort is deflected just wide. Real Madrid fans are streaming out of the Bernabeu, and the ones who have remained are making their displeasure with their team and its president clear.
This is what earned Isco and early trip back to the dressing room:
RED CARD! (Isco, 85)
And the frustration has got the better of Isco, who has been sent off for kicking out at Neymar. The evening keeps getting worse for those in white.
84 mins: Barcelona just toying with Real Madrid now. A great night for those from Catalonia.
81 mins: It just won't go in got Real Madrid. Benzema this time has a header kept out by Bravo at full stretch.
79 mins: Real Madrid thought they were set to at least get a consolation goal, but Benzema was unnecessarily offside when receiving Bale's square pass and was denied by Bravo for good measure. This has been a horror show for Real Madrid.
Suarez's second goal and Barcelona's fourth:
GOAL! Real Madrid 0-4 Barcelona (Suarez, 74)
It is four now, and this has been an absolute mauling for Real Madrid at the hands of their great rivals. Messi gets himself involved in the fun, feeding a ball forward that Jordi Alba, of all people, touches delightfully into the path of Suarez, and once again beyond Madrid's errant offside trap. And Suarez coolly grabs his second goal of the match by winning a game of wits with Navas.
72 mins: Bale desperately appealing for a penalty again, but once more it was more in hope than expectation, following Alba's fair challenge. Just before that, Barcelona came close to a fourth, with Messi playing in Suarez and it taking the boot of Sergio Ramos to keep the ball out of the net.
71 mins: Ronaldo runs in behind the Barcelona defense and strikes a shot against the woodwork, but he had already been flagged for offside. A hugely frustrating evening for Ronaldo so far.
68 mins: There's the chance Real Madrid have been looking for. With their first really dangerous counter-attack of the contest, Bale storms forward down the right and plays in Ronaldo with the outside of his left foot, but the three-time Ballon d'Or winner is denied superbly by the out-rushing Bravo.
66 mins: Messi close to extending his record as the highest scorer in the history of El Clasico, but his shot is blocked behind by a Real Madrid defender.
66 mins: Real Madrid resorting to launching cross after cross into the Barcelona box right now, but Luis Enrique's side are dealing with it fairly comfortably. Real Madrid need to find some inspiration from somewhere, and quickly.
64 mins: Bale is appealing that Gerard Pique handled the ball in his own box, but the referee awards only a corner. A penalty would have been very harsh with Pique's arms by his side.
61 mins: Varane is able to get his head to another ball into the box, but the defender can't get the required power or direction on his effort to beat Bravo.
59 mins: on contrast to Barcelona's attacking stars, Cristiano Ronaldo and Gareth Bale have been able to make no impact on this match whatsoever. Ronaldo has just had to watch as a cross sails over his head.
Here's Iniesta's superb goal:
56 mins: Just as Real Madrid probably thought things couldn't get any worse, Lionel Messi makes his arrival for Barcelona in place of Rakitic. That should mean Sergi Roberto dropping back into midfield. Real Madrid have also made a change, with Isco replacing James.
GOAL Real Madrid 0-3 Barcelona (Iniesta, 53)
Surely that is game over now! And what a goal it is. Andres Iniesta has reveled in the space offered up by Real Madrid's midfield more than anyone, and, after assisting Barcelona's second goal, he now justly gets his name on the scoresheet. A delightful one-two with Neymar teed up the World Cup winner, who, without hesitation, lashed an unstoppable shot into the top corner of the Real Madrid net. This could get embarrassing from Madrid.
52 mins: A superb free-kick from Neymar was dipping right under the crossbar, but Navas does well to get across and help it over the woodwork and keep his team alive.
48 mins: Real Madrid go close again. This time James drives a fine shot at goal from 25 yards, and Claudio Bravo does superbly to get down low to his right and turn it behind. This is the high tempo Real Madrid need to play with if they're going to have a chance of getting back into the match.
This tweet neatly summarizes Real Madrid's major problem in the first half:
47 mins: Chance for Real Madrid to get a goal back right at the start of the second half. Marcelo storms forward from left-back, past the challenge of Gerard Pique, but loses his composure right at the vital moment and lashes the ball into the side netting.
Second Half Kickoff!
Here are the goals from that thrilling first half
HALFTIME: Real Madrid 0-2 Barcelona
Real Madrid will be immensely grateful for the half-time whistle there, with the home side in danger of having the game put completely beyond them. Real Madrid have pressed well at times, but Barcelona have had far more control and balance to their team. In addition, Barcelona look dangerous almost every time they go forward, with Madrid's attack-minded midfield left wide open. Danilo is having a first Clasico to forget, as well, trying to defend against his compatriot, Neymar. With Neymar and Suarez in this kind of form, Messi can take all the time he wants to get back up to speed.
45+2 mins: Oh, it should be 3-0 to Barcelona, Neymar skips past a defender and cuts the ball back for Neymar, but his shot is headed off the line by Marcelo and Rakitic then sees his goal-bound follow-up effort deflected wide.
44 mins: Barcelona look so dangerous on the counter-attack, especially with Real Madrid having such little protection in front of the back four. Have to think that Benitez is regretting not starting with Casemiro.
Here's that secodn Barcelona goal
GOAL! Real Madrid 0-2 Barcelona (Neymar, 39)
Devastating from Barcelona. Real Madrid just had their best spell of the match, but Barcelona streak forward, with Andres Iniesta playing the ball in behind a Real Madrid defense appealing in vain for offside. Neymar, cutting in on his right foot, has the option of squaring for Suarez, but instead goes alone and shoots under Navas. Suarez and Neymar both continue their remarkable scoring streaks. Who needs Messi?
38 mins: Much better from Real Madrid there. Barcelona looking very shaky trying to defend crosses into the box, and from one of them Benzema had a glimpse of a chance that he maybe should have done better with.
36 mins: For the most part, Barcelona have been much more organized without the ball than Real Madrid. The home side are starting to feel some frustration at their failure to make any breakthrough so far.
Here's that Ronaldo elbow:
30 mins: There's out first big moment of controversy. Dani Alves rightly earns a booking for body-checking Ronaldo, but the Real Madrid star blatantly sticks his elbow into the head of Alves. No punishment form the referee, when that really could have been a red.
29 mins: This is breathless end-to-end action right now. Raphael Varane has to be alert to cut out a dangerous cross from being met by Suarez in the middle.
28 mins: James gets the Bernabeu crowd on their feet with a fierce shot that Bravo holds onto. It all came about thanks to Madrid's pressing and Toni Kroos stealing the ball from Sergio Busquets.
26 mins: Mascherano has gone down again, and this time he'll have to go off for good. Jeremy Mathieu set to replace him.
25 mins: Big chance for Barcelona to make it 2-0! Sergi Roberto is found in the box, but after setting himself with a touch under pressure he lashes the ball over the crossbar. A let off for Real Madrid.
24 mins: And it's Neymar who takes it, swinging it in wickedly to the Real Madrid box, but Keylor Navas does well to get down well and keep hold of the ball.
23 mins: James gives the ball away cheaply inside his own half and then brings down Neymar as the Brazilian threatened to drive into the penalty area. Free-kick in a dangerous position for Barcelona.
19 mins: Real Madrid are trying to press Barcelona very high up, but the visitors have for the most part been able to play out of it successfully so far. And once that initial line of pressure is breached then Madrid look vulnerable.
17 mins: Javier Mascherano has received treatment after going down, but the Argentine is able to come back on.
14 mins: Real Madrid a little ragged here, as Sergi Roberto this time tees up Ivan Rakitic, but the Croatian can't keep his shot down, Real Madrid need to settle, quickly.
Here's that Barcelona goal, made by Sergi Roberto, finished by Suarez
GOAL! Real Madrid 0-1 Barcelona (Suarez, 10)
That's a wonderful goal from Barcelona to break the deadlock. Barcelona had been frustrating Real Madrid with a long spell of possession, then suddenly Sergi Roberto went through the gears with a burst past two players before slipping in a wide open Suarez, who finished coolly and stylishly with the outside of his right foot.
9 mins: Dangerous moment in the Barcelona defense. Ronaldo skips past a defender to get to the byline down the right and puts in a threatening cross that Claudio Bravo just helps to safety.
7 mins: Barcelona have their first concerted spell of possession, and it ends with Luis Suarez touching off Jordi Alba's slick pass into the path of Neymar on the edge of the box, but the in-form Brazilian hasn't yet found his range and fires over.
3 mins: It's been Real Madrid on the front foot in the early stages. Barcelona seem content to sit back, with Sergi Roberto dropping deep to help out down Cristiano Ronaldo's side of the pitch. Benitez said his team would take the initiative, and his team are backing up those words so far.
1 min: Already some friction between the teams, with Sergio Ramos sending Luis Suarez crashing to the turf, and the Uruguayan refusing the offer of a help up back to his feet.
Kickoff! The Clasico is underway at the Bernabeu
12:13 p.m. EST: The two teams are out on the Bernabeu pitch for a minute's silence in memory of the victims of the Paris terror attacks.
11:33 a.m. EST: Real Madrid name a surprisingly attacking lineup. Karim Benzema returns after more than a month out, while James Rodriguez makes his first start since August in a very positive midfield three, alongside Toni Kroos and Luka Modric. The BBC is back together up front.
11:20 a.m. EST: The Barcelona team is in, and there's no Lionel Messi in the starting lineup. After nearly two months out with a knee injury, the Argentine will have to settle for a place on the bench. Messi has played every minute of the past 27 Clasicos, dating back to 2007. The other interesting decision from Luis Enrique is the inclusion of Sergi Roberto, which should give Barcelona more solidity in midfield at the Bernabeu.
Preview: The stars are set to be out in full force as Real Madrid and Barcelona square off in the world's biggest club match at the Santiago Bernabeu on Saturday. The first Clásico of the season will see Spanish champions Barcelona look to defend a three-point advantage over their great rivals at the top of La Liga. And for the challenge, Barcelona have been given the boost of having their talisman back available.
Lionel Messi has been absent for nearly two months with a knee injury, but has returned to full training with his teammates this week and has been included in the squad that will make the trip to the Spanish capital. The big question ahead of the eagerly anticipated contest, though, is whether he will be included from the start or have to settle for a place among the substitutes. Enrique revealed only that he didn't think it would be possible for Messi to be at 100 percent for the match. The Barcelona coach has a similar selection choice to make over Ivan Rakitic, who has recovered from his own injury.
The pressure is on Enrique's counterpart at Real Madrid, not just to get a win but to do so with style. Defeat for Real Madrid would leave them with a six-point hole to overcome and hand the significant critics of manager Rafael Benitez another powerful tool with which to knock him. While results have generally been positive since he took charge this summer, Benitez has had to repeatedly counter accusations that he has made the team more defensively minded. And ahead of his first Clásico in charge, he has denied reports that his players have asked him to play a more expansive style.
Benitez has insisted that his team will play positively on Saturday, and he has the tools to do just that. James Rodríguez is available to start for the first time since August, while Karim Benzema is also back in the squad after more than a month out.
Check back here when the match kicks off at 12:15 p.m. EST for live score updates and video highlights.
© Copyright IBTimes 2023. All rights reserved.
FOLLOW MORE IBT NEWS ON THE BELOW CHANNELS