Bardarbunga Volcano 2014: Latest Eruption Leads Iceland To Again Raise Aviation Color Code To Red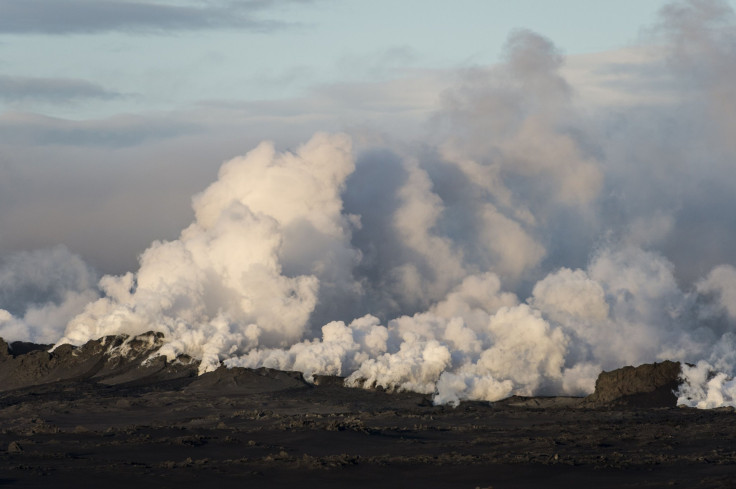 A diminutive eruption in the Holuhraun lava field north of the Bardarbunga volcano Sunday led the Icelandic Meteorological Office to raise the aviation color code to red in the region, the country's Department of Civil Protection and Emergency Management reported on its online site. It said the eruption began at 6 a.m. local time (2 a.m. EDT).
"All airports are open. The area has no effect on any airports," the department noted. However, it also pointed out there was "very bad weather" in the volcano's vicinity.
The Icelandic Met Office aviation color code employs five colors, ranging from the lowest to the highest alert status: gray, green, yellow, orange and red. The use of gray indicates: "Volcano appears quiet but is not monitored adequately. Absence of unrest unconfirmed." The use of red suggests: "Eruption is imminent or in progress -- significant emission of ash into atmosphere likely." The office last issued a Bardarbunga code red Friday.
The Icelandic telecommunications company Mila has two webcams focused on Bardarbunga. Sunday morning, the one labeled "Bardarbunga" has been comparatively quiet, but the one labeled "Bardarbunga 2" has been comparatively unquiet.
Meanwhile, geologist Armann Hoskuldsson captured haunting images of the eruption in the Holuhraun lava field Sunday that were posted on Twitter by the University of Iceland:
© Copyright IBTimes 2022. All rights reserved.
FOLLOW MORE IBT NEWS ON THE BELOW CHANNELS