A Battle Is Brewing Between Hezbollah And Al Qaeda Affiliate Jabhat Al Nusra In Lebanon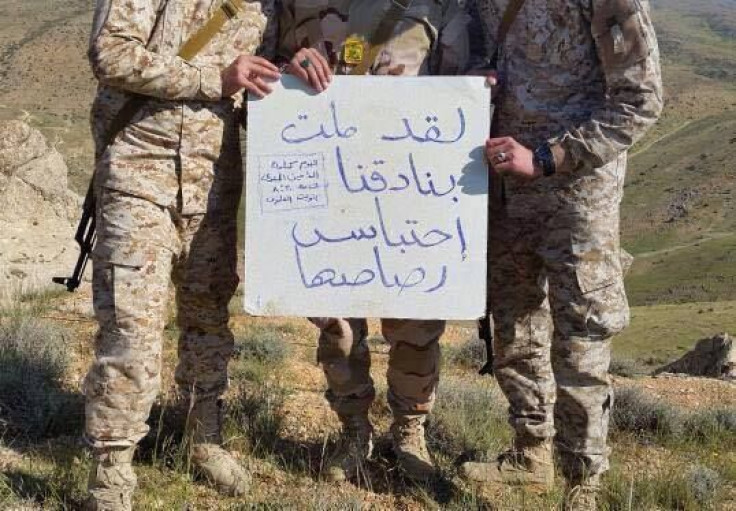 The main Shiite group propping up Syrian President Bashar Assad and al Qaeda's Syrian branch are gearing up for a battle that may turn out to be a turning point in the Syrian civil war. Hezbollah and Jabhat al Nusra are getting ready for a clash that Hezbollah has declared is a "moral and religious" duty to fight -- but that battle won't be in Syria. The Shiite group and its Sunni enemy will face off in Lebanon, underscoring how the 4-year-old civil war in Syria is threatening to explode into armed conflict in the country next door to the west.
Earlier this week, Syrian rebels operating around Damascus formed a unified coalition with the goal of marching on the capital, in what would be a huge blow to Assad's regime. That push is linked to fighting on the porous, poorly defended border with Lebanon, where Sunni militants are trying to cut off supply lines feeding Assad's army.
On Wednesday, the fighting expanded into Lebanon, as Sunni fighters led by Nusra launched a preemptive attack on Hezbollah positions on the Syrian side and Hezbollah retaliated by ambushing a Nusra convoy in the Lebanese border town of Tfeil, sources close to the Shiite group told International Business Times.
Hezbollah is portraying itself as the defender of Lebanon against infiltration from Sunni armed groups coming in from Syria.
Hezbollah "is paying the price of blood so that the people enjoy both security and dignity," Hezbollah leader Hassan Nasrallah said on Tuesday, adding that the group would soon commence an operation to eradicate "terrorists" from Lebanon.
Some in Lebanon fear that Nasrallah really means that his fighters, who are backed by Iran, the biggest Shiite power, are going to stage mass attacks on Syrian refugee camps within Lebanon, some of which are thought to house Nusra supporters and fighters. That could result in large numbers of civilian casualties.
"It's about terrorists in Lebanon," said a source close to Hezbollah who asked not to be named, adding that the Lebanese operation is focused on "cutting terrorist supply lines and eliminating terrorists who have disguised themselves as refugees. "
The majority of Syrian opposition groups see Hezbollah as an enemy equal to Assad, and that dynamic is similar in Lebanon, where Hezbollah labels every anti-regime Syrian refugee as a terrorist. However, some of the most powerful Syrian opposition brigades are not participating in the expansion of the conflict into Lebanon, further underscoring the Lebanese nature of this battle.
For example, Jaish al-Islam, a coalition of at least 60 Islamist opposition brigades, will not be participating in the fighting, according to the group's spokesman, Islam Aloush.
Most of the Syrian opposition fighters in Lebanon are concentrated in the Qalamoun area on the border between Lebanon and Syria, where Sunni militant groups have become increasingly powerful in the past year.
Hezbollah's military operations within Lebanon have so far been confined to that area, without support from the Lebanese army. But the military already has been dragged into the battle, in a way: Jabhat al Nusra is holding 16 members of the Lebanese security forces hostage and is threatening to execute them if Hezbollah does not back off.
In response to Hezbollah's operations inside Lebanon, Nusra released a video showing seven of the men it has held hostage since August. Speaking into a mobile phone, the hostages took turns urging their fellow Lebanese Shiites to "stand up" to Hezbollah before the fighting turns into full-blown battle in Lebanon, because they and their fellow hostages "will pay the price" otherwise.
Though Hezbollah is now the main faction fighting militants, many say it also is the reason for their infiltration in the first place. In the earlier years of the war, Syrian opposition fighters entered Lebanon to target Hezbollah positions, in response to the group's support of the Assad regime. Hezbollah's involvement in the Syrian conflict, they say, dragged Lebanon into a war it did not want to fight.
"Lebanon is not concerned with the battle in Qalamoun and Hezbollah is solely responsible for the repercussions of the war, which only serves Assad," Saad Hariri, the leader of Lebanon's Sunni political party, Tayyar Al-Mustaqbal (Future Movement), said on Tuesday. Hezbollah is "playing with the fate of Lebanon on the edge of the abyss."
© Copyright IBTimes 2022. All rights reserved.
FOLLOW MORE IBT NEWS ON THE BELOW CHANNELS