Battleground Ukraine: Day 21 Of Russia's Invasion
On the 21st day of Russia's invasion of Ukraine on Wednesday, Russian forces remained in place around major cities including Kyiv but showed little sign of real progress in taking them.
Western analysts saw stretched supply lines and lack of reserves holding the invading forces in place for the coming days, while the Ukrainian defenders continued to dig in and harass the Russians.
Here is a summary of the situation on the ground, based on statements from both sides, Western defence and intelligence sources and international organisations.
Ukraine's armed forces said that Russian troops had not yet succeeded in surrounding the major northeastern city Kharkiv, agreeing with Western analysts that they are short of supplies and ammunition.
Russian forces will likely struggle to bypass the city while resistance keeps up, the Institute for the Study of War (ISW) think-tank said.
Meanwhile the cities of Sumy, Lebedyn and Okhtyrka remain encircled.
Kyiv remains under Ukrainian control despite heavy bombardments, but observers say Russian forces are still slowly advancing ever closer towards the capital.
Several explosions were heard early in the morning in Kyiv, following by thick plumes of black smoke, as residents remain under curfew until Thursday.
Ukraine's army said it repulsed attacks towards the Vyshgorod suburb and other stretches of the city's northern defences.
Elsewhere in the north, the defenders remained in control of the encircled town of Chernigiv, as the Russians try to regroup and rearm.
Prosecutors said 10 civilians were killed in the city by Russian soldiers while waiting in line to collect bread.
Workers at the Chernobyl former nuclear plant told AFP they are being held "hostage", forced to maintain the site of the world's worst-ever nuclear disaster for the past three weeks.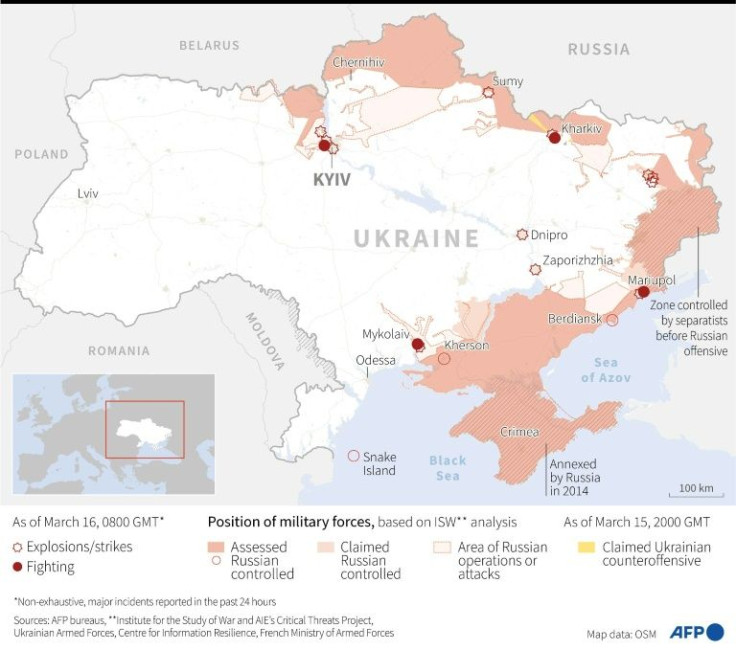 Around 20,000 people managed to leave via a humanitarian corridor from the besieged port city of Mariupol, seen as a key Russian target to link up the annexed Crimea and separatist-controlled Donbas regions.
Hundreds of thousands of inhabitants are believed to remain in the city, with no running water or heating and food running short.
In the city of Zaporizhzhia -- a crucial step on the escape route for refugees fleeing west from Mariupol -- Russian rockets hit a train station but so far no casualties have been reported.
Although Russian forces are trying to push west along Ukraine's Black Sea coast towards Odessa, having taken the city of Kherson just north of Crimea, they have so far failed to encircle the city of Mykolayiv which stands in the way.
Western analysts and the Ukrainian army point to Russian naval infantry reserves that could yet make an amphibious landing or reinforce troops already on Ukrainian soil.
The west of Ukraine has been largely spared the fighting but there have been deadly air strikes by Russia against targets in the region.
Russian strikes are meanwhile continuing against the central city of Dnipro, seen as a possible point for Russian forces moving from the south and east to join together.
President Volodymr Zelensky said that so far 103 Ukrainian children have died. The UN High Commissioner for Human Rights has reported 1,834 civilian casualties.
The chief prosecutor of the International Criminal Court was in Ukraine to investigate Russian atrocities, the president added.
Ukraine and Western sources claim that the Russian death toll is far higher than Moscow has so far admitted.
Ukraine says more than 12,000 Russian soldiers have been killed. Zelensky said Saturday around 1,300 Ukrainian troops had been killed.
The UN says more than three million refugees have fled Ukraine since the Russian invasion -- 90,000 over the past 24 hours.
Millions more are believed to be internally displaced or unable to move.
© Copyright AFP 2023. All rights reserved.