Bears News: Chicago Is Overwhelming NFC North Favorite Over Minnesota Vikings, Green Bay Packers
The Chicago Bears missed their chance to take one step closer toward locking up the NFC North title when they were beaten by the New York Giants in overtime last week. Even with that disappointing loss, it'll be surprising if the Bears don't end the 2018 NFL regular season as division champs.
Chicago entered Week 14 with 1/8 odds to with the NFC North. They've got a 1.5-game lead over the Minnesota Vikings, who have just better than 4/1 odds. The Green Bay Packers and Detroit Lions are overwhelming long shots with just four wins apiece on the year.
While the Los Angeles Rams and New Orleans Saints have been the conference's best teams this season, Chicago has been the clear No.3. They are 8-4 even after starting their backup quarterback for two straight games. Mitchell Trubisky is expected to return to the lineup in place of Chase Daniel Sunday, though no official announcement has been made.
Getting Trubisky back will be key for Chicago in Week 14 when they are underdogs for the first time in seven games. The Bears will host the Rams on "Sunday Night Football," potentially giving the Vikings a shot to cut Chicago's lead down to a half-game.
Minnesota faces a tough test of their own on "Monday Night Football." They'll visit the Seattle Seahawks, who have gone 7-3 since losing in Chicago in Week 2. The Rams have a four-game lead over the Seahawks in the NFC West and became the first NFL team to clinch a division title.
The Vikings need to gain one game on the Bears over the next three weeks. Minnesota will host Chicago in the season finale, and the Vikings hope the division title will be on the line. The Bears beat the Vikings 25-20 at Soldier Field in Week 11.
The two games after facing the Rams don't seem as daunting for the Bears as they might have when the season began. Chicago will host Green Bay in Week 15 before playing on the road against the San Francisco 49ers.
Minnesota should be favored in both Week 15 and Week 16. They'll host the Miami Dolphins and visit Detroit.
The second-place finisher in the NFC North could very well still make the playoffs. The Vikings have a half-game lead over the Carolina Panthers, Philadelphia Eagles and Washington Redskins for the conference's second wild-card spot.
The Vikings won the division last year. The Bears haven't won the NFC North since the 2010 season.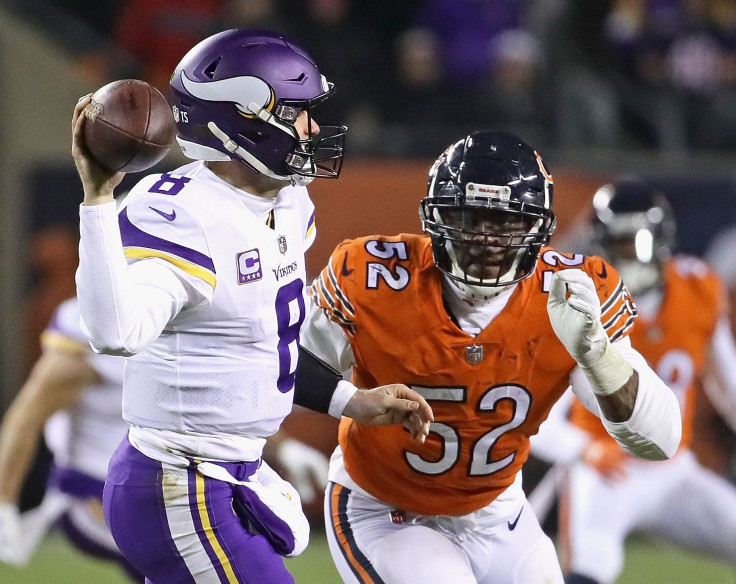 © Copyright IBTimes 2023. All rights reserved.