Bed Bath & Beyond Store Closings 2022: These 56 Locations Will Close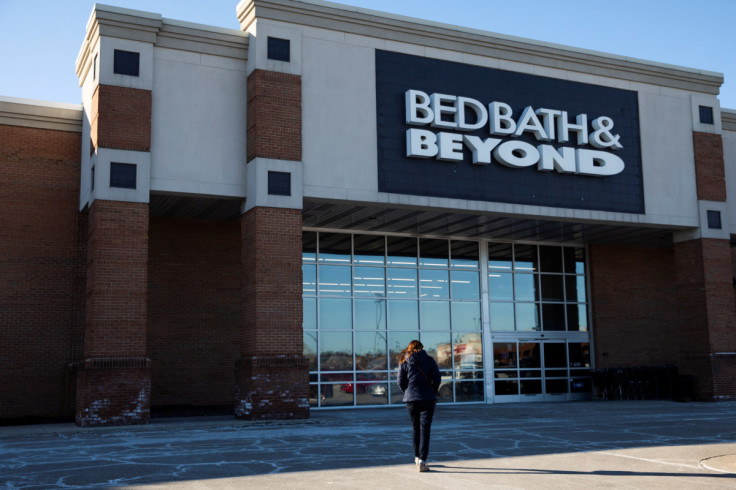 After announcing that it would be closing 150 underperforming stores amid a turnaround plan, Bed Bath & Beyond (BBBY) has released the first 56 locations that it will shutter.
At the time of its announcement at the end of August, the home goods retailer also said that about 20% of its staff would be laid off as part of a cost-cutting measure. The staff cuts will affect supply chain and corporate positions, according to the company.
The revitalization of Bed Bath & Beyond also included $500 million in new financing and the sale of as many as 12 million shares.
The news of the turnaround plan came just days before the company's chief financial officer, Gustavo Arnal, 52, died by suicide in New York City.
Arnal was being sued, along with company, over claims that he was artificially inflating the company's stock in a "pump and dump" scheme. Bed Bath & Beyond has said the claims against it are "without merit," Reuters reported.
Bed Bath & Beyond also released a statement about Arnal's death, saying the company was "profoundly saddened by this shocking loss."
On Thursday, the retailer posted a list of the first 56 namesake stores that will close, affecting locations all across the U.S.
In the last two years, Bed Bath & Beyond has reduced its store count by 35%, dropping from 1,478 locations at the end of Q1 2020 to 955 stores at the same time in 2022, according to CNBC.
The company also operates 135 Buybuy Baby stores and 51 stores under the Harmon, Harmon Face Values, and Face Values brands.
The full list of stores closing, according to Bed Bath & Beyond, includes locations in:
Stamford, Connecticut
Paramus, New Jersey
Sunrise, Florida
Gurnee, Illinois
Schaumburg, Illinois
Farmington Hills, Michigan
Northville, Michigan
Charlotte, North Carolina
Wynnewood, Pennsylvania
Snellville, Georgia
Fairview Heights, Illinois
Bayamon, Puerto Rico
Flanders, New Jersey
Beaverton, Oregon
Middleton, New York
Mt. Vernon, New York
Lakewood, Washington
Santee, California
Redding, California
New Hartford, New York
Lakewood, California
Larkspur, California
Waterloo, Iowa
Manalapan, New Jersey
Dubuque, Iowa
Palmdale, California
Carbondale, Illinois
Plattsburgh, New York
Joliet, Illinois
Farmingdale, New York
Sanford, Florida
St. Cloud, Minnesota
Hamilton, Ohio
San Leandro, California
Seekonk, Massachusetts
Walker, Michigan
Burbank, California
Sparks, Nevada
Dorchester, Massachusetts
Wichita Falls, Texas
Port Arthur, Texas
Cincinnati, Ohio
Milford, Massachusetts
Christiansburg, Virginia
Bossier City, Louisiana
Chesterfield, Michigan
Tucson, Arizona
Perrysburg, Ohio
Marina, California
Phoenix, Arizona
Suwannee, Georgia
Waterford, Connecticut
Bourbonnais, Illinois
Leesburg, Virginia
White Lake Twp., Michigan
Sandusky, Ohio
As of Thursday at 1:27 p.m. ET, shares of Bed Bath & Beyond were trading at $8.97, up 20 cents or 2.34%.
© Copyright IBTimes 2023. All rights reserved.