Bed Bath & Beyond Store Closings 2023: These 141 Locations Will Close
Following a default on its credit line with JPMorgan and revealing it no longer has the cash on hand to pay off all of its debts, Bed Bath and Beyond is inching closer and closer to filing for bankruptcy. As such, the company has officially released a list of 141 additional stores within the company's portfolio of brands that are now also going to be closing their doors to customers.
The news comes following an earlier list of 150 store closures that were announced in 2022, which consisted mainly of flagship Bed Bath and Beyond locations, as well as a few locations within the Harmon Beauty Supply and Buybuy Baby chains. This time around, the 141 closures affect 87 bed Bath and Beyond locations, the entire remaining Harmon chain and five Buybuy Baby stores.
This may not be the end of closures either for the chain, as reports continue to circulate that the company may have no choice but to file for bankruptcy protection as early as this week unless a last-minute buyer emerged. Sources told Reuters that the company has lined up liquidators to close additional stores if that does not happen and that the company was negotiating a loan to help it navigate bankruptcy proceedings. The company declined to comment on bankruptcy plans, but there are some hopes either a last-minute buyer could emerge or that they could still close a deal for the Buybuy Baby brand.
The full list of new stores closing can be seen below:
Bed Bath & Beyond Closures:
Alabama:
Daphne: 6850 US Highway 90, Anchor D
Arkansas:
North Little Rock: 4122 McCain Boulevard
Arizona:
Mesa: 1834 South Signal Butte Road
California:
Carlsbad: 1905 Calle Barcelona, Suite 100
Culver City: 10822 Jefferson Boulevard
Folsom: 2385 Iron Point Road
Glendora: 1405 East Gladstone Street
Hawthorne: 14352 Hindry Avenue
Palm Desert: 72459 Highway 111
Pasadena: 3609 E Foothill Boulevard
San Diego: 10537 4S Commons Drive, Suite 170
San Marcos: 165 S. Las Posas Road
Upland: 1865 North Campus Avenue, Building #15
Visalia: 3125 South Mooney Boulevard
Colorado:
Loveland: 1605 Fall River Drive
Thornton: 16531 Washington Street
Connecticut:
Enfield: 20 Hazard Avenue
Fairfield: 2260 Kings Highway
Southington: 835 Queen Street
Wethersfield: 1065 Silas Deane Highway
Florida:
Apopka: 2239 East Semoran Boulevard
Boca Raton: 20560 State Road 7
Boynton Beach: 371 N. Congress Avenue
Brandon: 320 Brandon Town Center
Coral Springs: 4631 North University Drive
Delray Beach: 14824 South Military Trail
Hialeah: 1460 W 49th Street
Jacksonville: 6001 24 Argyle Forest Boulevard
Jacksonville: 13221 City Station Drive, Suite 125
Orlando: 397 North Alafaya Trail
Royal Palm Beach: 540 North State Road 7
Georgia:
Iowa:
Coralville: 2515 Corridor Way, Suite 5
Idaho:
Boise: 3615 S. Federal Way
Illinois:
Chicago Ridge: 9650 S Ridgeland Avenue
Crystal Lake: 5786 Northwest Highway
Forest Park: 215 Harlem Avenue
Geneva: 1584 South Randall Road
Wilmette: 3232 Lake Avenue, Suite 125
Kansas:
Olathe: 15335 W. 119th Street
Kentucky:
Louisville: 4350 Summit Plaza Drive
Massachusetts:
Burlington: 3 Abbot Park
Dedham: 820 Providence Highway
North Dartmouth: 458 State Road, Route 6, Suite 100
Pittsfield: 665 Merrill Road
Raynham: 600 South Street West, Suite 13
Maryland:
Annapolis: 200 Harker Place, Suite 200
Ocean City: 12641 Ocean Gateway, Suite 240
Westminster: 200 Clifton Boulevard
Minnesota:
Bloomington: 7961 Southtown Center
Missouri:
St. Louis: 10770 Sunset Hills Plaza
North Dakota:
Bismarck: 1455 East Lasalle Drive
New Jersey:
Bridgewater: 155 Promenade Boulevard
Flemington: 276 Route 202/31
Kinnelon: 1160 Route 23 North
Matawan: 1121 Highway 34, Suite A
Mays Landing: 190 Hamilton Commons
Mt. Laurel: 8 Centerton Road
New York:
Bohemia: 5131 Sunrise Highway
Brooklyn: 459 Gateway Drive
Brooklyn: 850 Third Avenue
East Elmhurst: 72 15 25th Avenue
Elmsford: 251 East Main Street
New Hyde Park: 1490 Union Turnpike
Poughkeepsie: 2020 South Road, Suite 3
Saratoga Springs: 3064 Route 50
Ohio:
Columbus: 3750 Easton Market
Pennsylvania:
Bethel Park: 700 Oxford Drive
Monroeville: 3739 William Penn Highway
North Wales: 1261 Knapp Road
Pittsburgh: 160 Quinn Drive
South Carolina:
Spartanburg: 205 West Blackstock Road
Tennessee:
Hixson: 5523 Highway 153, Suite 112
Memphis: 870 South White Station Road
Texas:
Lewisville: 420 East FM 3040 Suite 300
Plano: 6400 West Plano Parkway, Suite 125
Temple: 2112 SW HK Dodgen Loop
Utah:
Park City: 1678 W Redstone Center Drive
Virginia:
Chesapeake: Greenbrier Market Center, 1324 Greenbrier Parkway
Dulles: 24670 Dulles Landing Drive, Unit 150
Fairfax: 12100 Towne Center
Springfield: 6642 Loisdale Road
Williamsburg: 4900 Monticello Avenue, Suite 4
Winchester: 2540 S. Pleasant Valley Road
Washington:
Vancouver: 709B Vancouver Plaza Drive #102
Walla: 1630 W Poplar Street
Wisconsin:
Wausau: 3575 Rib Mountain Drive
West Virginia:
Morgantown: 395 Target Way
Harmon Beauty Supply Closures:
California:
Los Angeles: 10561 West Pico Boulevard
Florida:
Jupiter: 17450 N Alternate A1A, Suite 101
New Jersey:
Brick: 479 Route 70 East
Carlstadt: 675 Patterson Avenue
Clifton: 390 Route 3 West
Closter: 123 Ver Valen Street
Deptford: 1765 Deptford Center Road
East Brunswick: 300 Route 18 East
East Hanover: 392 Route 10 West
Edgewater: 725 River Road
Franklin: 100 D Route 23 North, Franklin Shopping Center
Gillette: 977 Valley Road
Greenbrook: 303 Route 22 East
Hackensack: 370 W. Pleasant View Avenue
Holmdel: 2145 Highway 35-Holmdel Plaza
Iselin: 675 Route 1 South, Suite 2
Manalapan: 357 Route 9 South
Matawan: 359 Route 34 North
Morris Plains: 1711 Route 10 East
Newton: 10 B Route 206 North
Ocean: 2309-200 Route 66
Paramus: 145 Route 4 West
Raritan: 300 US Highway 202
Short Hills: 720 Morris Turnpike
Shrewsbury: 550 Broad Street-Route 35
Succasunna: 275 State Route 10 E, Suite 350
Totowa: 465 Route 46 West
Wayne: 1595-1 Route 23 South
Wayne: 580 Valley Road
West Caldwell: 36 Clinton Road
Westfield: 335 South Avenue East
Westwood: 700 Broadway, Suite 32
Nevada:
Las Vegas: 2315 Summa Drive, Suite 110
New York:
Brooklyn: 850 Third Avenue
Brooklyn: 245 Atlantic Avenue
Carle Place: Carle Place Commons, 167 Old Country Road
Commack: 8 Veterans Memorial Highway
Hartsdale: 165-171 Central Park Avenue
Massapequa: 806 Hicksville Road
Melville: 925 Walt Whitman Road, Route 110
Mineola: 530 Jericho Turnpike
Nanuet: 46 Rockland Plaza/Route 59
New Rochelle: 77 Quaker Ridge Road
New York: 675 6th Avenue
New York: 2171 Broadway
Plainview: 1119 Old Country Road
Poughkeepsie: 2600 South Road
Yonkers: 2131 Central Park Avenue
Buybuy Baby Store Closures:
New York:
Brooklyn: 850 Third Avenue
Port Chester: 441Boston Post Road
Rochester: 790 Jefferson Road, Suite 300
South Carolina:
North Charleston: 5930 Rivers Avenue
Texas:
Lewisville: 719 Hebron Parkway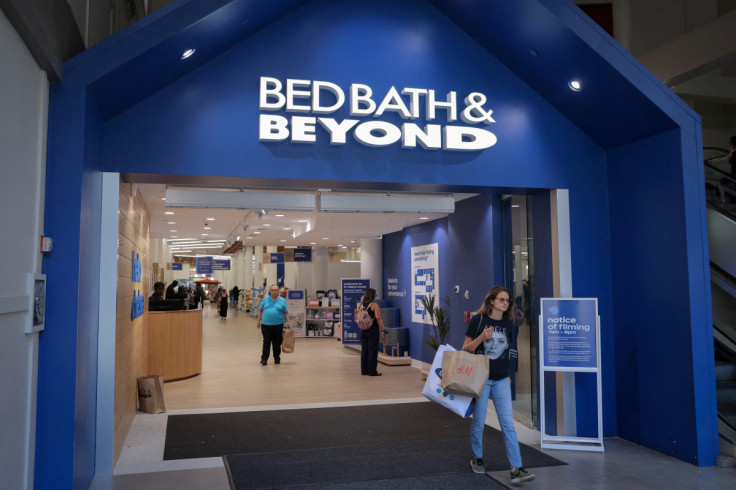 © Copyright IBTimes 2023. All rights reserved.