Beijing Squeezes Taiwan's Economy; Rejects Shipment For Not Having 'Taiwan, China' Label
KEY POINTS
The shipment, declaration papers should say it originated from "Taiwan, China"
Though China passed a rule in this regard in 2015, it was never enforced until Pelosi's visit
China had also suspended some trade with Taiwan a day after Pelosi visited Taiwan
China doubled down on its economic measures against Taiwan, in retaliation to House Speaker Nancy Pelosi's island visit, by blocking a shipment from the island for not carrying the label, which said it came from "Taiwan, China."
According to Taiwan's Ministry of Finance's Customs Administration (CA), a Taiwanese company sought official assistance after one of its shipments was blocked by Chinese customs for not following labeling requirements, reported Focus Taiwan.
Many Taiwanese companies were reportedly informed by Chinese customs their goods should not be labeled as originating from "Taiwan" or the "Republic of China" (Taiwan's official name) on shipping cartons and their export and import declaration papers. Instead, the shipment needed to say it came from "Taiwan, China."
The Taiwanese official said they were unaware of the type of product or the size of the shipment, as the company did not provide that information. However, the CA statement said it had contacted the relevant Chinese authorities regarding how to resolve the incident.
Though the Chinese rules set in 2015 stipulate the goods imported from Taiwan be labeled as being from "Taiwan, China," "Chinese Taipei," or other designations that suggested Taiwan was part of Chinese territory, the rules were not strictly enforced until U.S. House Speaker Nancy Pelosi's trip to Taiwan last week.
However, the Pelosi incident triggered Beijing, which instructed manufacturers the prohibited words could not appear on boxes, shipping documents, cartons, and export and import declaration forms.
But, as per Taiwanese law, shipments originating locally cannot be labeled as being shipped from "Taiwan, China." This has landed the local exporters in a quandary.
Recently, a Nikkei Asia report had mentioned how Apple Inc. had earlier informed its Taiwanese suppliers to obey the labeling rule, because of expected strict enforcement by Chinese customs. The report added the shipments to iPhone assembler Pegatron's factory in China were being held for scrutiny by Chinese customs after the company's senior executive met with Pelosi in Taipei.
This comes as China suspended some trade with Taiwan a day after Pelosi visited the self-governing island. The products included fruits and fish imports from Taiwan, and exports of natural sand to the island. According to reports, China is Taiwan's largest trading partner, with bilateral trade worth $273 billion last year, accounting for 33% of the island's total trade with the rest of the world.
The official reason for the bans is stated as concerns about pests and chemical residue, as done in the past.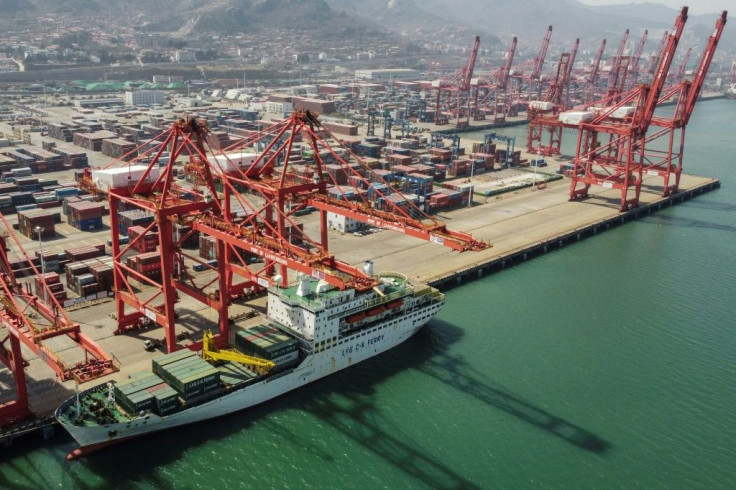 © Copyright IBTimes 2022. All rights reserved.
FOLLOW MORE IBT NEWS ON THE BELOW CHANNELS