Belmont Stakes 2014: Ticket Prices, Opening Day Schedule For Triple Crown Event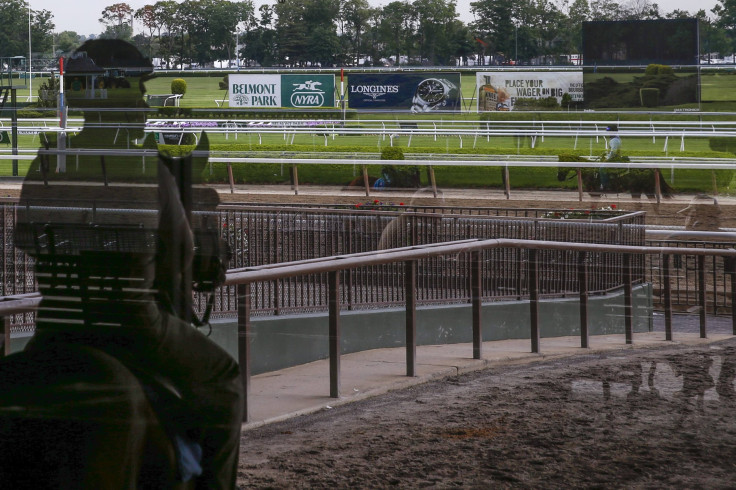 Horse racing fans understand you can't put a price on witnessing history firsthand.
Since 1978, 12 thoroughbreds have attempted to complete the Triple Crown, and none have been able to capture the 1 1/ 2-mile last jewel. Yet, the lack of Triple Crown winners hasn't prevented fans from packing the stands for the Belmont Stakes.
This year, California Chrome hopes to be the first horse in 36 years to fulfill perhaps the most difficult feat in American sports. The underdog story of California Chrome's unexpected rise to glory could also mean a record turnout for the annual Long Island event on Saturday.
A crowd well over 100,000 is expected to converge at Belmont Park, hoping to take in the spectacle and entertainment with 10 other races, including six Grade 1 competitions on the schedule, and $8 million in purses on the line for racehorse owners.
Six-figure attendance figures are typical for when a Triple Crown is in play. A record 120,139 fans attended Belmont in 2004 to see Smarty Jones's failed attempt at ending the decades-long drought, and a new betting record was also set with the track taking nearly $111 million in action. In the two years prior, War Emblem and Funny Cide's Triple Crown attempts also drew more than 100,000 and an average of $94 million in bets.
Like most premier sporting events, there is the opportunity to spend and spend big to catch the action. A premium ticket for this year's Stakes runs as high as $14,900. The seat places the viewer in full view of the finish line from the third floor preferred grandstand. Tickets at the most expensive rate are still available with the race just two days away, according to StubHub.
When a Triple Crown is on the line, one would expect the secondary ticket market to explode like the NFL's Super Bowl. But that's never the case at Belmont, according to Newsday. The average price for reserved seats at Belmont is hovering near $353, which is down 18 percent from the Preakness three weeks ago. While the average secondary market price for tickets to the most recent Super Bowl in the New York-Jersey area was down, it still surpassed $1,600.
Those who shelled out for the highest-preferred access to the Champagne Room will enjoy an upscale buffet and a premium bar package, along with private bathrooms and betting windows. The next level down is the Turf & Field Club, with a guaranteed seat inside the air-conditioned area and an open bar.
For a spot not nearly as close to the finish, Ticketmaster also has seats for the final turn for a little more than $255.
While horse racing may sometimes feel like a sport for the fabulously wealthy, lower spending spectators are not squeezed out. A Belmont spectator can still roll through the turnstiles and into the grandstand for as little as $10, or the clubhouse for $30.
Belmont officials have also created a deterrent for spectators to bring their cars. The few parking passes left are going for $61.95.
A lower price could actually assure Belmont of a record-busting draw and wagering, especially with the ticket allowing access to all the day's races and guaranteeing free reign around the expansive grounds. It also helps that the day is expected to be warm and sunny with temperatures reaching the low 80s, providing the public with a great excuse to spend time outdoors.
For general admission attendees, or groups with children, there's more open space and concession stands serving up the typical cuisine of burgers, hot dogs, French fries and ice cream in the backyard section.
Drinks are available throughout the park, but fans cannot bring their own alcoholic beverages into the building. Attendees can bring coolers, but they are restricted within the track.
Here is a look at the full schedule for the 146th running of the Belmont Stakes:
Full Schedule (All times EST)
1.N/A 11:35 a.m.
2.Easy Goer 12:07 p.m.
3.Brooklyn Invitational 12:40 p.m.
4.Jaipur Invitational 1:16 p.m.
5.Woody Stephens 1:54 p.m.
6.TVG Acorn 2:32 p.m.
7.Ogden Phipps 3:14 p.m.
8.Longnines Just a Game 4 p.m.
9.Metropolitan 4:48 p.m.
10.Knob Creek Manhattan 5:42 p.m.
11.Belmont Stakes 6:52 p.m.
12.N/A 7:40 p.m.
13.N/A 8:12 p.m.
© Copyright IBTimes 2023. All rights reserved.