Belmont Stakes 2015: Tickets Sold Out Or Passes Available For American Pharoah's Triple Crown Bid?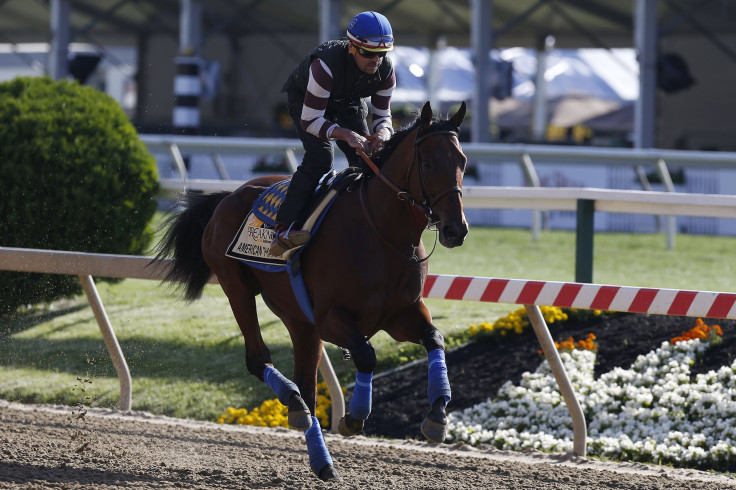 Ten days before American Pharoah galloped through the raindrops at the Preakness Stakes for a seven-length victory and the chance to become the first thoroughbred to claim the Triple Crown in almost 40 years, the New York Racing Association capped the number of spectators who could watch the three-year-old colt's possible sprint to history at 90,000 for the Belmont Stakes on June 6.
Citing overcrowding at last year's Belmont, when 102,199 spectators filled the stands to see California Chrome's bid for Triple Crown fall short, the NYRA decided to offer customers a little more space and a better experience.
"We are eliminating potential revenue, but having a better customer experience is more important," NYRA president and chief executive Chris Kay told the New York Times.
"I've been looking for ways to make it up to people," Kay added. "I want all our guests to come back."
The cut-off of more than 12,000 tickets compared to last year's turnout hasn't resulted in an overall sell out just yet, but the NYRA announced on Monday that all reserved seats have been sold. Though a search of the event's official ticket site, TicketMaster, did show some reserved seats available at more than $1,006.
General admission passes on the first-level grandstand are also still up for grabs at a much more affordable $15 a pop.
The secondary market on StubHub.com could explode in the coming weeks. Currently one ticket for the second-floor grandstand with a view of the last turn before the homestretch is up for $50,000, but general admission tickets are selling for as low as $24.40.
Last year, fans faced long lines at concession stands and betting windows, and there was a reported shortage of food and drinks later in the day as the Belmont hit the third-highest attendance mark of its 146-year history.
As a general rule, attendance and the total handle, or money wagered at the track, increases exponentially whenever a horse is in line for the Triple Crown, a feat last completed by Affirmed in 1978. And only 13 other times since then has a horse contended for the sport's most coveted title.
California Chrome tied for fourth place last year with more than $92 million bet that day, and he came the closest of any horse in 10 years. Back in 2004, the Belmont's all-time attendance and handle mark was set when 120,130 fans showed up and plopped down more than $110 million throughout the day leading up to Smarty Jones' failed Triple Crown bid.
American Pharoah enters the race as a 2/3 favorite, and while the full list of Belmont contenders isn't known yet, here's the early odds from Sportsbook.ag.
Early Odds
American Pharoah 2/3
Carpe Diem 6/1
Frosted 6/1
Materiality 8/1
Conquest Curlinate 10/1
Keen ice 10/1
Madefromlucky 10/1
Mubtaahij 15/1
© Copyright IBTimes 2023. All rights reserved.