Ben Carson Says He Saw Video Footage Of Muslims In New Jersey Celebrating On 9/11: Report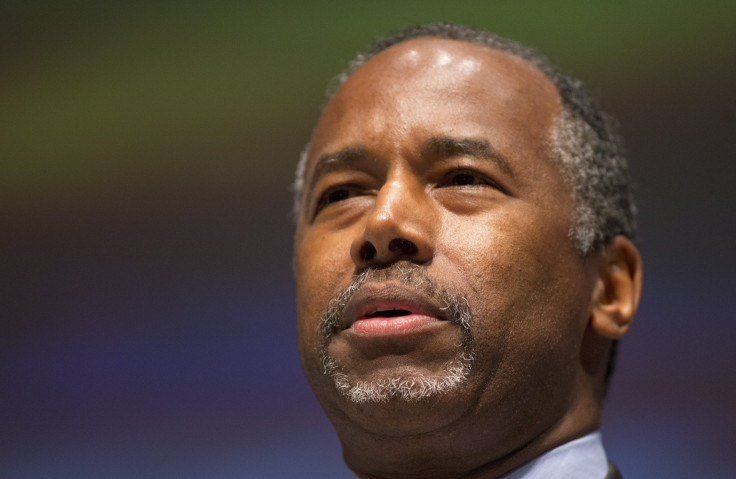 UPDATE 6:00 p.m. EST: Republican candidate Ben Carson's campaign team said that he does not stand behind his comments and that he apologizes, according to a tweet from an ABC News reporter. Carson was thinking about the Middle East protests, and not New Jersey, his campaign team reportedly said.
Original Story:
Republican presidential candidate Ben Carson claimed he saw footage of American Muslims in New Jersey cheering when the towers fell during the 9/11 terrorist attacks, backing up rival GOP candidate Donald's Trump's similar accusations. When questioned further, the retired neurosurgeon said he was referring to news coverage that he saw during the attacks, ABC News reported on Monday.
"There are going to be people who respond inappropriately to virtually everything. I think that was an inappropriate response. I don't know if on the basis of that all Muslims are bad people," Carson told reporters in Nevada, referring to the rumored celebration in New Jersey.
Trump initially claimed he had watched crowds of people cheering in Jersey City as the towers came down on Saturday at a rally in Alabama, and defended his controversial statement on Sunday to ABC's George Stephanopoulos.
"Hey, I watched when the World Trade Center came tumbling down. And I watched in Jersey City, New Jersey, where thousands and thousands of people were cheering as that building was coming down," Trump said Saturday at the rally. "Thousands of people were cheering. So something's going on. We've got to find out what it is."
While there were reports of celebrations overseas in Muslim countries during the time of the attacks, the Washington Post's Fact Checker reported that there was "nothing that we can find involving the Arab populations of New Jersey except for unconfirmed reports." The Fact Checker dubbed Trump's claim "outrageous" and gave it its lowest score.
In the wake of terrorist attacks earlier this month in Paris—which the Islamic State group claimed responsibility for—Trump also said that he wanted a database of Syrian refugees entering the U.S. and surveillance over certain mosques.
© Copyright IBTimes 2023. All rights reserved.