Donald Trump Insists 'Thousands' Of Muslims Cheered On 9/11 In New Jersey, Critics Call Bluff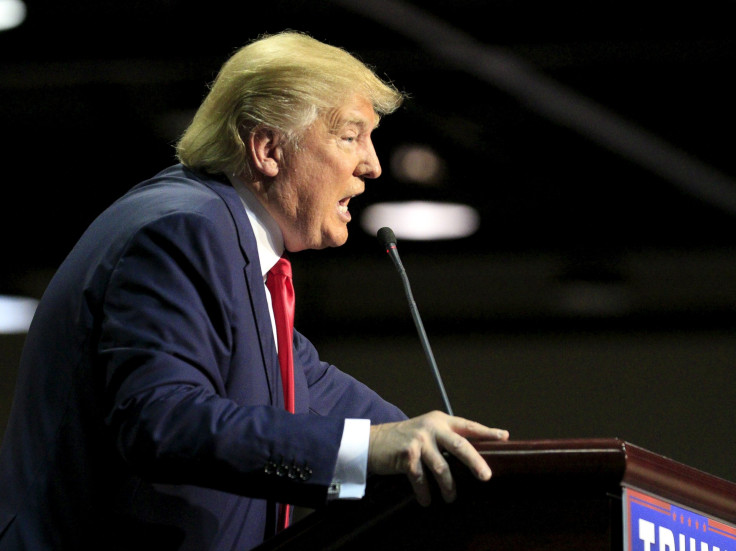 Republican presidential frontrunner Donald Trump's insistence that he saw Muslims cheering on 9/11 has drawn criticism for being inaccurate, and for politicizing an already emotional topic for Muslims in the U.S. in the wake of terror attacks in Paris on Nov. 13.
At a rally at the Birmingham-Jefferson Convention Complex in Alabama on Saturday, Trump said he watched crowds of people cheering in Jersey City as the towers came down, and on Sunday defended those statements again to ABC's George Stephanopoulos.
"Hey, I watched when the World Trade Center came tumbling down. And I watched in Jersey City, New Jersey, where thousands and thousands of people were cheering as that building was coming down," he had told onlookers at the Alabama rally. "Thousands of people were cheering. So something's going on. We've got to find out what it is."
Although there were cheers in support of the 9/11 attacks in certain countries in the Middle East, police in New Jersey dispelled the popular internet rumor that Muslims had been celebrating in Paterson, New Jersey, the New York Times reported. News accounts from that time also reveal no reports of cheering in Jersey City.
Jersey City Mayor Steven Fulop said in response that Trump "has memory issues or willfully distorts the truth, either of which should be concerning for the Republican Party."
Donald Trump Presidential Candidate Profile | InsideGov
Ibrahim Hooper, national communications director for the Council on American-Islamic Relations, said it would be "interesting" if Trump had personally seen the cheering, since it "didn't happen." Hooper said if Trump has any evidence, he should present it.
"This has been one of these vile memes on the anti-Islam hate sites for some time, but there's actually no evidence to support it whatsoever," Hooper said. "You could understand somebody making a mistake of fact the first time, but the second time where he restates it and expands on it, sends the message that he doesn't actually care whether it's true or not as long as it panders to the worst or lowest common denominator of his supporters."
Trump also said over the weekend that he wanted a database of Syrian refugees entering the U.S. and surveillance over certain mosques.
© Copyright IBTimes 2023. All rights reserved.