Benghazi Hearing Live Blog: 3 State Department Witnesses To Testify To House Oversight Committee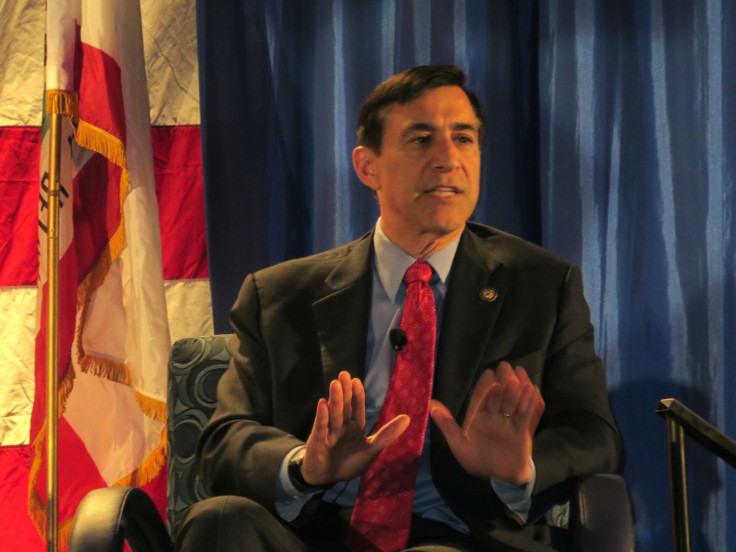 The second hearing on the aftermath of the Sept.11, 2012, attack on the U.S. consulate in Benghazi, Libya, kicks off at around 11:30 a.m. EDT. We'll be live blogging the testimony for you, so check back here for constant updates on the hearing.
Here is the witness list provided by the House Oversight and Government Reform Committee for the hearing, officially titled "Benghazi: Exposing Failure and Recognizing Courage":
Mr. Mark Thompson
Acting Deputy Assistant Secretary for Counterterrorism
U.S. Department of State

Mr. Gregory Hicks
Foreign Service Officer and former Deputy Chief of Mission/Chargé d'Affairs in Libya
U.S. Department of State

Mr. Eric Nordstrom
Diplomatic Security Officer and former Regional Security Officer in Libya
U.S. Department of State
You can find a preview of today's hearings here.
UPDATE 5:16 p.m.: Issa gavels out, but said this won't be the last word on Benghazi.
"The hearing is closed but this investigation is not over," he said.
UPDATE 5:06 p.m.: Gowdy said the witnesses made a "compelling case on why it's important to tell the truth to it's own citizens."
He then referenced Clinton's "what difference does it make?" line.
"So if anyone wants to know what difference does it make ... it always matters whether you can trust your government," the Republican congressman from South Carolina said. "I don't give a damn whose career is impacted, we'll find out about [the truth.]"
UPDATE 4:51 p.m.: Jason Chaffetz says that during the October Benghazi hearing, Hillary Clinton testified that she didn't make security decisions and that those decisions rested with diplomatic security.
Chaffetz asked Nordstrom if he was responsible for security in Benghazi.
"I would've liked to have thought, but apparently not," Nordstrom responded.
The same question was asked of Hicks.
"I was very frustrated by the situation at times, even frightened by the threat scenario" at Benghazi compared to the resources that were available, he said.
Chaffetz said he was frustrated by Clinton's comments in October.
"I find it stunning that 4 1/2 months after the attacks, Secretary Clinton still has the gall to say, 'It wasn't us, it was them,'" the congressman said.
UPDATE 4:44 p.m.: Hicks clarifies that he knows that the call for special forces to stand down came from U.S. Special Operations Command Africa, but he doesn't know who made the phone call.
UPDATE 4:35 p.m.: U.S. Rep. Ron DeSantis, R-Fla., says the hearing has led to more questions, including who told the special forces unit to stand down and why Hicks was demoted from his diplomatic post.
UPDATE 4:31 p.m.: Trey Gowdy said precious time was wasted because of Rice attributing the attack to spontaneous protests.
"Trust me when I tell you crime scenes do not get better with time," the congressman and former prosecutor told Hicks. "The reality is it was a direct result of what [Rice] said that the [FBI] did not get to Benghazi in a timely fashion, is that true or is that not true?"
Hicks agreed, saying the FBI team was delayed in getting to the consulate the Libyan government couldn't secure the compound and Christopher Stevens' diary was taken from the compound (it was later retrieved.)
Rice's remarks "made achieving the objective of getting the FBI to Benghazi very, very difficult," Hicks said.
UPDATE 4:15 p.m.: Finding a smoking gun at today's hearing is beside the point, according to U.S. Rep. Doug Collins, R-Ga.
"I for one, and the folks of the 9th District of Georgia, are not looking for those things, we're looking for the truth," he said. "It may not be a smoking gun or a warm slingshot, but we have four dead Americans."
UPDATE 4:06 p.m.: U.S. Rep. Danny K. Davis, D-Ill., brought up an unnamed military special operations member who went on Fox News and claimed that military assets stationed in Europe could've been deployed to Benghazi in 4 to 6 hours after the initial attack and could have prevented the second attack. The Fox News guest appeared before a black screen and his identity was not given.
Davis said Elijah Cummings wrote to Secretary of Defense Chuck Hagel to respond to that claim, and Hagel said there wasn't enough time. The letter said it would've taken more than 7 hours to respond and there was "no evidence of delays or denial of support from Washington or the military."
"According to the Defense Department, his claim is incorrect," Davis said, referring to the Fox News guest.
UPDATE 3:32 p.m.: Is there a smoking gun at today's hearings? Watch what Mark Pocan had to say:
UPDATE 3:21 p.m.: U.S. Rep. Scott DesJarlais, R-Tenn., gives his take on how the hearings are going:
"There seems to be a real partisan feel to finding the truth and I don't understand that," he said.
UPDATE 3:13 p.m.: Jackie Speier gives her thoughts on what needs to change in the wake of Benghazi. Here's a clip of the congresswoman at today's hearings:
UPDATE 3:11 p.m.: Here's video of Jim Jordan saying Hicks is being discredited because he would not participate in a "cover up" of Benghazi:
UPDATE 2:59 p.m.: Hillary Clinton rhetorically, and famously, asked, "what difference does it make?" whether the Americans killed at Benghazi were murdered because of a protest or because of a planned attack during the first Benghazi hearing. While some alleged the administration misled the American people, Clinton said the situation was fluid, which led to inaccurate reports from the ground in Benghazi.
Now, Hicks was asked that same question by U.S. Rep. Pat Meehan, R-Pa. According to Hicks, it did make a difference.
"[Libyan] President [Mohammed] Magarief was insulted in front of his own people, in front of the world," Hicks said, referring to the president saying that attack was terrorism while American officials were saying it arose out of a spontaneous protest.
"I believe it negatively affected our ability to get the FBI team to Benghazi," Hicks added, referring to the team tasked with collecting information from the crime scene. "It was a long slog of 17 days to get the FBI team to Benghazi."
UPDATE 2:51 p.m.: U.S. Rep. Tammy Duckworth, D-Ill., asks Nordstrom how can the country prevent another attack like the one on the consulate in Benghazi.
"More money is not always the solution. More is not always the solution," Nordstrom said. "Better is the solution."
U.S. Rep. Jason Chaffetz, R-Utah, expressed his frustration that the military couldn't fly planes to Benghazi while the attacks were ongoing.
"There was never any attempt to get military aircraft over there," he said. "It is stunning that our government couldn't get a tanker in the air."
UPDATE 2:32 p.m.: U.S. Rep. Tim Walberg, R-Mich., disagrees with Pocan. He says today's testimonies "aren't old stories."
"This is a situation that is atrocious in that it happened," the congressman said.
UPDATE 2:28 p.m.: Republicans, including Issa, have said that today's hearings would mark a turning point and expose how the Obama administration handled Benghazi. U.S. Rep. Mark Pocan, D-Wisc., apparently doesn't believe the hearing is particularly groundbreaking.
"I don't think there's a smoking gun today," he said. "I don't even think there's a lukewarm slingshot."
UPDATE 2:16 p.m.: U.S. Rep. Jackie Speier, D-Calif., says the security at Benghazi was "inadequate."
"We have got to do a much better job of providing protection in high risk embassies and consular offices throughout the world," she said.
UPDATE 1:58 p.m.: Hicks tells U.S. Rep. Michael Turner, R-Ohio, that he doesn't know why special forces were told to stand down as they were about to assist Americans in Benghazi. Turner then asked if there was any reason to believe the situation was over. He noted that there were other attacks besides the one on the consulate.
"There was every reason to continue to believe that our personnel were in danger," Hicks said.
UPDATE 1:49 p.m.: Here's video of Carolyn Maloney criticizing those who attacked the Obama administration in the hours after Benghazi:
UPDATE 1:46 p.m.: Nordstrom said his interview with the accountability review board -- the government body that was investigating Benghazi -- was "thorough and professional" but criticized the board for not talking to everyone involved in the consulate.
"My issue is that they stopped short of interviewing people that I personally know were involved in key decisions as to how those events unfolded," Nordstrom said, referring to security at Benghazi.
Hicks also said the board interviewed him, but said he felt the talk was "incomplete." Thompson said he was not interviewed by the board.
UPDATE 1:36 p.m.: Jordan says Hicks, who mentioned that this was the first time he was told not to meet with a congressional committee, is being discredited "because he won't help [the Obama administration] cover this up.
"Now he's getting this kind of treatment from the people who praised him before," Jordan said.
UPDATE 1:33 p.m.: Hicks tells U.S. Rep. Jim Jordan, R-Ohio, that the State Department told him not to meet with fellow House Oversight and Government Reform Committee member, U.S. Rep. Jason Chaffetz, R-Utah, on Benghazi.
UPDATE 1:29 p.m.: U.S. Rep. John Tierney, D-Mass., said U.S. intelligence at the time pointed to spontaneous protests being the catalyst for the attack on Benghazi. He then showed video of a general saying Rice was unfairly criticized over her reiteration of that conclusion -- which was based on talking points that have since been disproved -- and asked Hicks if he believed the general was being disingenuous.
"There was no report from the U.S. mission in Libya of a demonstration," Hicks said. When pressed further by Tierney, Hicks responded, "I don't know anything of the development of those talking points."
UPDATE 1:19 p.m.: Here's video of Nordstrom choking up when discussing the importance of what happened at Benghazi:
UPDATE 1:15 p.m.: Following questioning by U.S. Rep. Eleanor Holmes Norton, D-D.C., Thompson says reports that the State Department's counterterrorism bureau was cut out of the discussion after the Benghazi attacks for political reasons are inaccurate.
"I do not politicize my job," he said. "I indicated that the portion of the counterterrorism bureau that responds to crises, i.e. my office, was pushed out of that discussion." But he said the counterterrorism bureau was kept in the loop in the days after Benghazi.
UPDATE 1:04 p.m.: Maloney vouches for Clinton's credibility on Benghazi. She was speaking about those who criticized Clinton for not being aware of certain cables that she signed on Benghazi. If you recall, Clinton got angry at a separate hearing on Benghazi last year.
"Anyone who actually knows how the State Department operates knows that she was speaking the truth," the congresswoman said about the former secretary of state.
UPDATE 1 p.m.: U.S. Rep. Carolyn Maloney, D-N.Y., shot back at those who criticized the Obama administration in the aftermath of the attack on Benghazi.
"I find it truly disturbing and very unfortunate that when Americans come under attack, the first thing some did in this country was attack Americans, attack the military, attack the president, attack the State Department, attack [Hillary Clinton,]" Maloney said.
UPDATE 12:54 p.m.: Under questioning from U.S. Rep. Trey Gowdy, R-S.C., Hicks says the Libyan president characterized the attack as the work of terrorists and not as a spontaneous attack spurred by protests. Dowdy then asks how Hicks felt when he heard U.S. Ambassador to the United Nations Susan Rice go on national television and say the consulate attack was prompted by protests.
"I was stunned. My jaw dropped and I was embarrassed," Hicks said.
Dowdy noted that Hicks was the highest-ranking U.S. official in Libya at the time and Rice didn't speak to him before making those national television appearances.
UPDATE 12:48 p.m.: Cummings says the chairman of the joint chiefs of staff said the forces couldn't get their quick enough. He asks Hicks if he has reason to doubt the chairman. Hicks said he was going on what the defense attache told him.
UPDATE 12:40 p.m.: Hicks claims the military called off a plan to send Special Forces following the attack on Benghazi.
"We wanted to send further reinforcements to Benghazi. People in Benghazi had been fighting all night," he said. Lt. Col. Gibson of U.S. Special Forces was getting ready to send his team to Benghazi but Gibson told Hicks that that he "hadn't been authorized to go."
"Lt. Col. Gibson was furious," Hicks testified. "I told him to bring our people home, that's what he wanted to do."
UPDATE 12:24 p.m.: Here's video of Cummings criticizing Issa over his allegations that the Obama administration withheld military support during the Benghazi attack for political gain.
UPDATE 12:12 p.m.: Hicks says he found out about the attack around 9:45 p.m. Libyan time from a phone call from Stephens. Hicks says he and the annex chief in Benghazi agreed to mobilize a Tripoli response team and charter a plane from Tripoli to Benghazi.
UPDATE 12:08 p.m.: Eric Nordstrom, diplomatic security officer and former regional security officer in Libya, gets emotional in describing the importance of the aftermath of Benghazi to himself as well as those who died and were injured in the attack.
UPDATE 12:05 p.m.: Gregory Hicks, a foreign service officer veteran, said contacts he established in Bahrain gave him intelligence about an attack on Benghazi.
UPDATE 11:59 a.m.: Mark Thompson, acting deputy assistant secretary for counterterrorism at the State Department, begins his testimony. He testifies that the White House already came up with options on how to deal with Benghazi without taking his input.
UPDATE 11:50 a.m.: Cummings addresses the allegation Issa made that the Obama administration withheld military forces to Benghazi for political gain. "Of all the irresponsible allegations leveled over the past two weeks, this is the most troubling," Cummings says.
UPDATE 11:46 a.m.: U.S. Rep. Elijah Cummings, D-Md., the committee's ranking member, says he has "seen nothing" that makes him "question the truth" of military officials who said special forces were too far away to respond to the Benghazi attack.
UPDATE 11:35 a.m.: U.S. Rep. Darrell Issa, R-Calif., chairman of the House Oversight & Government Reform Committee, gavels in. He says the witnesses "deserve to be heard on the Benghazi attacks and "the flaws of the Accountability Review Board's" conclusion. Issa is listing the four Americans killed in the attacks, including Ambassador Christopher Stevens. He says the goal of the hearing is "to get answers."
FOR FREE to continue reading
✔️ Unlock the full content of International Business Times UK for free
offer available for a limited time only
✔️ Easily manage your Newsletters subscriptions and save your favourite articles
✔️ No payment method required
Already have an account?
Log in
© Copyright IBTimes 2023. All rights reserved.