Best Point Guards In The NBA: Stephen Curry, Russell Westbrook Ahead Of Chris Paul, Kyrie Irving, John Wall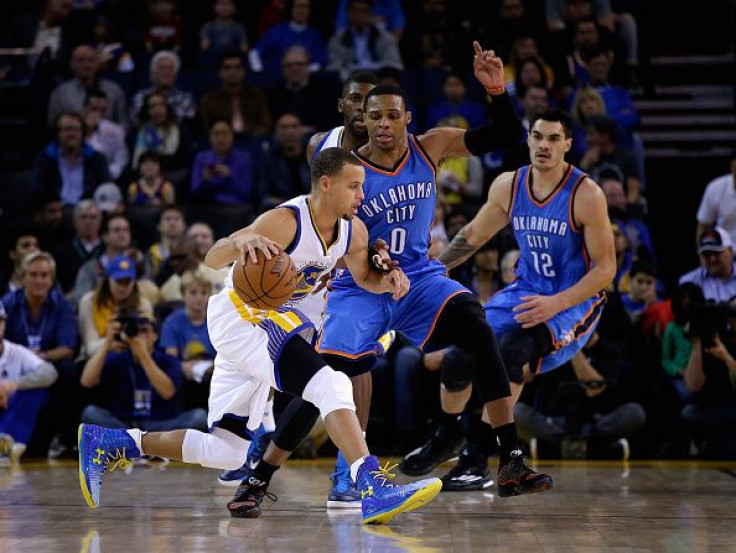 It's no secret that point guard is and always has been integral to the success of NBA teams. It's rare to find a contending team without stellar point guard play and in regularly talking about the league's best players, several point guards are always near the top of the list.
The NBA today seems like it's been overrun by a collection of talented ball-handling guards that can both facilitate and score. Last season, the NBA saw a point guard win the Most Valuable Player (Stephen Curry) and the scoring title (Russell Westbrook) for the first time since Steve Nash and Allen Iverson in 2005. The importance elite point-guard play was on display for all to see in last year's NBA Finals as Curry led the Warriors to the title against the Kyrie Irving-less Cavaliers, who may not have won anyway, but would've had a better shot with their point man.
Below we take a look at the NBA's five most elite point guards:
*all rankings in comparison to qualified point guards
Stephen Curry, Golden State Warriors: Curry has picked up where he left off after his 2014-15 MVP season, and then some. He's first in scoring (31.8 points), field goal percentage (52.0), three-point shooting (45.3 percent), win shares (6.9) and player efficiency rating (33.0). He's No. 3 among point guards in rebounds (5.4) and steals (2.2) and contributes 6.2 assists per night. Curry led Golden State to the longest winning streak to ever start a season (24) and has yet to lose a home game this season. The Warriors are 26-1 led by a more aggressive Curry, who is shooting and scoring at a higher rate than ever before as the catalyst of the NBA's best team.
Russell Westbrook, Oklahoma City Thunder: Westbrook may be the most explosive player in basketball and his numbers back it up. He ranks No. 2 in points per game (25.1), assists (9.5), steals (2.3) and player efficiency (30.3). Westbrook's No.1 among point guards in rebounds (6.9) and his 18 double-doubles dwarf what others at the position have done while his 49.0 assist percentage leads the NBA. Westbrook has the second highest usage rate in the NBA but still is able to play cohesively with Kevin Durant when he isn't the go-to guy. Westbrook ranks No. 2 in offense win shares in the NBA (3.8) but also ranks Top 10 in defensive win shares (1.6), proving his worth on both ends.
Chris Paul, Los Angeles Clippers: Paul, named to the All-NBA team seven times, is in his 11th NBA season and currently averaging at least 16 points, nine assists and two steals per game for the eighth time. The nine assists are tied for third in the NBA, his 47.2 assist percentage ranks No. 2 in the league and at 22.57 his PER is tied for No. 4 among point guards. Paul remains No. 1 in active players steals (2.3) and assists per game (9.9). Paul's 3.27 assists to turnover ratio is among the best in the NBA as he's led the Clippers to a 16-12 start, good for No. 4 in the West currently.
Kyrie Irving, Cleveland Cavaliers: Irving spent the first quarter of the season sidelined but LeBron James' running mate gets the benefit of the doubt on this list. He was No. 3 in scoring among point guards (21.7 points) a season ago, No. 5 in field goal percentage (46.8) and tied for No. 2 from long range (41.5 percent). Irving led all players at his position in minutes (36.4) and ranked top five in offensive win shares (8.4). Irving, still just 23, helped bring the Cavaliers to the NBA Finals before getting hurt and comes back to the Eastern Conference's best team at 17-7.
John Wall, Washington Wizards: Wall seems like he gets better every year, making everyone around him better and averaging at least 16 points, eight assists and four rebounds in every one of his now six NBA seasons. After averaging a double-double in assists and rebounds in 2014-15, Wall puts up 19.9 points and nine assists per game on 44.5 percent shooting. He's No. 7 in steals (53) and No. 3 in total assists (225), continuing to emerge as one of the game's premier facilitators.
© Copyright IBTimes 2023. All rights reserved.