Big East Tournament 2012: Syracuse Uses Off-Court Issues to Fuel Victories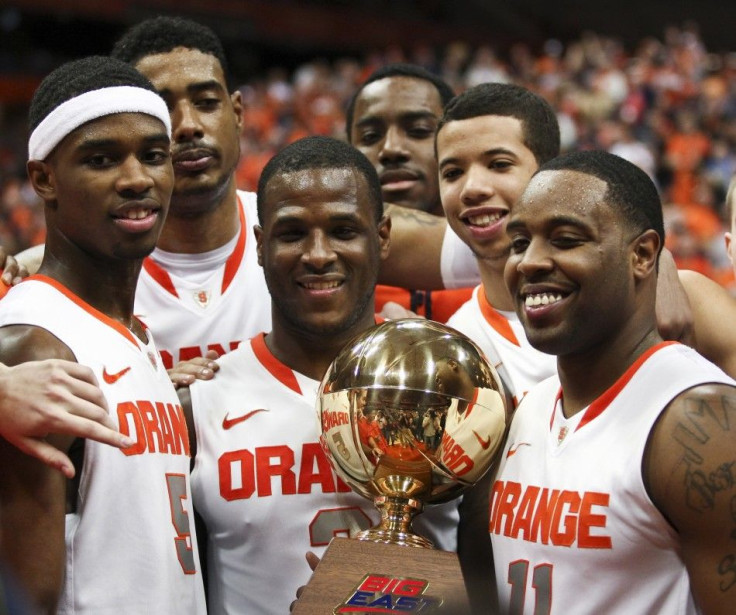 Syracuse defeated Connecticut 58-55 on Thursday afternoon in the quarterfinals of the Big East Tournament.
The win puts the number two team in the country at a 31-1 for the season and well on its way to a number one seed in the NCAA Tournament.
SU has only one loss on the year, but it has been a season filled with turmoil.
First, Syracuse was hit with the bombshell that longtime assistant coach Bernie Fine was accused of molesting a former ball boy. Fine was eventually fired, though no criminal charges have been filed against him.
Earlier in the week, a report came out that stated there was an ongoing inquiry into issues with Syracuse's drug testing policy.
Reports claim that at least 10 players have tested positive for a banned recreational substance since 2001, and these players have participated in practice or games when they should not have.
The Orange were also forced to play three games without center Fab Melo because of academic issues.
SU point guard, Scoop Jardine, says the team has been using all the off-the-court issues as fuel to help them win games.
Everything that they've been talking about...actually it disrespects us because this is our season. For myself, this is my final season. For everything to be coming up now, it's kind of like a disrespect and it brings us closer together and it makes us hungry to go out and prove people wrong.
Jardine scored just two points on 1-6 shooting in the contest. Dion Waiters led the Orange in scoring with 18 points off the bench.
All of the headlines have not hurt SU's play.
Head coach Jim Boeheim came under heavy scrutiny earlier this year when he defended Fine. After some damning evidence was presented against the assistant, Boeheim quickly backtracked, and was called on by some to be fired.
Through it all, the head coach says he's not affected by anything that happens away from the hardwood.
Nothing bothers us. We come ready to play. That's what you should do in life. Everybody has problems. I'm much more concerned about my wife being mad at me than I am anything else, to tell you the truth.
If anything, Syracuse is thriving under the scrutiny. Its 31-1 record is the best in school history and the Orange are one of the favorites to win the National Championship.
The headlines have made Syracuse a very close-knit group.
As Jardine says, We all we got.
© Copyright IBTimes 2023. All rights reserved.