Biocon Posts Strong Q1 Earnings, Which Reflect Indian Biotech Industry's Rapid Growth; Innovation And IP Remain Sticking Points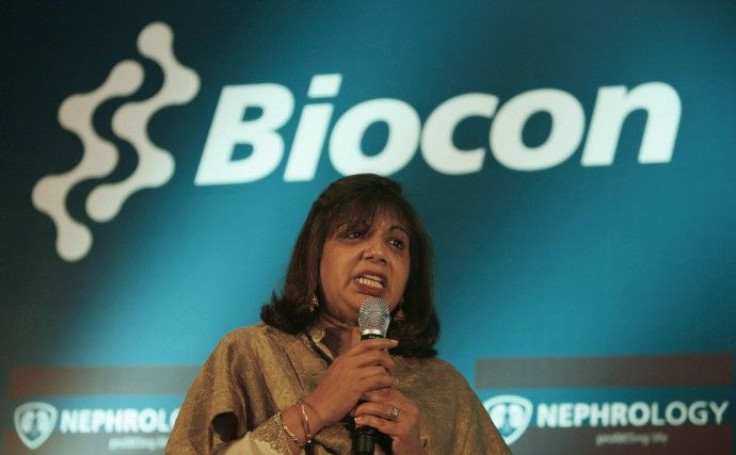 India's fast-growing biotechnology sector is steaming ahead, helped by a robust pharmaceutical business environment and government funds, which are helping start-ups with research and development projects even as foreign players express doubts about the sanctity of intellectual property, or IP, rights.
On Thursday, Bangalore-based Biocon reported a better-than-expected 19 percent increase in its consolidated net profit for the first quarter of 2013. The company, which produces insulin and drugs for certain types of cancer, reported a net profit of 940 million rupees ($15.96 million), which was up from 800 million rupees posted in the same quarter a year ago. Consolidated revenues rose 22 percent to 7.2 billion rupees in the first quarter, up from 5.94 billion rupees registered in the year-ago quarter.
"The core business is performing strongly. Biocon's insulin business continues to do well, riding on the back of an increased geographical footprint in the emerging markets," said Kiran Mazumdar-Shaw, the company's chairman and managing director, in a statement.
Rapidly Growing Sector
Biocon's solid performance in recent times reflects the steady growth witnessed by India's $4.3 billion biotech sector, which has grown at an annualized rate of 22 percent in the last 10 years. The growth, mainly in the bio-pharmaceuticals, bio-services and bio-agriculture segments, has been aided by a huge pool of skilled yet inexpensive workforce.
The bio-pharmaceutical segment, which is the largest of the three accounted for 62 percent of all revenues in the industry in the fiscal year 2012, and grew at 19 percent. The bio-agriculture segment that works with genetically-modified produce contributed 18.3 percent to overall revenue and, with an annual growth of 23 percent, is the fastest-growing segment in the sector. And, revenue from the bio-services sector grew at 15.5 percent, according to data compiled by India Brand Equity Foundation.
Annual grants to the industry from the federal government amount to about 4 billion rupees along with other promotional measures such as tax breaks, which have helped several small and mid-sized biotech companies across the country, to grow over the last decade.
Need For Greater Innovation
However, industry experts feel that the government, which has so far supported the industry's growth, should now focus on promoting an improvement in the quality of innovation.
"There are several companies which are concentrating into modifying the existing products... Innovation is not very strong at this point; it is not up to the global standard. We need to grow on that aspect as it will help us to be competitive," Sudha Rao, executive director at Bangalore-based Genotypic Technology, told International Business Times.
According to Rao, the high cost of investing in research and development, or R&D, projects in the biotech sector, which typically have long gestation periods have deterred investors in the past, and held back innovation in developing countries such as India. However, increased interest from multinational pharmaceutical companies, which are attracted by the size of the market and the deep talent pool, has helped to boost foreign fund flow to the sector.
"Investments in R&D are growing in India and the global R&D activities are moving to India and other emerging countries from the west," Rao said, adding that India's biotech industry needs to address the challenge of scaling up manufacturing and production activities to profitable levels.
Concerns About IP Rights
On the other hand, while the country's bio-pharmaceutical segment has expanded its footprint to developed and emerging markets, global pharmaceutical majors have been raising concerns over India's IP regulations, accusing Indian companies that make generic drugs of violating patent rights. However, Indian companies and the country's government have maintained that there has been no violation of IP rights.
"There is no IP violation as such, but typically the question is how strongly can one protect a patent and how much you can get as royalty. That is the concern," Geonotypic's Rao said, referring to the ability of Indian companies to pay royalties demanded by companies that produce the original drug.
"Affordability becomes an issue in developing countries like in India," she added.
According to P. M. Murali, head of Chennai-based Evolva Biotech, and president of Association of Biotechnology Led Enterprises, a "lack of a regulatory environment" is adversely affecting perceptions of foreign investors about the country's pharmaceutical sector.
"Foreign companies are not enthusiastic because we have to be clear on our IP regulations. Also we have to provide conducive regulatory environment. Both are missing," Murali told IBTimes. "Our IP system is quite robust. However, if there is a litigation, justice will be delivered only after a number of years. This is not an ideal environment."
© Copyright IBTimes 2023. All rights reserved.