Bird Flu Outbreaks In Europe 2014: What Worked For China Last Year Could Work For UK, Netherlands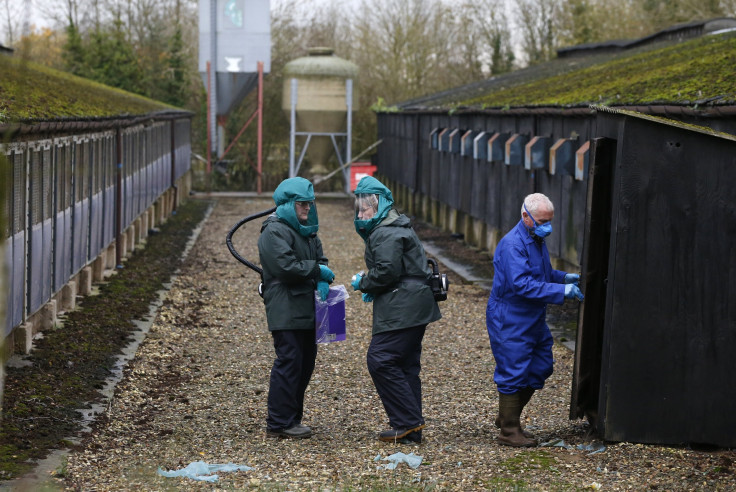 Health experts in the U.K. and the Netherlands are rushing to contain a "highly pathogenic" strain of bird flu weeks after the virus was first discovered in Germany, British officials announced Monday. Federal investigators in suits and masks are culling thousands of birds at a Pekin Duck farm in northern England, where the virus was detected, although the government has said the risk of the disease spiraling out of control is low. Meanwhile, in the Netherlands, authorities have begun killing 150,000 chickens at a Dutch poultry farm in the village of Hekendorp, South China Morning Post reported. The country on Sunday instituted a 72-hour transportation ban for poultry products, including eggs. Petting zoos across the Netherlands were closed until Wednesday.
The approach in Europe to the outbreaks is not unlike that taken by the Chinese government last year after a particularly deadly avian flu virus sprung up near Shanghai. The outbreak in April 2013 set in motion a series of drastic containment measures that involved health officials incinerating tens of thousands of birds, shuttering live poultry markets and vaccinating chickens against the virus. The government disposed of tons of food products and bird excrement and even the vehicles used to transport birds.
The Chinese government's swift campaign ultimately curtailed the epidemic and kept the number of human infections at a minimum. By May, a month after the first human cases were reported, infections were already much less frequent. From June to September, there were just three new cases of human infection, according to the World Health Organization.
The U.S. Centers for Disease Control and Prevention attributed the sharp decrease in bird flu cases in China over the summer to "a combination of control measures taken by Chinese authorities -- like closing live bird markets -- and the change in weather." The strain of avian flu found in Europe is different from the one encountered in China.
Health experts in Europe believe the outbreaks in Germany, the Netherlands and the U.K. were likely the result of wild birds migrating from Asia. However, authorities have not determined conclusively that the three outbreaks are linked, Reuters reported. John Vernam of Cherry Valley Farms, where the virus was detected in northern England, said the company is "confident that the controls in place are proportionate to the risks involved," according to the Telegraph.
The European Union praised the U.K. and the Netherlands responses and said that "all the protocols were followed."
© Copyright IBTimes 2023. All rights reserved.