Blind Chinese Activist Chen Arrives In New York [PHOTOS]
Chinese human rights activist Chen Guangcheng, who escaped house arrest, enjoyed his first hours of freedom in New York Saturday even as his relatives and supporters are facing reprisals from authorities back in China.
Chen arrived in the U.S. with his wife and two children and spoke to the media at a New York University housing building in Greenwich Village.
Chen thanked the U.S. for its support and said he was pleased with how China dealt with his case.
I am very gratified to see that the Chinese government has been dealing with the situation with restraint and calm, and I hope to see that they continue to open discourse and earn the respect and trust of the people, Chen said, according to a Reuters report.
I'm very grateful for the assistance of the American Embassy and also (for) receiving a promise from the Chinese government for protection of my rights as a citizen over the long term. I believe that the promise from the central government is sincere and they are not lying to me, he added.
The blind Chen, who was under house arrest at his heavily guarded home, escaped the detention on the night of April 22 with the help of his supporters and sought refuge in the U.S. Embassy.
The issue had resulted in a month-long diplomatic tussle between the U.S. and China, straining relations. However, following intense diplomatic negotiations, China Saturday allowed Chen to move to the U.S. to take up a fellowship at NYU.
A troublesome dissident for the Chinese government, Chen was responsible for exposing forced abortions and sterilizations conducted in his village as part of China's one-child policy.
Chen's escape proved to be a major embarrassment to the Chinese government that resulted in a crackdown on his relatives and supporters who helped him.
His relatives and friends are still in Shandong province and believe that Chen's escape wouldn't make much difference in the government's stance towards them.
There won't be any big changes for us now that Chen Guangcheng has left. There are still many reasons to keep up control and stability preservation, Jiang Tianyong, a Beijing human rights lawyer, told Reuters.
Several of Chen's close relatives and friends remain in police custody and under house arrest still and their fate remains uncertain as it is unlikely that the Chinese government will ease up its pressure on dissidents.
When Chen landed at Newark Liberty International Airport Saturday, his chief supporter, Rep. Chris Smith, R-N.J., was part of the welcoming party, The Star-Ledger reported.
While Chen's imminent arrival is reason to celebrate, Smith warned the fight is not over and his family may still be in danger.
I think Americans and people across the world are celebrating, Smith told a throng of media, but added Chen is free, but not all the Chens are free.
A group of anti-abortion activists called Expectant Mother Care was also on hand for Chen's arrival.
We are a 27-year-old organization that has counseled over 125,000 women in pregnancy, said Chris Slattery, 57, a group leader. We have great respect for Chen and his family.
Wearing T-shirts that read It's okay to be pro-life and bearing signs that read Welcome Chen! Teach USA to respect life, Slattery called on U.S. officials to officially condemn China's alleged practice of forced abortion.
Chen's departure came hastily. Chen spent the last 2 1/2 weeks in a hospital for the foot he broke escaping house arrest. Only on Wednesday did Chinese authorities help him complete the paperwork needed for his passport.
Chen told the Associated Press by telephone Saturday that he was informed at the hospital just before noon to pack his bags to leave. Officials did not give him and his family passports or inform them of their flight details until after they got to the airport.
Seeming ambivalent, Chen said that he was not happy about leaving and that he had a lot on his mind, including worries about retaliation against his extended family back home. His nephew, Chen Kegui, is accused of attempted murder after he allegedly used a kitchen knife to attack officials who stormed his house after discovering Chen Guangcheng was missing.
I hope that the government will fulfill the promises it made to me, all of its promises, Chen said. Such promises included launching an investigation into abuses against him and his family in Shandong province, he said before the phone call was cut off.
Much as Chen has said he wants return to China, it remains uncertain whether the Chinese government would bar him, as they have done with many exiled activists.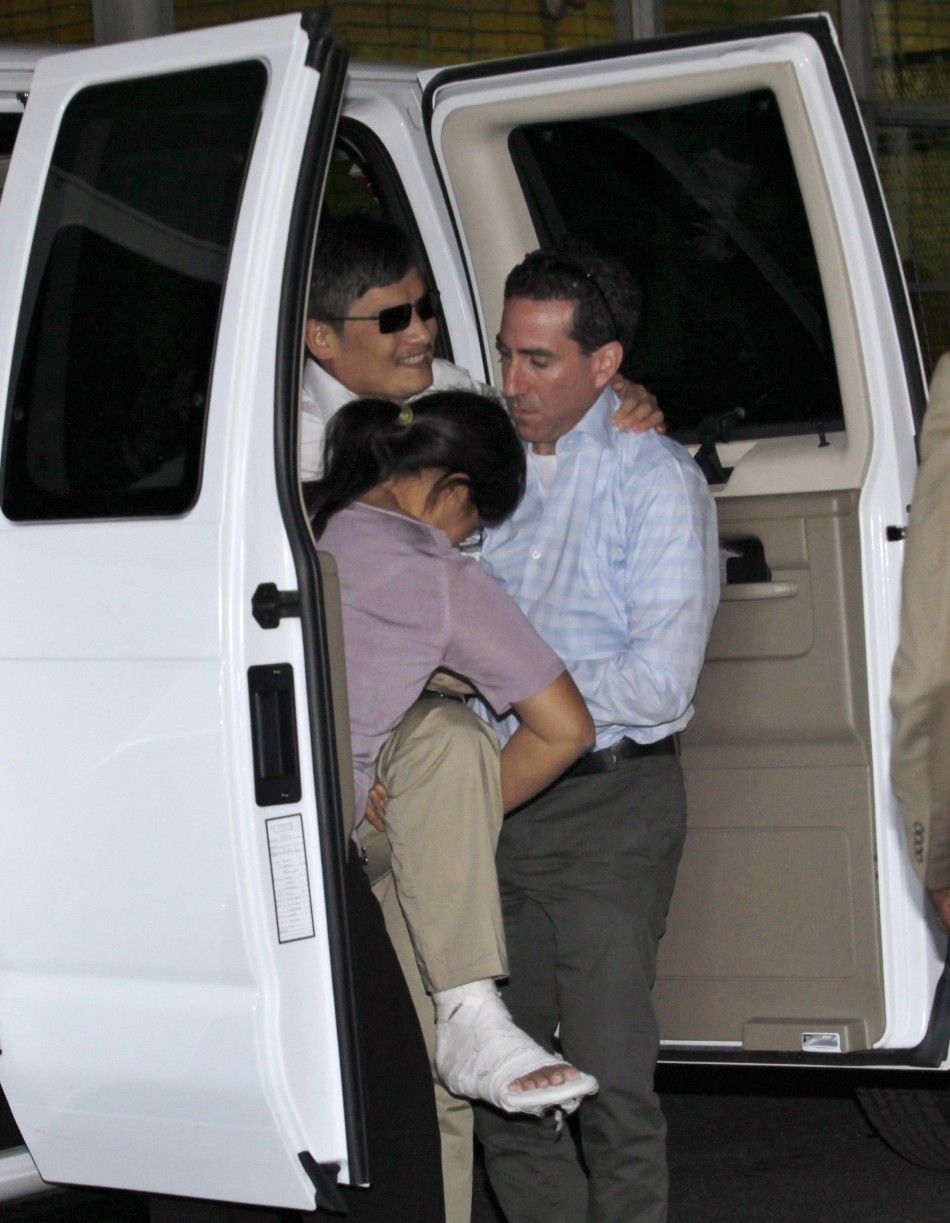 © Copyright IBTimes 2023. All rights reserved.
FOLLOW MORE IBT NEWS ON THE BELOW CHANNELS