Blizzard 2015: More Than 4,600 Flights Grounded In The U.S. Tuesday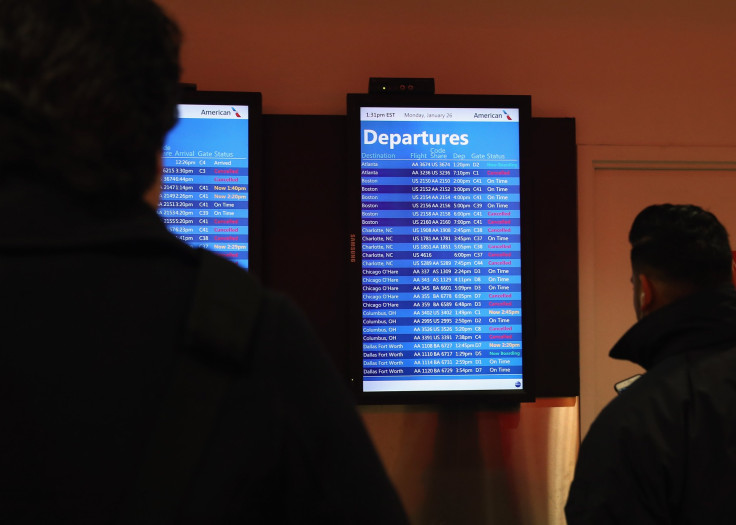 More than 15 percent of all flights in the U.S. were grounded Tuesday as airlines began the process of reestablishing normal operations after a winter storm crippled air travel up and down the East Coast.
Flight tracking website FlightAware reported that, as of 9 a.m. Tuesday, more than 4,600 flights in the U.S., or about 15 percent, were canceled on Tuesday. While snowfall was not as severe as expected in the New York and Philadelphia areas, virtually all flights were grounded at Philadelphia's airport and New York City's three major airports. Airlines preemptively canceled most of these flights on Sunday and Monday.
New York's LaGuardia Airport was the hardest hit, with FlightAware reporting 96 percent of all flights out of LaGuardia canceled. Newark Liberty International Airport was not far behind, with 93 percent canceled. JFK International Airport, Philadelphia International Airport and Boston's Logan International Airport also grounded the majority of flights on Tuesday.
Airlines were optimistic about getting back to schedule by Wednesday; FlightAware reported only 424 flights canceled within the United States on Wednesday, most originating from New York and Boston airports.
The total number of flights canceled over the three-day period from Monday to Wednesday is 7,953 thus far, with the bulk of cancellations on Tuesday, followed by 2,866 flights on Monday.
© Copyright IBTimes 2023. All rights reserved.